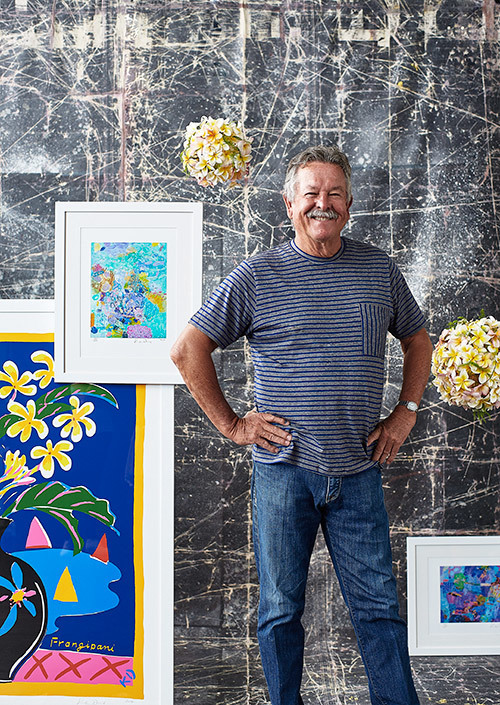 There was a frisson of excitement at T&W HQ and on our Instagram feed when Ken Done AM visited. Everyone in the Gen X age bracket seemed to have fond memories of a doona cover, a t-shirt or in one case a complete matching outfit (!). We talked to Ken about his paintings - he is still painting at age 74 - and about the limited edition prints available today as part of our Australian Art Series. We started right back at the beginning of his career...
Take us through your early career in design and advertising, and your transition to painting full time?
When I left art school I started a business doing graphic design and illustration. I didn't really see myself as being a painter at that stage, even though I'd gone to art school at 14. I wanted to travel. I went to Japan, then I went to America and worked on the west coast and then in New York at J Walter Thompson, a big advertising agency. I ended up spending 5 years in their London office and then came back to Australia as their Art Director and then Creative Director after Bryce Courtney.
I got to the ripe old age of 35 and decided I wanted to be a painter. And if you want to be a painter, you have to give up everything and concentrate on it. At 20 I wasn't ready, but at 35 I was, although I'd been painting all along.
The first thing I made was some prints of some drawings of shells. They were well designed, they were easy to like, and they were about repeating the singular effort. You make the drawing once, you make a print and you can then reach a wider audience. I had my first exhibition of paintings at 40.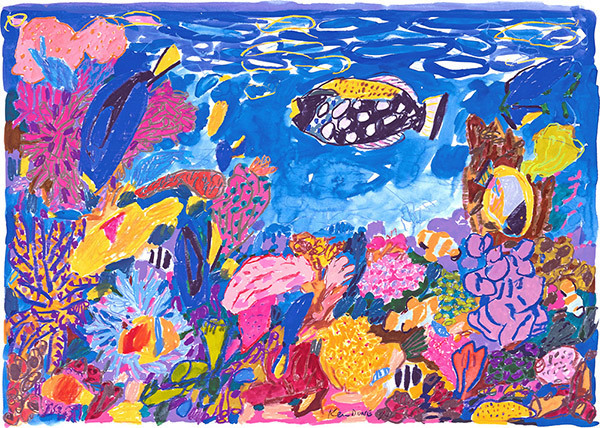 Print of Aquarium, August 1 by Ken Done
What do you remember about that first exhibition?
I was nervous. I've had more than 60 exhibitions and I'm still nervous. It's always a nerve-wracking exercise because you walk into a room and you see your talent pinned to the wall. My first exhibition was certainly a very emotional one. The most expensive painting was $1500 and no-one bought it. A man rang me up the week after and offered me $1000 for it. I needed the money so I sold it. We were able to buy back that painting back a few years ago for about $30,000, and I'm pretty happy to have it back again.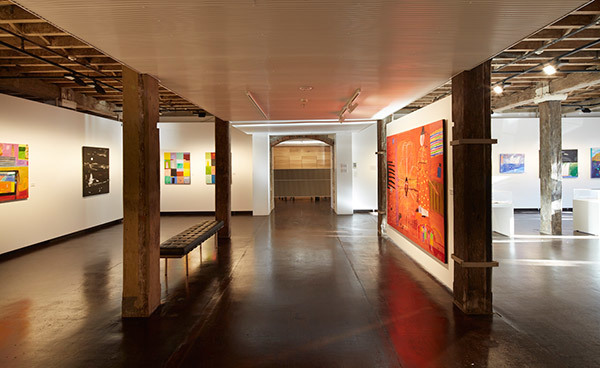 The Ken Done Gallery in The Rocks in Sydney features his new paintings.
You created a business empire based on your art practice. Where do you see the division between the two?
I think design and painting seek a different audience. If you are designing, you usually have some idea of who you're talking to, and you work within that framework. You paint to please yourself, and if it pleases other people that's a bonus.
My paintings led to quite an extensive business – at one stage we had 15 shops and licensing arrangements around the world. I always treated everything as well as I could. Even if it was a design for something as simple as a handkerchief, I wanted it to be good.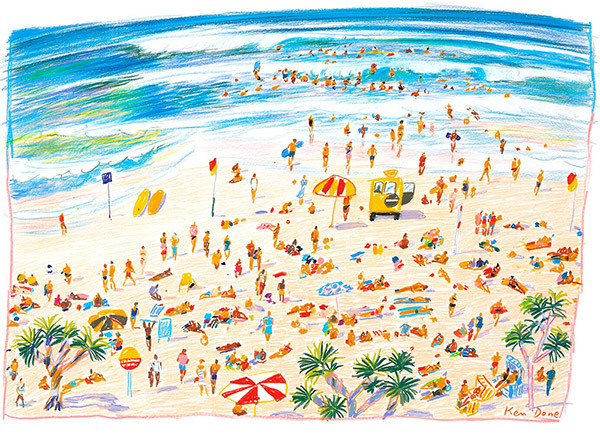 Surfer's Beach print by Ken Done
What drives you, after 60 years of painting?
Well, I'm quite good at it, and I'm not good at lots of other things! You tend to concentrate on the things that you're good at, or the things you love.
Even as a small child, I would use drawing as a way of communicating. If my Mum asked me what a kid's birthday party was like, I'd make a drawing of it. All kids paint and draw before they can talk, it's the most natural thing of all. Some people continue to do it, and some people, because they can't paint something in a representational sense, think they can't do it. For me, painting has always been the way of showing how I feel about something. Sometimes my paintings might also be about what something looks like, but for me, they're about what something feels like.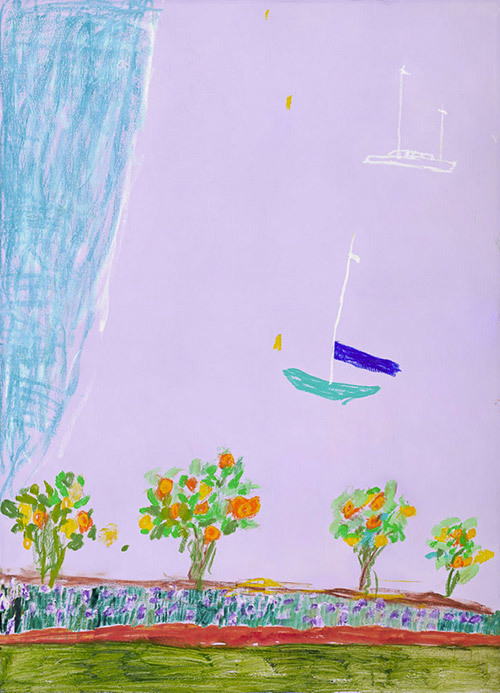 Mauve sea and orange trees, one of Ken's new paintings, available via Ken Done Gallery.
Did your parents encourage your creativity?
Yes they did. Neither of them was an artist, but they allowed me to leave school at 14 after my Leaving Certificate to go to art school. I wouldn't have encouraged my kids to leave school in Year 10, although I do think it's a good idea to pursue your talent early, so I'm eternally grateful to my parents that they allowed this to happen for me.
Many of your most famous paintings reference Sydney Harbour and the underwater world, and you live by the beach. What is it with you and water?!
I'm a Cancerian if you believe in that kind of stuff! I've always found it hypnotic to look into rock pools, and ever since I got my first underwater mask I've just loved that world. I've dived and snorkeled in most parts of the world and it's always a thrill for me to be under the water. I swim every morning. My most recent pictures have had as their basis the feeling of what it's like to be on a coral reef.
You have a huge body of work – what was the process for choosing pieces for your limited edition prints?
I wanted to make prints of paintings that will give people pleasure over a long period of time. I don't want to use art to shock people – I think in the time we live in, television does that much better. Art, for me, should be more like poetry. It should give you pleasure over time, it should be beautiful, it should be something that you continue to get something from.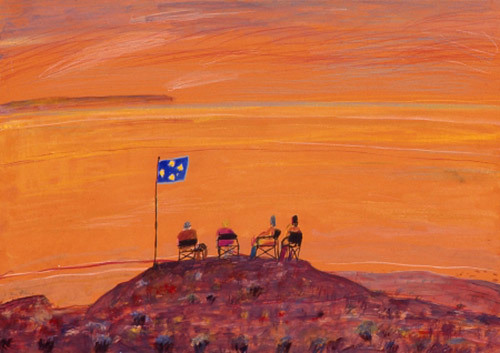 Painting showing Ken's idea for a new Australian flag - the Southern Cross in gold on a blue background.
Your work has always been remarkable for its joyful use of colour. Where does that facility for colour come from?
You just have it. The older I get, the more I realise there is no point theorising – you can either do it, or you can't. You either feel something for colour, or you don't. It's like composing a piece of music – you have to find the relationship between colours that gives you pleasure. When I'm painting at my best, it's automatic. I don't have to think about what colour to use, I just know.
When I was younger there were rules like 'blue and green should never be seen' and you actually didn't see those colours used commercially. Nowadays people are more accepting of the joy of colour – which is not to say they always get it right!
The best example of getting it wrong is the green and gold we use for Australia's sporting teams. Most times, it's the wrong yellow and it's the wrong green, and it ends up looking like a bloody pineapple salad. If I could be the design dictator of Australia – which in fact I could do quite well – I could sort those things out. I'd say: this is the green, this is the yellow, move on. It's done.
Can you describe your creative process?
My main studio is underneath my home. I work on a painting there, then I bring it up into the house and hang it on a big white wall that's near where I watch TV. That gives me time to consider it. Sometimes I fall asleep watching TV then wake up, see the painting and realise there's something I don't like, so I take it back down to the studio. I think it's important that painters live with their work for a while. That's the process for me, and sometimes I live with a painting for months before I think it's ready to go to the gallery.
There is nothing more enjoyable for me than starting a picture. That's the adventure. And not knowing where it's going to end is also the adventure. I'm not a painter who sits in front of a vase of flowers and looks to reproduce it - I like to paint the feeling of the vase of flowers.
I'm definitely a messy studio person, but every so often I'm a 'clean up the studio' person. I find things tucked away in there that I haven't seen for 30 years.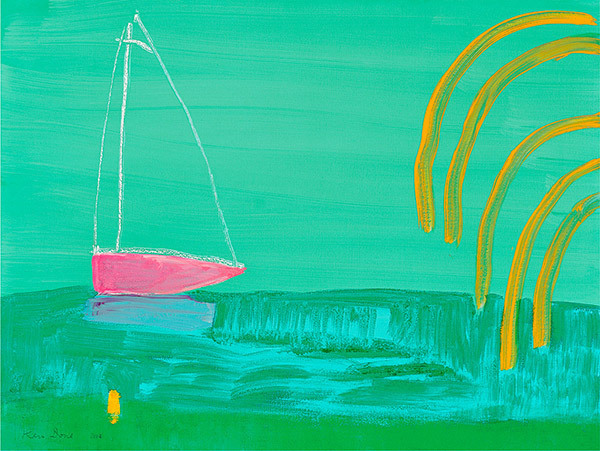 Floating on Christmas Morning print by Ken Done
The world you portray is exuberant and joyful and optimistic and beautiful. Is there a dark side to Ken Done?
Most of my work is joyful, but I have made paintings about tougher things. I did a series of paintings about the attack on Sydney Harbour by the Japanese midget submarines, so it was death, about drowning, about war. And funnily enough that series was very well-reviewed by the critics. I was slightly annoyed that it had to be a serious subject for them to review me seriously. I think painting a vase of flowers well is just as serious.
I'm 74, so of course I have been through dark times in my life. I'm writing a memoir at the moment and I've said in my life there's been lies, jealousy, vengeance, bloody-mindedness, insincerity – and that's just me! I choose not to paint about those things though. I've done some good paintings when I'm angry or annoyed, but you can't plan for that. Every picture is a journey.
Is the opinion of the art establishment and critics important to you?
It's getting less important as I get older, and I find there is a very extreme range of views. One person took the trouble of writing to a newspaper to say that I did not have a scintilla of ability. On the other hand I have a lady who often writes to me who says my work is ten times better than the combined work of Van Gogh, Monet, Matisse, Reubens and Renoir! The truth, of course, is somewhere in between.
We posted an image from one of your doona covers on Instagram and saw an outpouring of love. How does that response make you feel?
Those doona covers, more than anything, are the things people remember and respond to. I think perhaps it's because there was nothing like them at the time. I treated them as big pieces of art, and took them seriously, and of course they were colourful and made a big difference to a bedroom.
They were also very widely promoted – I remember doing store appearances in David Jones. I'd have to sit in a special set wearing a white suit and wait for people to come up to me. The few people who did ended up with a drawing by me. I'd draw very slowly, and a drawing of Sydney Harbour would end up covering Cronulla to Hornsby, just to make them stay a bit longer!
What are you proudest of?
In my life, I'm proudest of my family – my wife Judy, my son Oscar and my daughter Camilla have found a really great way of working together.
Ken is famously low tech but you can follow the Ken Done Gallery on Instagram @kendonegallery