We're excited to introduce our new Australian Art Series – a regular event featuring affordable gallery quality art. We've put together a line up of talented Australian artists – some known, some emerging – and we'll be sharing their work over the coming months. To start the series, we'd like to introduce Sydney artist Emily Besser – an honours graduate of Sydney College of the Arts, a former lawyer and the mother of two little boys. We caught up with Emily on her visit to the T&W studio and asked her about her approach to colour, her creative space (it's in her boys' playroom!) and the ideas behind her work.
Tell us about your creative journey, and how you came to painting?
From a young age, I drew a lot. My mum started me off by taking a pen and paper in her bag with us where ever we went. She also encouraged me to make collage and drawing books, initially to teach me the alphabet and writing. She was a kindy teacher. Over the years the books became self-directed journals and then art books. I now always have one or two books going as a side project and they are a big resource for me when I am starting new work.
I spent a large part of my schooling drawing in class. I drew pictures for my friends. I was a bit of a distracted student and art and mark-making became even more of a refuge for me during my high school years. Art class was the place I felt most at home.
After finishing my HSC, I went to art school and studied painting at Sydney College of the Arts for 4 years. I was in total bliss. But I couldn't see an obvious next step after graduating, so I decided to go in a different direction and went into law, which I really enjoyed. I also made jewellery along the way, mostly for myself at first, which was a simple way to see and touch colour in a less committed way than painting.
I painted sporadically after leaving art and law school, but I began a daily practice again just two years ago, after leaving my job as a lawyer, having my two boys and moving to a home where I had space to paint. The catalyst for my work at the time was finding my old paintings and re-visiting those visual ideas from a new perspective. This culminated in an exhibition called 'Adventuresome Things' at
Hut13
in Melbourne last year with the wonderful and supportive Lucy Mora.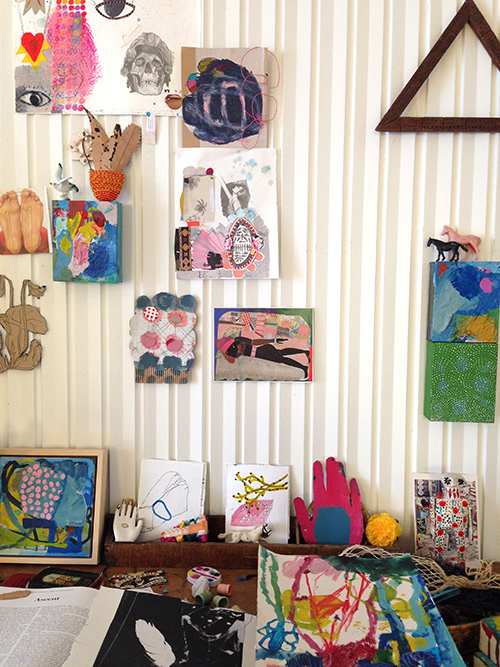 Where does your best work happen – can you describe your studio or creative space?
My studio is in the boys' play room at home. In one corner of this large room I have an island of creative activity in a sea of toys and boisterousness. I often paint with my boys playing, fighting and chattering around me. It takes intense focus to work like this, and pretty spectacular surrender when I have to drop what I'm doing, which happens regularly. There is not much 'cognitive flow' when I paint with my kids around. But they allow me to step back from my work and get some perspective. The boys are masterful at playing, and I'm re-learning through them how to play, because essentially that is what I'm doing when I paint and draw.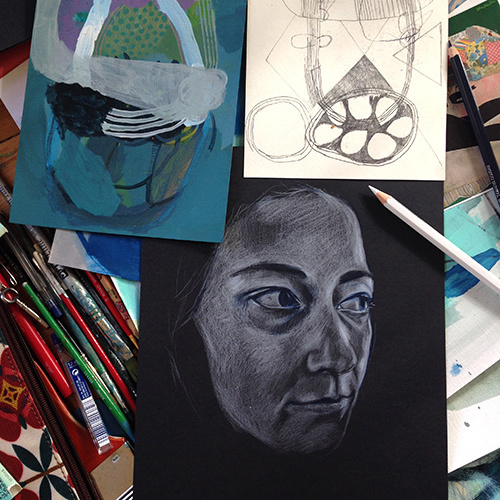 What do you find inspires you?
I find real inspiration in written words – what I read primes me for what I paint.
I have always enjoyed reading philosophy and psychology books, mostly handed down to me from my Dad. I love reference books and my treasure is a Jungian encyclopaedia of symbols that I dive into. At the moment I'm enjoying reading about the history and cultural aspects of different religions, supplemented by 'An Atheist's History of Belief' by Matthew Kneale and 'Civilization' by Niall Ferguson.
I'm also inspired by music, and tend to listen to the same album, even the same song, over and over while I'm working until the tipping-point where it becomes unbearable and I have to move on. The works in this collection for Temple & Webster were made while listening to PJ Harvey and Arcade Fire, and right now I'm listening to Björk's new album
Vulnicura
.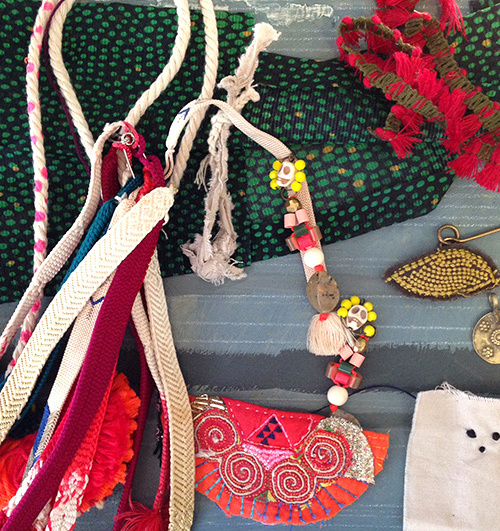 The accoutrements of Emily's jewellery making practice – one of her necklaces was recently included in the Aztecs exhibition at the Australian Museum
Can you describe the genesis of your paintings?
My paintings start with a compulsion to paint and draw, which I don't overanalyze, but I think it is a bit like the feeling a child gets when they want to play alone in their imaginary world. There is a lot going on internally: processing information and personal expression. And I often have the feeling I am searching for something.
Without sounding too obscure, I approach each painting/drawing as though it is a sort of visual poem. I'm venturing to find a space of reflection or thought for the spirit, through the eye. For myself, and if I'm lucky, maybe for others too.
I just begin and then I go where it goes.
What materials do you work with, and what is your creative process?
I worked with oil paints at art school, which I loved for their sensuality and intense colour, but now I use acrylic paints which, for the moment, work better for my practice – I love that I can create lots of layers more quickly. Having said that, I've bought some beautiful oil sticks and I plan to use them this year.
I tend to work in a kind of leap-frog process. I start with one painting, and on the side I begin another work by using it as a palette for the main work. I sometimes paint up to 3 paintings at the same time. There comes a point where the 'hero', the work I've pinned all my hopes to, goes awry. At this point, I focus on the side works, which I have not painted with any ego or intention, start to speak up. These works build up in a less controlled way, and it turns out that they are more interesting.
I make a lot of work this way, and it works with my 'monkey mind' wanting to be in so many places at once. It's a process full of surprises. And it's often clear to me when each one is resolved, there is a 'rightness' to it, both visually and on an emotional level.
It feels great when my paintings go out into the world. I feel very attached to them, but I do let them go willingly because it creates new space – both physical space and mind space – for new work.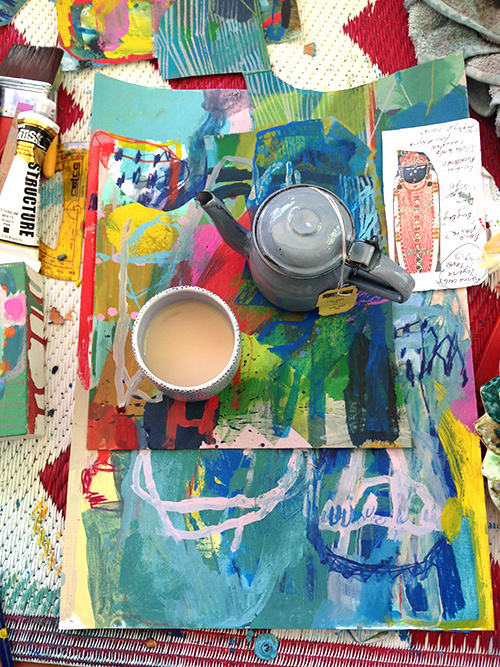 Colour is clearly important in your work. How do you approach a canvas in terms of colour?
My approach to colour is done in the spirit of play. I'm a messy painter – the paint tubes are all over the floor, so I can see all the colours at once and grab what I need. I paint crouching over my work, which is disastrous for my body and something I need to change, but it is the most instinctively right way for me to work.
At the moment I'm squishing paint from one canvas to another like pre-school butterfly painting. I love the lack of control in that kind of playfulness.
Quickfire questions:My favourite movie is:
The Wrestler, Pulp Fiction, The Wild Bunch
My kids describe my art as:
"It's really good, Mum"
The international gallery I'd most like to visit is:
The
New Museum
in New York City and the Guggenheim Museum in Bilbao.
The most inspiring Instagrammer I follow right now is:
There are so many incredible artists showing their work and process on IG but I enjoy the playful work of artist Nathalie Lete (
@nathalie_lete
) and the jewellery of Bianca Maverick (
@biancamavrick
). Also, Asialink Arts (@asialink_arts) is fascinating.
Follow Emily on Instagram @emilybesser. Her second solo exhibition 'Magical Thinking' is coming up at Chrissie Cotter Gallery, Camperdown.