He's a celebrated Australian interior designer, writer, renovator and TV personality best known as a judge on
The Block:
but when
Darren Palmer
isn't busy working on his impressive portfolio of projects, you'll find the style expert relaxing between his gorgeous family homes in Sydney and Byron Bay. During a moment of downtime, we caught up with Darren to talk style tips, creating kids' rooms, and what Mardi Gras means to him.
​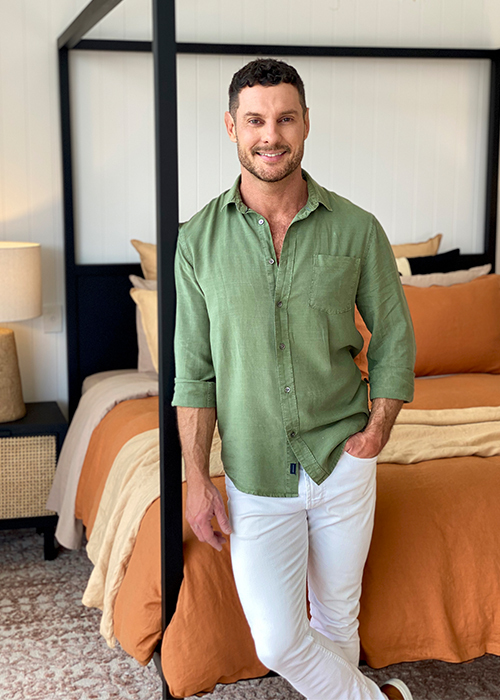 Interior designer Darren Palmer.
​
How did you discover your love of interior design?
It discovered me. I knew I wanted to "make houses" for a living but had no idea what that meant. I thought perhaps architecture was what I would like to do, but as it turns out, after a decade of working in graphic design and advertising, every book, magazine and spare idea I had was about interiors. I figured that was a fair indicator that I was in the wrong profession, so I decided to switch to interiors by renovating an apartment I owned with some friends. The apartment was published in
Belle magazine's
renovation issue, and the rest is pretty much history.
​
Do you have a styling philosophy?
I have a few:
If it works in nature, it will work in an interior.
If you only know two things about interiors, make it the importance of complement and contrast.
Every space is different because the people it's made for are different, which means the brief will always be different.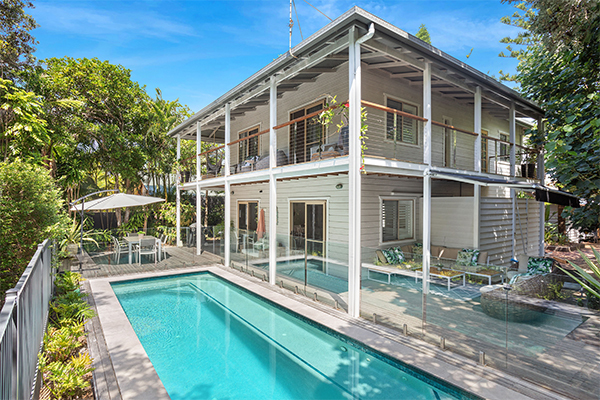 Darren Palmer's Byron Bay home, complete with a saltwater pool. Image via Depthfield photography.
​
Can you share any failsafe tips that we can consider when styling?
Some things underpin interior design decisions irrespective of style or trend, such as complement and contrast. You can interpret these rules in many ways—or ignore them!
Complement
If you can link elements together visually within a space, focusing on the colour of an object irrespective of its material, you can make almost anything fit into a palette. That's the importance of complement. To give an example, the colour of oak timber is roughly the same as tan leather, which is roughly the same as brass. A good way to check is to squint and blur your vision. That removes the material from the equation and allows you to treat the colour as part of your palette, which stops that "same same" feeling people can accidentally create by only using, say, oak timber elements again and again as their unifying element.
Contrast
Contrast in interiors is as important as complement, as you run the risk of a very bland interior if it's devoid of contrast. Think black against oak, shiny against matte, pattern against plain.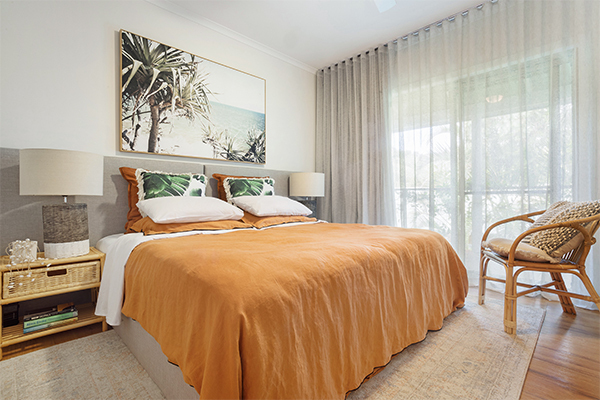 Palm prints and woven texture feature throughout a light-filled bedroom. Image via Depthfield photography.
How would you describe your home's aesthetic?
Welcoming, comfortable and classic contemporary. I like inexpensive inclusions as much as I like expensive
art
and anything in between. I don't believe something needs to be expensive to be right, though I think that you should invest in the things that matter most, that you really covet, or that will last you the longest. Design should make you feel something, and I hope my design makes people feel welcomed and at home.
How did you approach styling a room for your son?
He has a playroom full of Lego with heaps of
shelving
and a massive table I DIY'd for him, but now he's more interested in the
gaming
setup he got for Christmas, and he has his own
desk
and space for that. His room is part of the house and has the same livable aesthetic. I love creating perfect spaces ready for photography but prefer to live in a considered yet comfortable space, where nothing is so precious that it can't be replaced (apart from the art). The most important things in my home are our loved ones, four and two-legged, and how they enjoy it.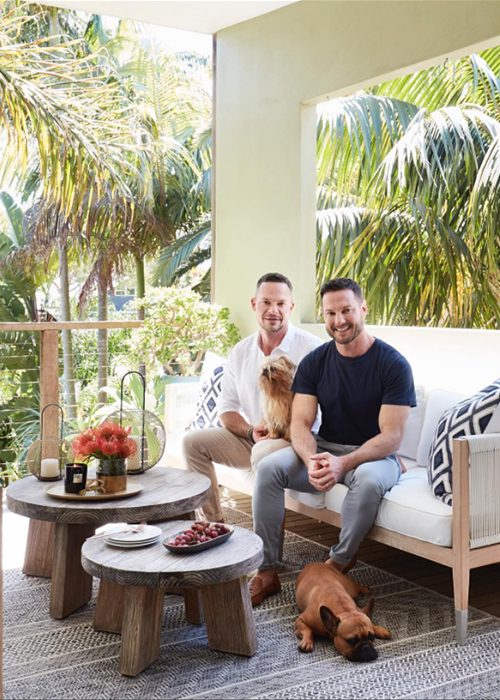 Darren with his husband Olivier and their four-legged friends. Image via @darrenpalmerofficial.
​
Are there any Temple & Webster items on your wish list at the moment?
I just purchased a
rattan bedhead
, two
hanging outdoor chairs
and several other pieces that were on my wishlist.
Where do you find inspiration?
Nature. I look around and take note of colours, textures and patterns in nature. I recharge by the ocean and among the trees. I try my best not to look at what other people do, though I do constantly update my knowledge with industry reports and trade show information. I love to learn about what makes people like what they like and buy what they buy.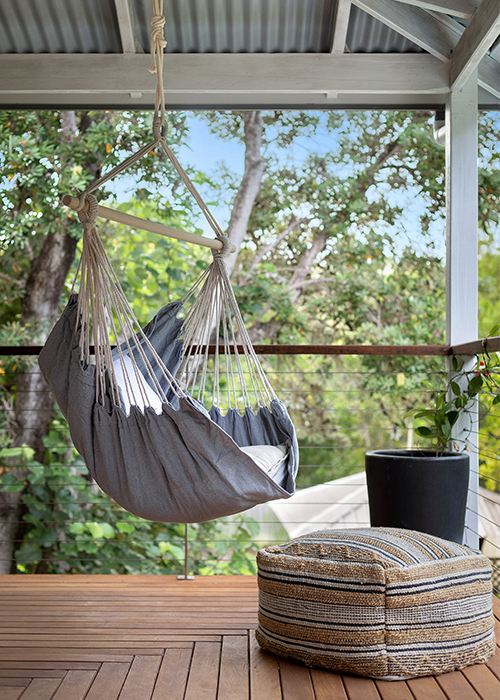 A hanging chair provides the perfect place to relax outside on the balcony. Image via Depthfield photography.
What interior trends do you think will resonate this year?
In terms of psychology and trends, I think it's interesting that we have
cottagecore
on the one hand, which covets the comfort of nostalgia as a reaction to the sterility of our current situation, and on the other hand, the inevitable re-emergence of early-2000s minimalism that embraces that same sterility as beauty. It's fascinating that two different and opposing branches can stem from the same external stimulus.
​​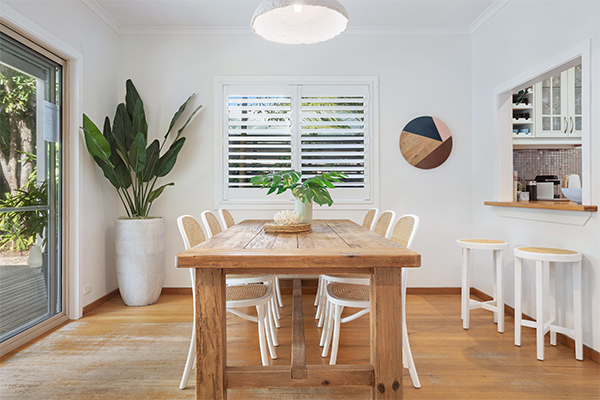 A generous timber table anchors the dining room. Image via Depthfield photography.
What's your favourite thing about your job?
Being able to choose how I use my time. I can work on projects and with brands and use my skills to help others start their interior learning. I'm also able to use my experience to add value and make money for charities such as
Yourtown
, which use the funds we raise together for services for young people delivered at community and national levels across Australia. Through Yourtown, I've also created spaces within a refuge that have elevated the experience of people temporarily needing housing after hard times or domestic violence. We've even worked together with their enterprise team teaching young people skills that they can use to find employment. That makes me feel very fulfilled, so it's not altogether altruistic.
It's Mardi Gras season—how do you usually celebrate?
I'm usually filming
The Block
, so I'm often in a hotel room in Melbourne—though Olivier [Duvillard, Darren's husband] was in the parade last year with
Rainbow Families
, and we marched with
Australian Marriage Equality
in 2018 to celebrate that great achievement. This year we'll likely be at home with our dogs on the couch on Saturday night like we are most nights.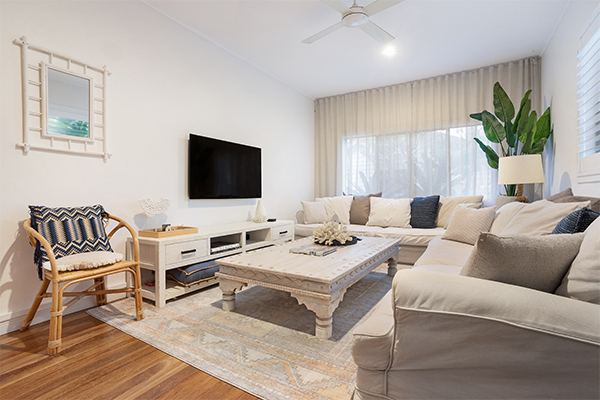 Two slipcover sofas create a comfortable and inviting living space. Image via Depthfield photography.


What does the event mean to you?
Belonging. Just that question made me emotional. I recall coming to Sydney on December 31, 1999, with $5000 in the bank, no job, no home and no friends because I had visited and felt like I belonged. We can't ever be complacent or forget what generations before us have had to endure and fight for, just to have the rights we still need to keep fighting for to protect ourselves and future generations.