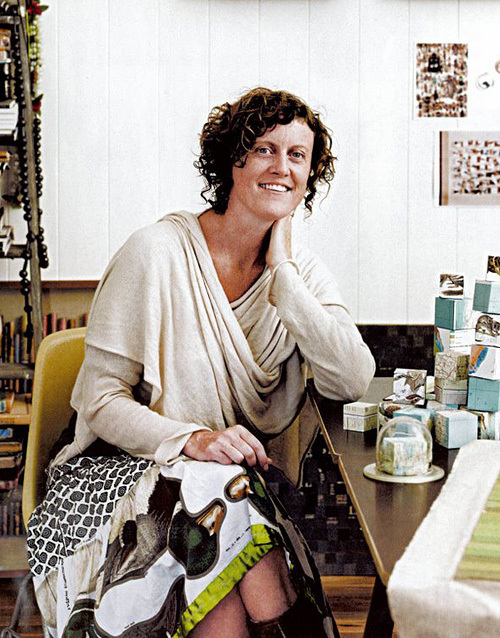 Lizzie Buckmaster Dove, pictured above in Inside Out, is an artist with a strong belief in the meditative power of a long walk. Her daily walks near her home in Coledale have been part of the creative process for her latest work, an installation painstakingly made using pieces of rock and cement washed up by the ocean. Many of her earlier works were created using organic material, and especially paper - intricately cut and sometimes reassembled into new forms. We're lucky to have her eye for detail informing a beautiful week in pictures.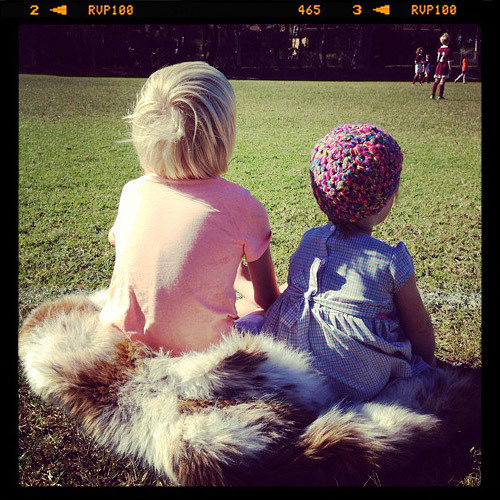 Saturday mornings are busy in the Buckmaster Dove household. On rare occasions, as happened on this day, I get to see both boys' games of soccer but usually they overlap and are in opposite directions. My oldest son has recently taken to wearing this fake fur coat. My younger two nested on it while watching him play.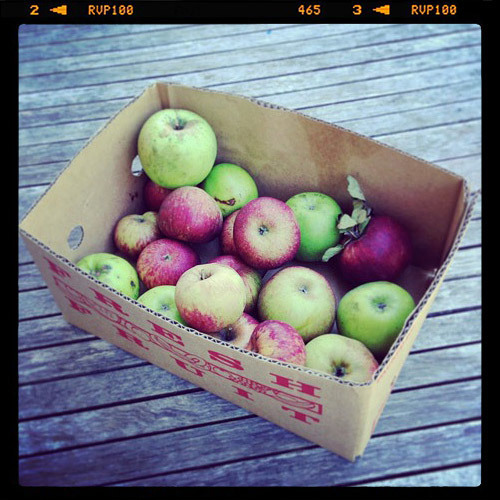 My youngest son spent the day with friends and they went hunting for apples from long forgotten orchards. They came back with boxes full and I got an apple pie for Mother's Day which we ate first thing at breakfast. The apples are delicious, crisp and crunchy.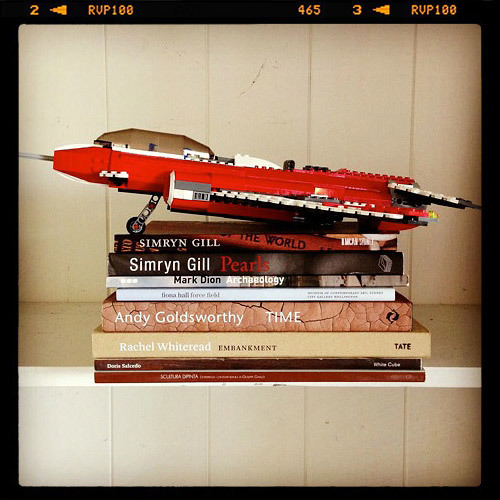 I have always loved making still lifes from my favourite things around the house. Nowadays I like to think of these arrangements as points of calm and order amid the chaos of family life. My children have taken to displaying their favourite things alongside mine.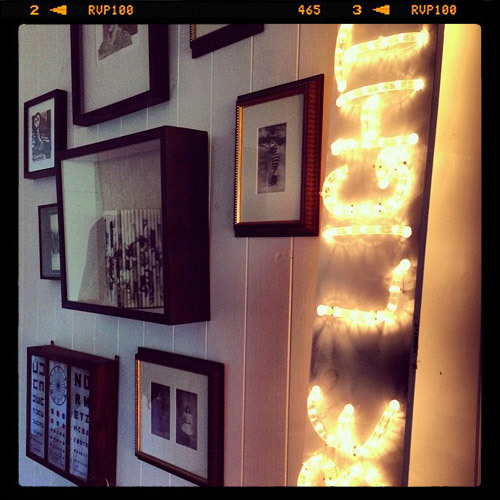 We were gifted this signage from my niece who made it as a part of her HSC but didn't end up submitting it. We love its casual placement on its end so much that we decided not to attach it to the wall. It is the singular light source in this room most evenings.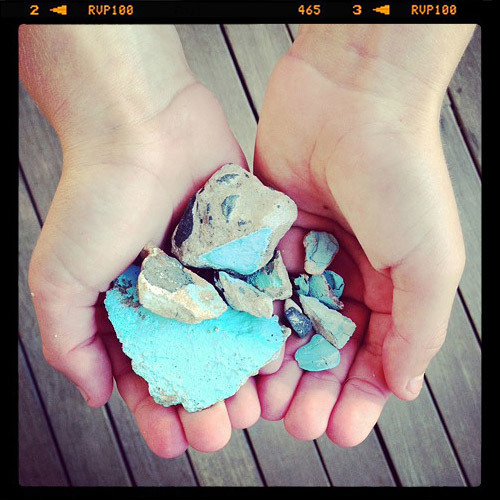 I am currently exhibiting an installation at Wollongong City Gallery that is made from pieces of the Coledale sea pool. The installation uses large pieces but also very small ones like these. I've been collecting them for more than five years, washed up in the rocks and sand beside the pool. I love making photos of small hands holding collections of found things, it began when my youngest son brought me a handful of pods he'd collected when we were camping.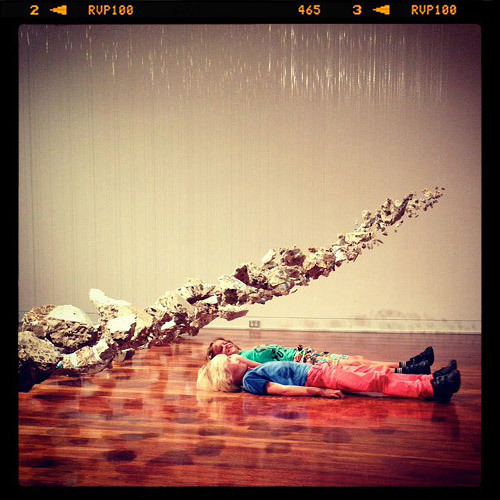 This is
Pool, the Alchemy of Blue
. It is by far the most ambitious and largest work I've done. I am so proud of it. I took the kids back into the gallery last weekend as they hadn't had a chance to explore (lie beneath) the work the night of the opening. I hadn't seen the work for two or three weeks and seeing it again took my breath away.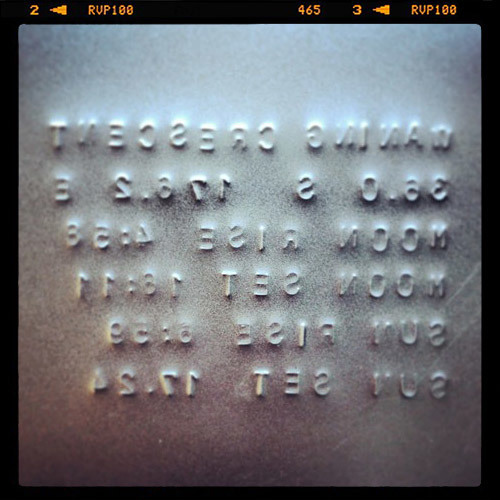 I've begun making a new body of work for an exhibition I am having in November at
NG Art Gallery
in Sydney. It is small and intimate and I'm loving sitting at my work table making and listening to the radio.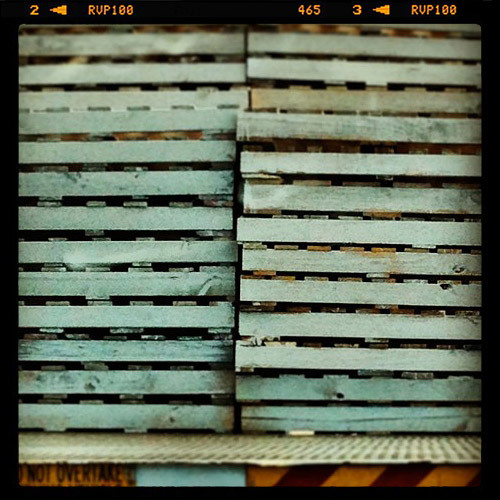 There is beauty everywhere. I'm often attracted by collisions of texture and pattern on the backs of trucks and in industrial areas. I was pulled up at the lights behind this truck happy for the red light.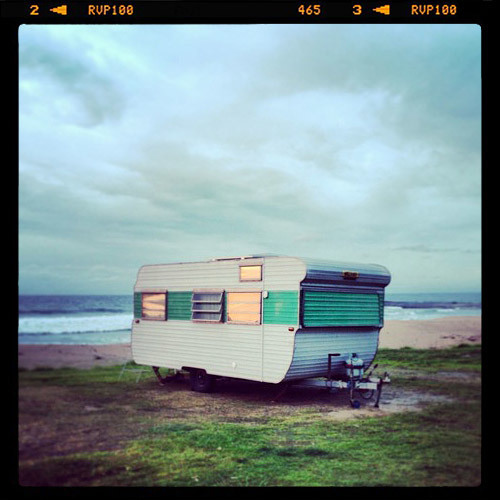 For a few weeks recently this caravan sat at the first point where I enter the beach on my morning walks. On this particular morning the rising sun was doing something otherworldly on the windows. I find this image completely dreamy and transporting. It feels magical.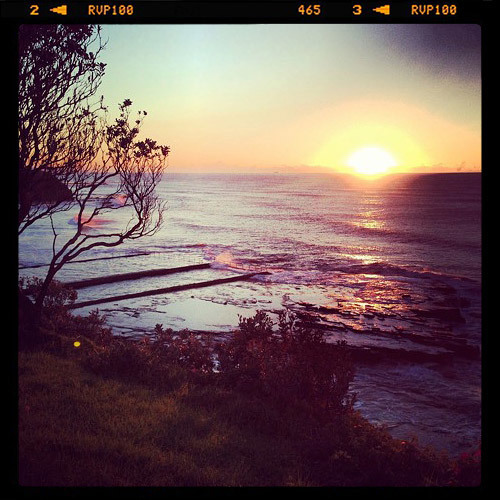 It's beautiful living here in Coledale. Every day I feel truly blessed to be surrounded by nature, a great community and so much inspiration. Since day light saving finished, miraculously I've been managing to get up and out the door early before anyone wakes. Seeing the sun rise over the ocean is such a quiet, enchanted way to begin the day.
To learn more about Lizzie's work, visit her website.