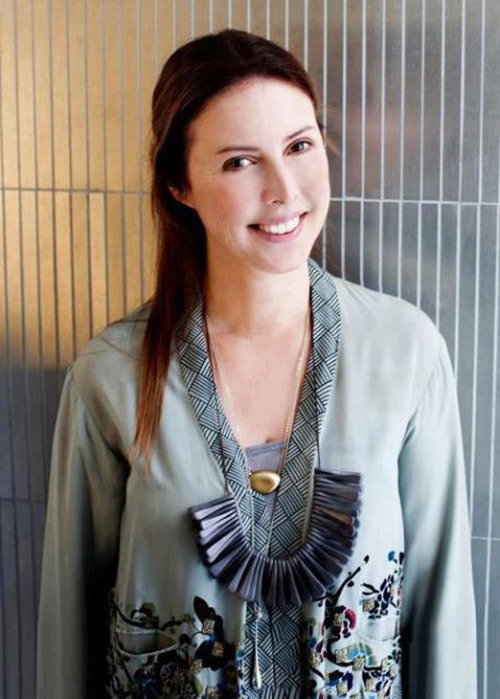 We love this week's peek into the world of a very creative family. Louise Olsen is Australian design royalty. She co-founded Dinosaur Designs more than 27 years ago with fellow art school students Stephen Ormandy and Liane Rossler, and she and Stephen (now her husband) still design each piece of jewellery and a beautiful resin homewares range, all of which is hand made in their studio in Strawberry Hills, Sydney. With stores around Australia and in New York, Dinosaur Designs is one of Australia's best known and unique design brands and their new 'Dream' range is just arriving in stores. Stephen is also a painter, and an exhibition of his vibrant, colourful canvases opens this week at the Tim Olsen Gallery in Sydney. Enjoy this insight into the collaborative, creative world of the Olsen/Ormandy family.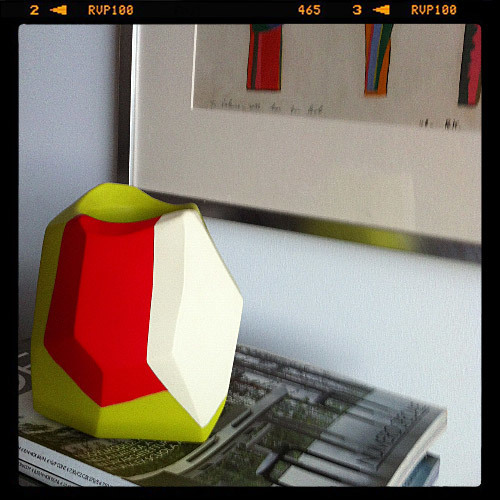 Stephen and I named this vase after our dear friend
David Band
who passed away early last year. It's very much a David Band vase - the colours and the form were inspired by his work. We miss him very much - we worked together over many of our end-of-year collection look books for which he would do the graphic design. He was a wonderful friend and great to work and collaborate with. We will never forget him.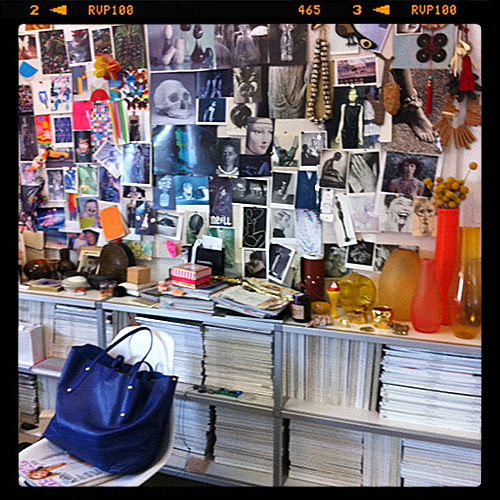 This image is of my office - I love this place, my office world, and every moment in this space where I dream, think and work on new collections. To me DD is not work, it's a passion - I feel very lucky to work here.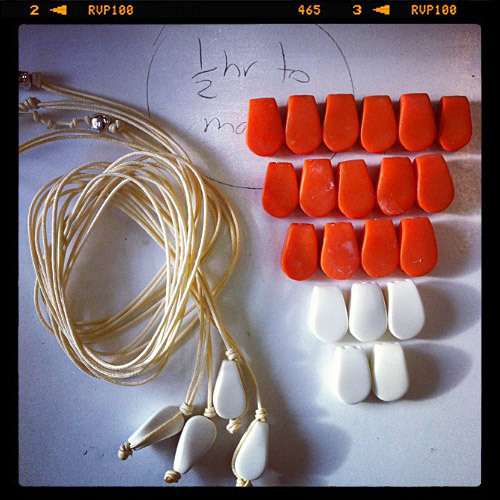 Here is a collection of beads set up about to be knotted. All our pieces are hand-made in our studio in Redfern and each necklace is knotted by hand. This necklace is from our new Dream collection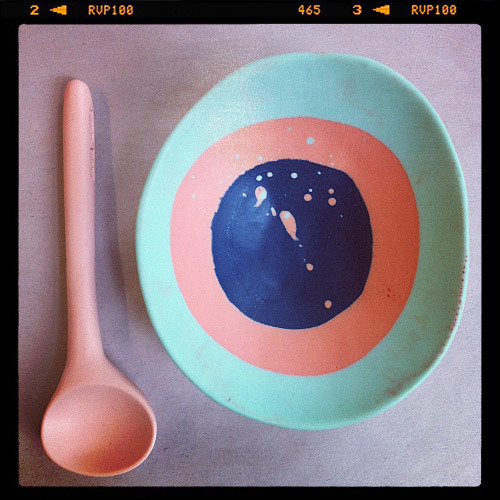 This is one of my favourite bowls and spoon in our Sorbet colour palette. Each casting is one of a kind, for all the colours are mixed by hand. There's a lovely pale gentleness that I love in this small set; the light was just perfect too.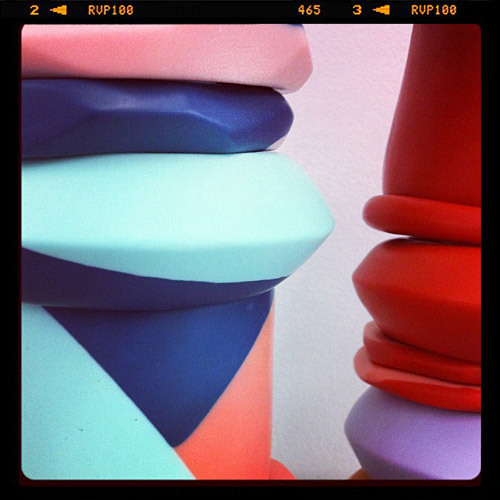 Here is a close up image of bangles in the studio from our Sorbet collection. Love getting really close up to them; they look so sculptural and other-worldly.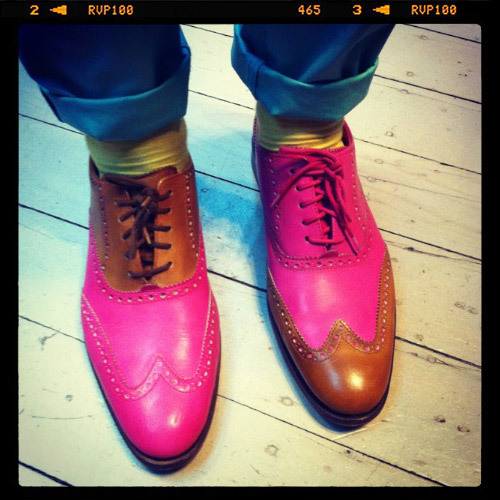 This next image is of David's shoes. David manages our Strand Arcade store and always has the most amazing shoes. He said he found this gorgeous pair in New York not far from our store in Nolita.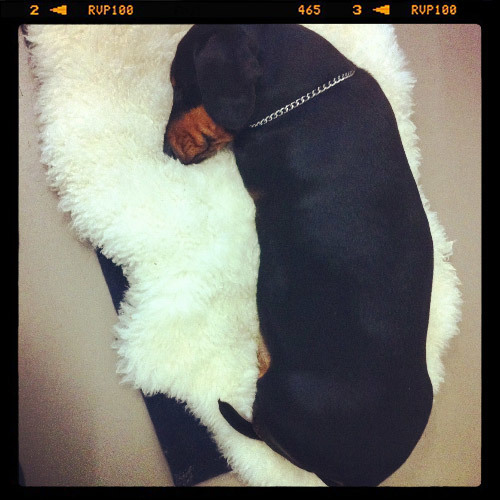 There is something so calming about Skipper's little snores while you are working. He is a little sweet heart, always looking for a loving hug or pat from anyone at work who has time. We do have to keep our hand bags off the floor if there is food in them, for he has been known to be found with rare beef sandwiches, pizza and muffins in his mouth looking very sheepish...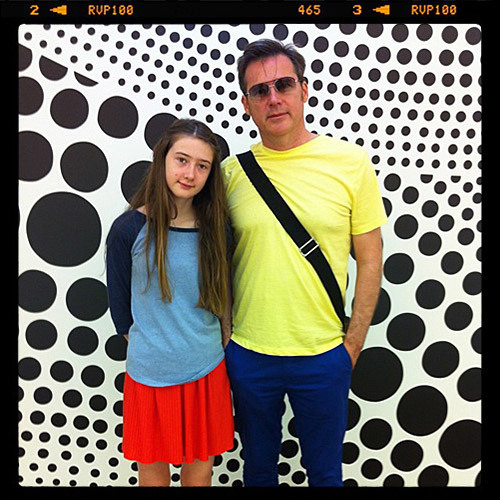 Stephen and our daughter Camille in front of the work of one of our favourite artists, Yayoi Kusama, at the Louis Vuitton Gallery Singapore. We were in Singapore for Saturday Indesign and to launch our new collection at Space furniture.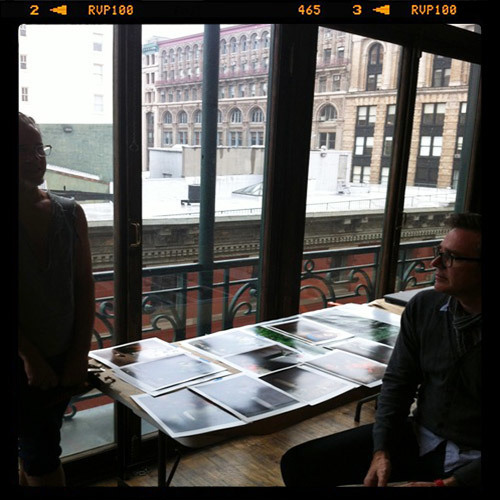 Martyn Thompson
is one of our all-time favourite photographers. We love working and collaborating with him on shoots. He is a dear friend and we love catching up with him in New York and when he is back in Sydney. We are planning to do an exhibition of his work in our studio late January early / February. This image is of Martyn giving us a sneak peek of his work for his next show. Martyn's studio has the most beautiful light. This image was taken on a rainy day but you can see how wonderful the light is the way it glows through the big windows and onto the table and reflects up.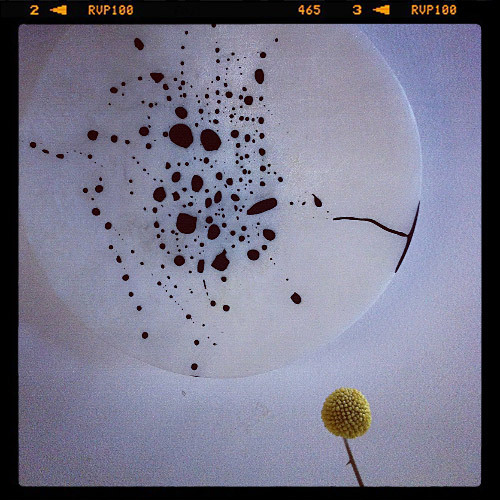 This is a series of plates we did for a collection called 'Delicate.' Each plate is delicately cast by hand. It's very much hand-painting with resin. I have a selection of these plates hanging on our wall at home, I so love the painterly quality and their minimal, delicate nature.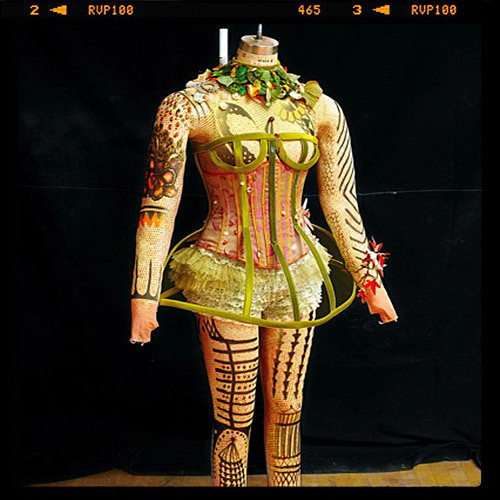 One of the exciting highlights of this year was helping Kym Barrett with beads and jewellery for 'The Tempest, now playing at the
Metropolitan Opera New York
. Dinosaur Designs beads were woven into the costumes she designed.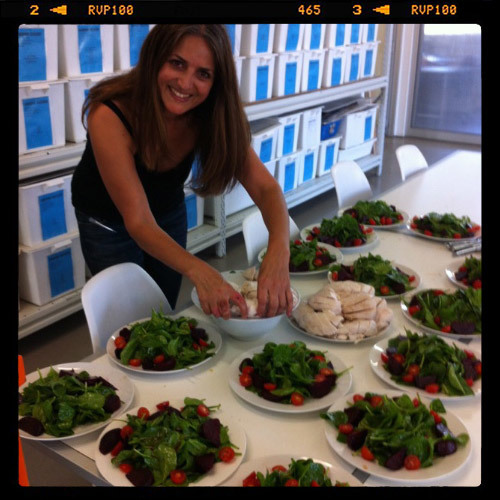 Millie is a part of the DD family – she comes to the studio once a week and cooks a yummy lunch. It's a great way of getting all the team together to share lunch and catch up with all the rounding of the day. Here Millie is preparing her chicken salad - she makes the best aioli that she pours over the salad. Amazing treat!
For more, follow Louise on Instagram @louise_olsen