Forget overnight brining and slaving over a stove. For a stress-free Christmas, try this Italian-inspired menu featuring a refreshing limoncello cocktail, an antipasto board that doubles as a table centrepiece, a salmon fillet that takes a mere eight minutes to cook, and a no-churn semifreddo that you can make ahead. This menu is designed to serve eight, but you can easily double the quantities for a bigger crowd.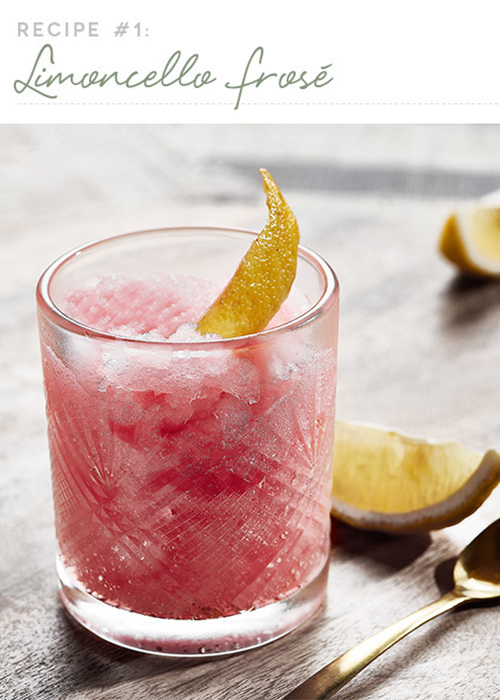 ​
Limoncello frosé
Makes 4-6
You will need to start this a day ahead.
750ml bottle rosé
⅓ cup (80ml) limoncello
⅓ cup (80ml) lemon juice, plus strips of pared lemon rind to garnish
⅓ cup (80ml) simple sugar syrup
Combine all the liquids in a large shallow container and place in the freezer overnight. Just before serving, break the frozen mixture into chunks and whiz in a
blender
until a smooth 'slushie' consistency. Pour into chilled
glasses
and serve immediately with lemon rind.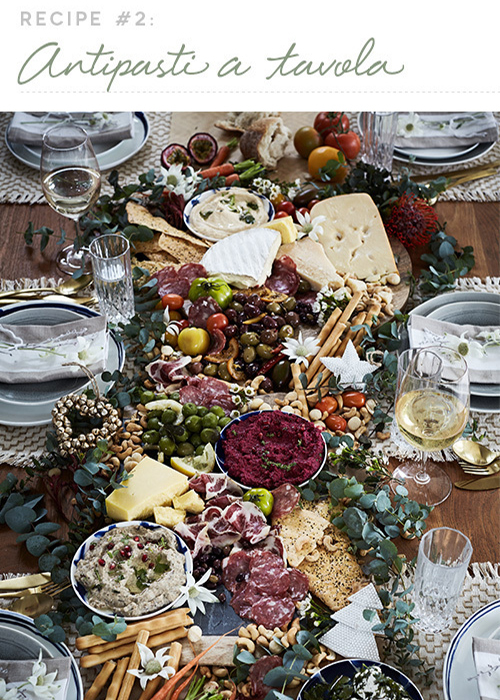 ​
Antipasti a tavola
This is more of a guide to creating a generous and delicious Italian grazing platter. You can present it on
wooden boards
, or make a bold statement and use the
dining table
itself as your board.
To do this, spread a layer of baking paper down the centre of the table as a base. Place four different cheeses and four varieties of sliced meat on the paper. Perhaps brie, aged cheddar, creamy blue and Swiss for cheese, and prosciutto, soppressa, truffled Italian salami and bresaola for the meat. Add a few small
bowls
of dips. Make life easier and use good-quality pre-made dips dressed up with a drizzle of olive oil and fresh herbs. Add crispbread, crackers and grissini. Tear up some loaves of crusty bread and dot them around. Add a few piles of olives, then fill the rest of the board with fresh produce such as cherry tomatoes, baby carrots and seasonal fruit. Finally, fill any gaps with mixed nuts, sprigs of flowers and greenery to complete this bountiful look.

​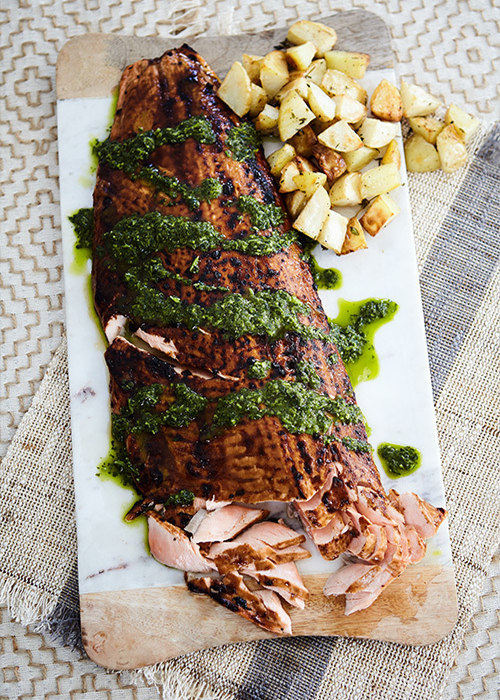 ​
Salmon fillet with balsamic glaze and salsa verde
Serves 8
You can make the salsa verde a day ahead to save time.
2 x 800g skinless, boneless pieces of salmon fillet (ask your fishmonger to pinbone them for you)
2 tbs caramelised balsamic glaze
Roast potatoes and green salad, to serve
Salsa Verde
Handful of basil leaves
Handful of flat-leaf parsley leaves
1 garlic clove
2 tsp baby capers
½ cup (125ml) extra virgin olive oil
1 anchovy fillet
Juice of 1 lemon
For the salsa verde, using a
food processor or hand blender
, whiz all the ingredients together until finely chopped. You can keep the salsa in an
airtight container
in the fridge overnight, then leave to sit at room temperature for 30 minutes before serving.
Preheat the grill to high. Line 1 large or 2 regular baking trays with foil. Add the salmon and season with
salt and pepper
, then brush with balsamic glaze. Place under the grill for 6-8 minutes until the glaze is sticky and the salmon is cooked but still moist in the centre. Transfer to a
serving board
or
platter
, and serve drizzled with salsa verde. Serve with roast potatoes and salad.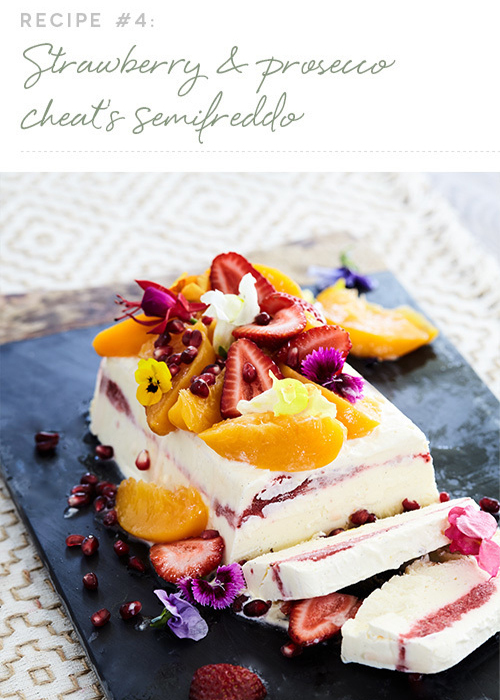 ​
Strawberry & prosecco cheat's semifreddo
Serves 8
You will need to start this a day ahead.
2 x 250g punnets strawberries, hulled
⅓ cup (80ml) prosecco or other sparkling wine
300ml thickened cream
1 vanilla bean, split, seeds scraped
⅓ cup (85g) caster sugar
400ml crème fraîche
4 peaches, stones removed, cut into thin wedges
Seeds of 1 pomegranate
Edible flowers (from greengrocers), to garnish
Line an 11cm x 21cm
loaf pan
with baking paper, leaving some hanging over the sides. Using a
blender
or hand blender, puree 1 punnet of strawberries with 2 tbs prosecco, then set aside.
Place the cream, vanilla and sugar in a large bowl and use
electric beaters
to whip to stiff peaks. Gently fold in the crème fraîche and remaining 2 tbs prosecco until smooth, leaving as much air in the mixture as possible.
Pour one-third of the cream mixture into the loaf pan, then gently pour in the strawberry puree and spread evenly to cover. Add the remaining cream mixture, then cover with the overhanging baking paper. Freeze the semifreddo for at least 6 hours or overnight.
To make the topping, halve or quarter the remaining strawberries and toss in a bowl with the peaches and pomegranate.
Just before serving, remove the semifreddo from the freezer. Unwrap the top, then turn out onto a serving
platter
or
board
, removing the baking paper. Pile the fruit on top, garnish with edible flowers, then slice and serve immediately.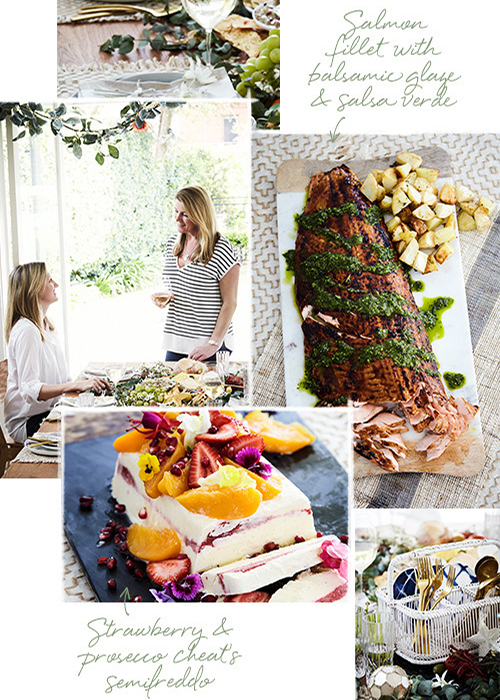 ​