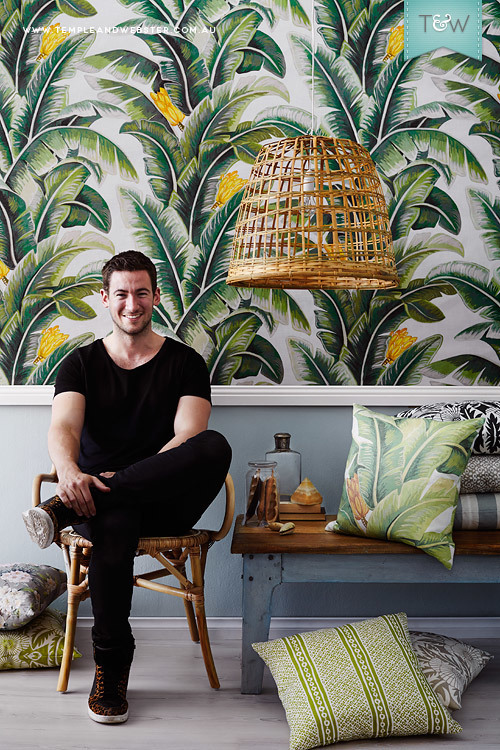 Meet Thomas House, a trainee stylist at T&W. He styled the beautiful British India cushion collection by Bethany Linz for Sparkk, under the watch of T&W's Head of Styling Jessica Bellef and photographer Natalie Hunfalvay. Here's how it went down...
The stylist
Tom is already a qualified interior designer, but has recently turned his hand to styling and came to us having already worked assisting leading stylist Glen Proebstel.
The preparation
Tom explains: "I sat down with Jess and we looked at the range of cushions and talked about the best way to represent them - what type of environment would suit their style, which angles and detailing needed to be shown and how many cushions we would like to get into the shot." They decided on a traditional Hamptons-style interior – luxurious yet relaxed.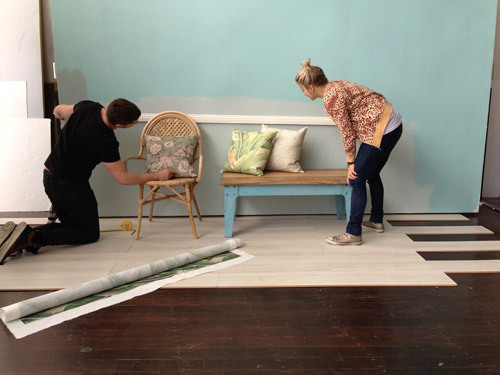 Setting up the shot, including the dado rail. Sparkk printed the roll of fabric especially for Tom to use as wallpaper in the shoot.
The props
Tom chose props which looked like antiques or items collected while travelling. "The natural materiality of the chair (from IKEA) was perfect for a beach house setting, and its shape hinted at an oriental antique," he explains. "The light shade (from I Like Birds in Paddington) worked so perfectly because its openness allowed glimpses through to the wallpaper." He brought his own fiddle leaf fig – clearly the styling prop du jour!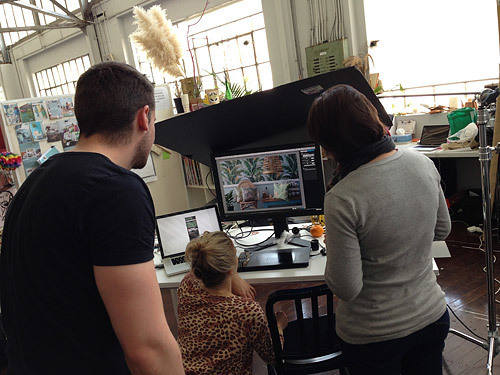 Tom, stylist Jess Bellef and photographer Natalie Hunfalvay analyse the shot.
The styling challenge
"It can be hard to style an image with cushions as the main feature, as they're so small and can get lost in a big set," says Jess. Tom needed to find a way to represent a range of the different prints, while ensuring the shot was close enough to see the beautiful detail.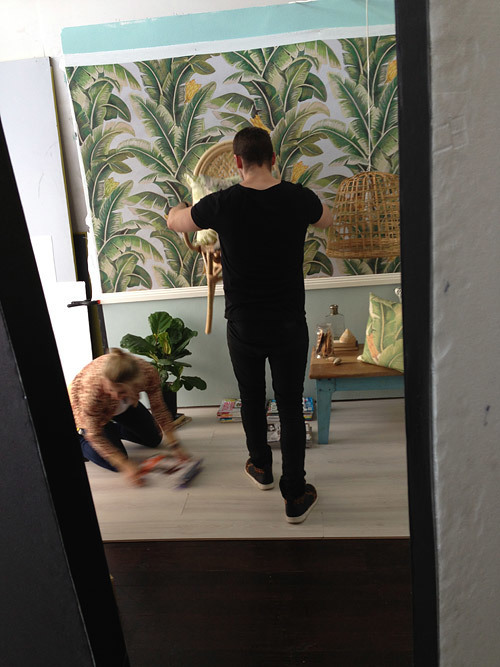 Jess and Tom play with the levels, raising the hight of the chair with a trusty stack of mags.
The solution
Tom decided to use a length of fabric as wallpaper to make a feature of the 'Great Shalimar' print. "I introduced the dado rail as a way of giving the cushions a space to sit below the wallpaper and make sure the different prints weren't having to compete for attention," he explains.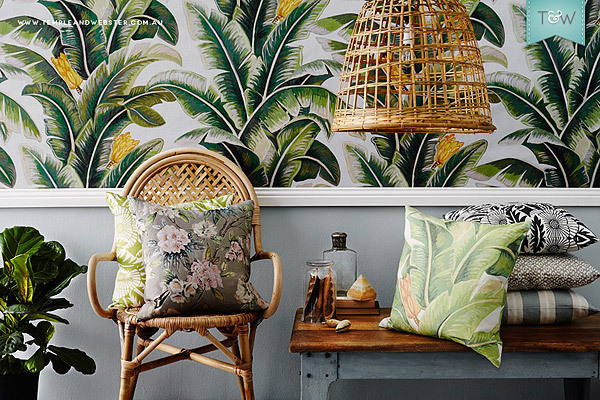 The result
What did Tom learn? "Getting a great shot sometimes comes down to the smallest details, and getting these right can be surprisingly time consuming. Things like finessing the corners of the cushions, making sure the legs of the chair were perfectly aligned and re-adjusting the height of the pendant light turned out to be really important."
And Jess's verdict? "Tom managed to create a really strong image using minimal props," she says. "The cushions and their decorative prints are a feature but at the same time the image hints at a complete home."