To finish our look back at 2015, we're taking another look at 8 ideas to solve a common decorating dilemma: What to hang on the big, bare wall behind the sofa? We've covered everything from traditional artworks to African baskets. Be inspired!
A
statement artwork
can really change the mood of a room. This high impact contemporary piece in an apartment by
Mim Design
adds a jolt of fresh colour to an otherwise neutral room, along with a combination of dynamic angles and softer, watercolour effects. In this case, the artwork is perfectly in proportion with the size of the sofa, and the height of the ceiling.
If you're not ready to commit to a large piece, try a pair (or more) of
matching or complementary artworks.
Hung as a pair or set, they provide pleasing symmetry and an ordered feel. Here, the colour and pattern in the cushions, rug and throw means the restrained, monochromatic prints are right for the space. Extra points for on-trend typography.
Be a clever home stylist and create a
gallery wall
made up of smaller art pieces, posters or photographs. Try to keep an element of consistency across subject matter, colour or frame size or colour. Adding a 3D element (like this mini animal head) adds depth and a sense of fun. If you want some tips on hanging a gallery wall,
check out our video
.
A mirror
is a decorative element in its own right, and also works to reflect light and add depth to the room. Just as with art, choose a frame and style to suit your space, from a plain black iron box frame to a vintage carved timber style with slightly foxed glass. Position a lamp near the mirror to double the warm glow.
Hanging textiles
add a hand-made element to your room, and soften hard surfaces. (They'll also help deaden sound if you're suffering from clacky floors.) This Moroccan wedding blanket (
handira)
is beautiful in this all white space, adding texture and sparkle. You could also consider small rugs, woven wall hangings, or embroidered textiles like suzanis.
OK, this solution requires a little construction work. But a
wall of books
adds unrivalled personality to a room, and offers many styling opportunities as well as a storage solution. Will you organise your books by colour of spine, or arrange them sparsely with baskets, ceramics and travel finds filling the spaces?
Get creative with your
collections.
These African baskets make for a striking feature, and you could create a similar look with a mixture of different basket styles and textures. It's a little bit boho, a little bit beachy, and we love the organic feel when combined with the weathered timber daybed and block printed cushions.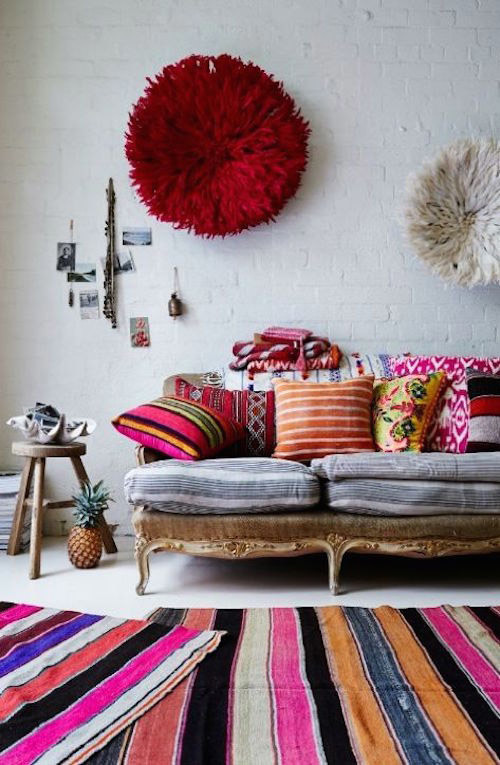 And finally,
feathers! One or more Bamileke juju hats
tick the box on texture and colour. They fit in with the bohemian mixed-pattern vibe here, but a single white juju hat against a charcoal wall can also fit perfectly into a more formal scheme. Whatever you do, don't forget a pineapple!