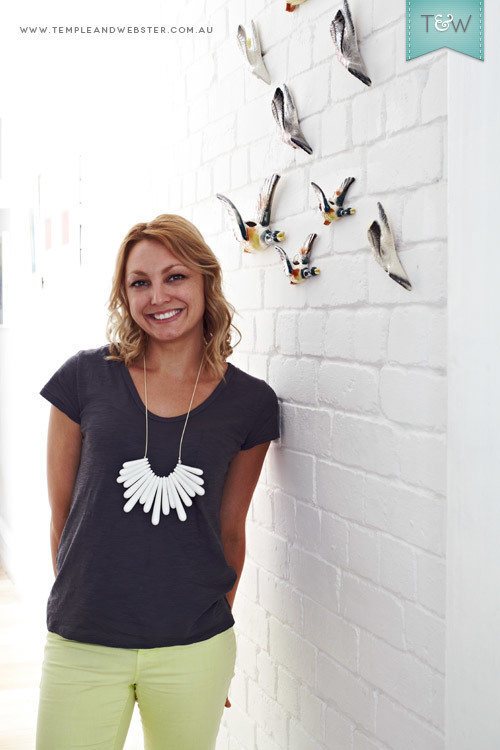 In the second in our 'These are our friends' series, we're visiting the home of our friend Tamara Turnbull, owner of Sydney homewares boutique I Like Birds. Pictured above with some of her avian friends, Tamara's unique and very individual style mixes new and antique finds with an irresistible touch of nostalgia. She has curated a great collection of vintage and modern pieces for us in today's I Like Birds sale event, and talked to Verity Magdalino about styling, inspiration and her own personal style philosophy.
So Tamara, what's your background, and what led you to establish I Like Birds?
I'm a florist by trade. I did an apprenticeship as soon as I left school but after 18 years I wanted something different. I'm from Melbourne and two of my best girlfriends moved to Sydney. I had this idea for a shop selling a mix of new and vintage. I'd started collecting a lot of vintage stuff for myself and once you get a few of something, you go crazy buying it. Then you're over it. And what do you do with it all? That's how the idea for the shop came about.
There's a lot of colour, plants and flowers in your house. Do you have a favourite colour?
If I had to pick one I'd say green. It has to do with my love of nature and plants, which I got from my mum. She's a massive influence. She's quite a creative person. She was always out in the garden. And she taught me to see the beauty in old things.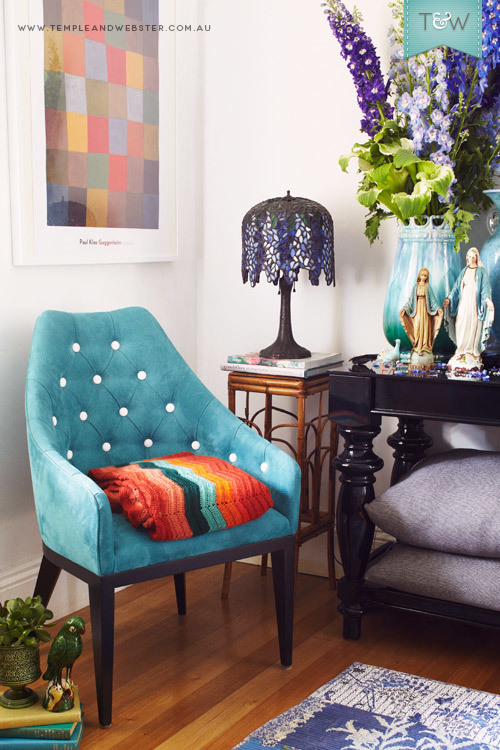 I sold these blue chairs in my shop when I first opened and decided to keep the last one. I never actually sit in it but it's a beautiful thing to look at. The lead-light lamp belonged to my grandparents. It's such a pretty piece and looks absolutely lovely when it's on at night.
When it comes to your personal approach to styling, do you have a favourite phrase?
'It's not rocket science.' Especially with homes people tend to overthink things. They try too hard when you need to just trust your instinct.
Do you have any favourite artists right now?
I'm loving this contemporary South African artist,
Diezel
. I only just bought a work from her. When I first saw the piece I couldn't walk away from it.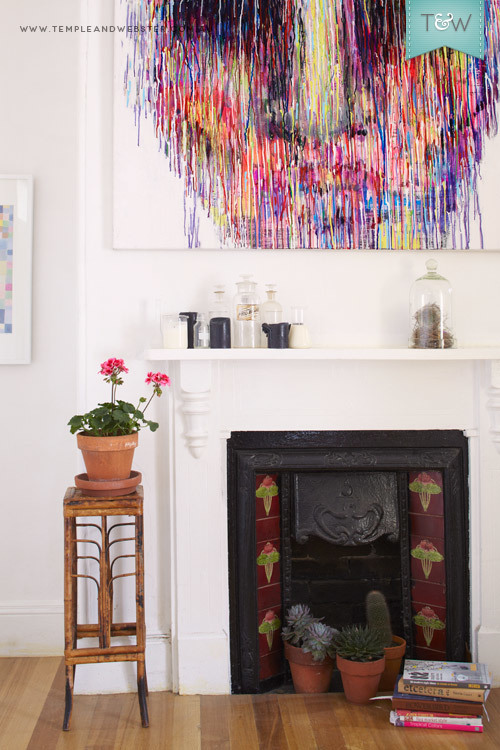 The artwork here is a very recent purchase. It's much edgier then what I am usually attracted to. This room has 15ft ceilings so can handle something of this scale. I'm a huge lover of plant pedestals. This one is Art Deco tiger cane. I have three of these and am searching for more.
Your home is immaculately tidy. Do you have any obsessions?
My home is my obsession. I'm a neat freak. If someone popped over unexpectedly I'd be devastated if there were dishes in the sink.
You've created some unique looks. Where do you go for inspiration?
I love antique centres, especially in country towns. I can walk around for hours. And magazines. I get excited when a new issue like
Elle Decoration
comes out and I scour through it, bookmarking things I love.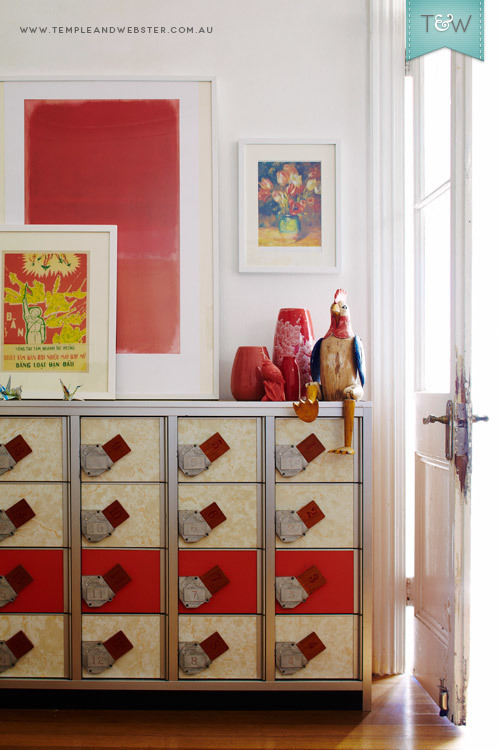 This piece is always such a talking point. It's a Japanese shoe locker from the 1950s. Its functional as well as good looking as it holds all my little jars, vases and candles. The wooden rooster I found in an antique shop on Portobello Road in London. I seem to always bring home a new avian friend from every holiday.
What do you love most about your home?
The period features. The mantle pieces, the French doors, the big skirting boards, the high ceilings. I can't stand low ceilings. I grew up in a 60s suburban weatherboard with low ceilings and no character.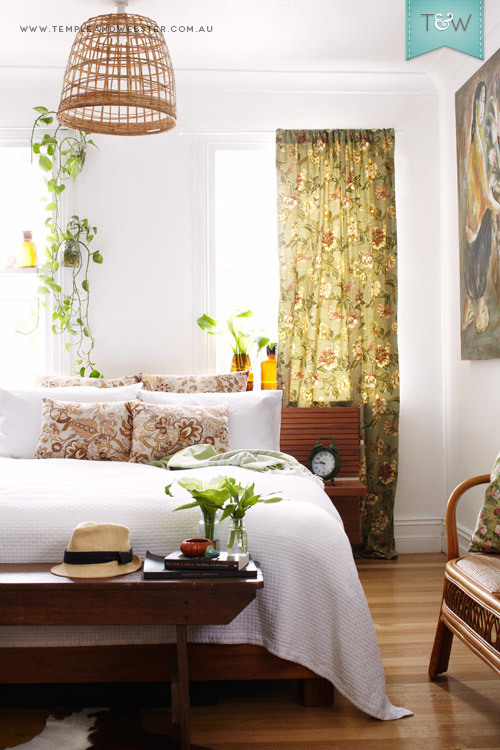 I've decorated the bedroom in what I feel is a very neutral palate - calming earth tones, greens and whites. I love timber, cane and bamboo furniture with an abundance of plants and jars of foliage. The curtains and cushions I made from vintage fabrics and the bamboo light shades are sold in the shop.
Is there are room where you most like to spend your time?
It changes depending upon what's new. If I put new plants out on the balcony that's it. If there's new linen on the bed then the bedroom's the best. I change my rooms around a lot, regularly putting in new cushions, vases and ceramics to get a different look. I move the furniture around every couple of months, and yes, I borrow a lot from the shop.
Is there any one piece you're loving right now?
A mid-century, cane telephone seat with in-built table, which I recently bought from Ebay. I love the organic texture of cane and wicker. I always use sea grass mats to soften the look of hard areas such as tabletops. It just adds that natural element.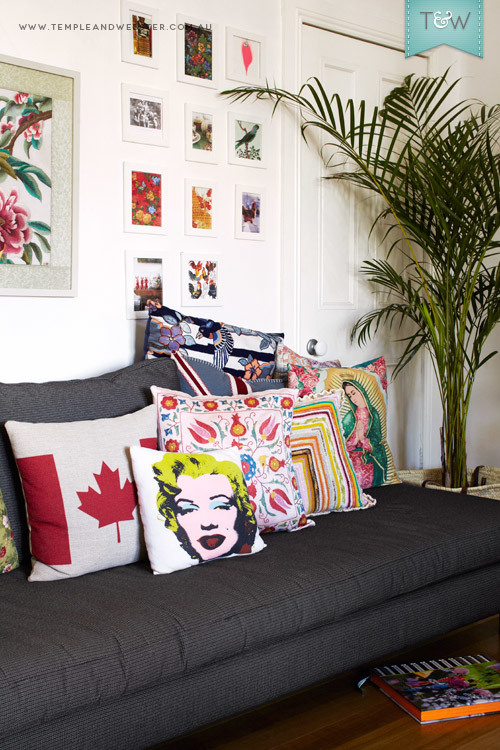 The sofa is a four seater but there's barely room for one person to sit with all the cushions. I love to mix sizes, patterns and colours and they change around all the time. Some I've bought, some I've made, and no two are the same. On the wall I have framed cards that people have given me. There's a recurring theme here - they're all birds.
If you have one styling tip, what would it be?
Go with your instinct. My other tip is to put plants everywhere. People say they can't look after plants but an indoor plant might cost you $50. So can a bunch of flowers. If the plant lasts for two months, you're making money! I go to the flower markets for my plants if I can get up early enough. Otherwise I love
Garlands Florist
in Taylor Square.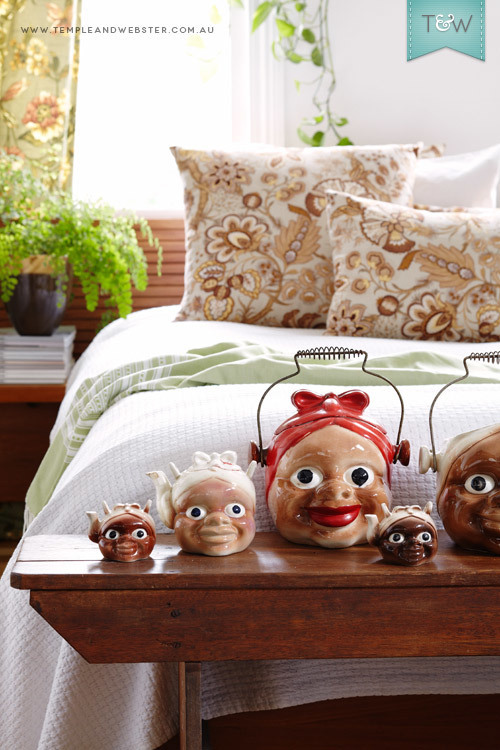 The Black Mammy biscuit barrels, salt-and-pepper shakers and teapots were made in Japan in the 1950s. I bought the first one about three years ago and am up to 12 now.
What are you working on at the moment?
I'm gearing up for Christmas.
I get really excited and have been dying to put the tree up in the shop. I'm also sourcing shell chandeliers, which are my new favourite thing. And cockatoos and pineapples. There's a definite resurgence in Australiana, even Australian native flowers, which right now are the bomb. It looks like you've just cut them out of your garden. The whole mood is about being less over-styled and put together.
Do you have a life motto?
If you do what you love, you never work a day in your life.
Love Tamara's style? Choose a piece for yourself in our I Like Birds sale event.
We've pinned all these images onto our
Home Tours Pinterest board
- see them there and re-pin away!
Image credits: Photos - Denise Braki. Styling - Adam Powell.