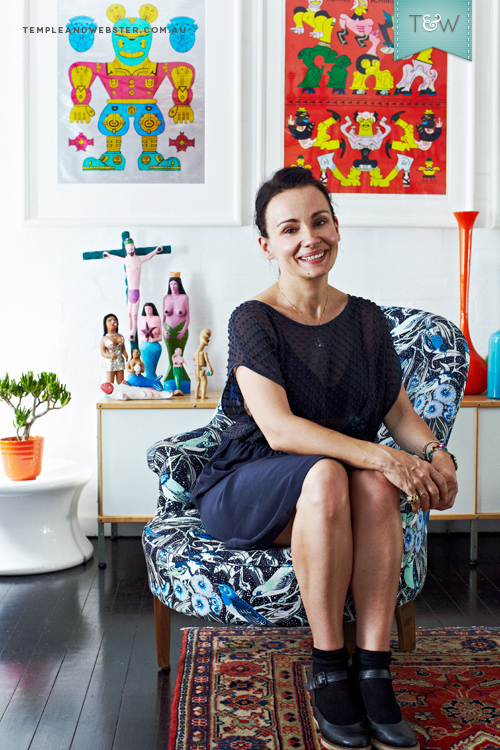 Our creative team was lucky enough to visit the Sydney home of our friends Sophie Tatlow and Bruce Slorach, founders of the new homewares, soft-furnishings and accessories label Utopia Goods, featured in today's sale event. Sophie, pictured above on a chair upholstered with Utopia Goods fabric, and her partner Bruce, also run respected Sydney design studio, Deuce Design. The couple have a light-hearted, more-is-more approach to decorating their home, backed up with a solid knowledge of all things design. They talked to Verity Magdalino about their shared passion for Australia's natural heritage and history.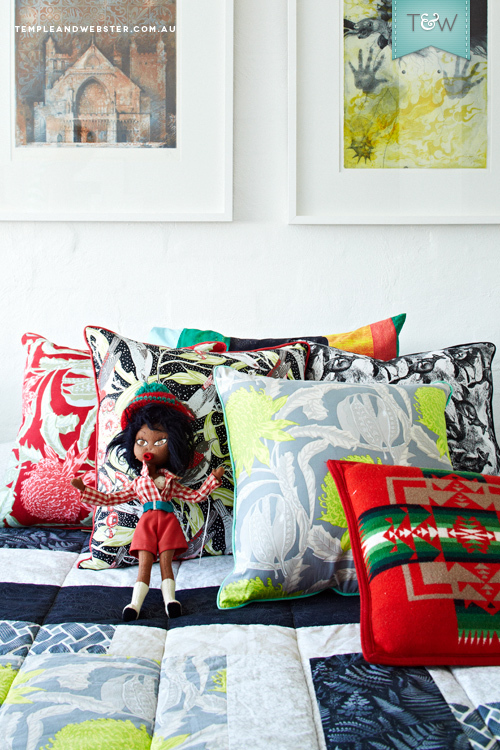 The cushions and patchwork quilt in our bedroom are all
Utopia Goods
. Each print is hand-illustrated by Bruce and has its own unique story. The red wool cushion is part of the Navajo range from
Pendleton Woolen Mills
in the US. The Spanish dolly is made from handmade felt and found objects and was given to us by a distant relative.
Tell us a little about what led you to establish Utopia Goods? Sophie:
Australiana is a long-time fascination. It's something that we both like independently. Australia is really rich in references. We have this fantastic landscape and an amazing source of fauna and flowers. Countries like Sweden, the UK and the US, especially New York all really cash in on their heritage and history and I don't think we have done it very well because of our cultural cringe. I liked the idea of putting all these Australian references together and making them clean and interesting… turning the cringe into a cultural binge.
The collection has a very strong heritage base but is bought up to date through colour and composition such as the
Koala Revolution
print, which features a famous 1890s illustration taken from Australia's first newspaper,
The Bulletin
, combined with influences from Russian and Japanese textiles. We try to make our prints the right amount of crazy… We want to create something classic, a memento and keepsake. It's about sense of place and pride.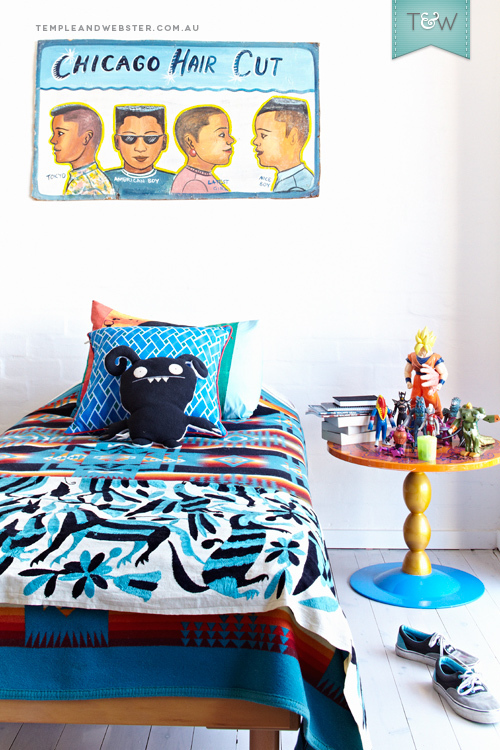 Our son Henri's room looks like a kaleidoscope of colour and mess, the old and new. The blanket is a Navajo classic from Pendleton Woolen Mills in the US. The embroidered throw is made by a women's' collective in Mexico. The haircut painting is from a barbershop in Jamaica. The toys and figurines are hand-me-downs from his big brother. The cushion is the
Basket Case
print from Utopia Goods, which is a fusion of aspects of African textiles and the colours of the ocean.
What do you love most about your home?
The natural light, breeze and the view of Darlinghurst and the Sydney CBD from our bedroom window. There's no glittering water vistas but a scene of terrace rooftops, other people's gardens and the city skyline. It's not a glam vista but a constant reminder of the city's bustle and humanity. The soundtrack to this view would drive a lot of people bananas - a combination of Saturday night party 'doof', boxer-cise, kids' screaming, sirens from St Vincent's hospital and chirping birds and bats.
When it comes to styling your home, do you have a favourite phrase or mantra?
Welcome to our creative binge.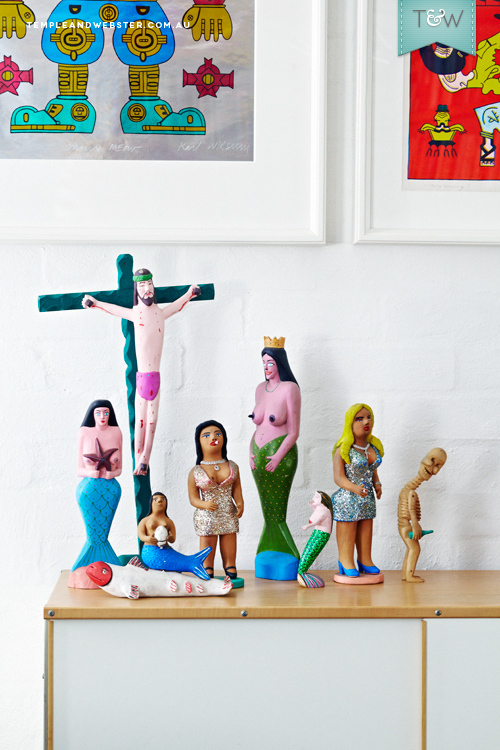 We bought the artisan-made wooden and clay figurines in Oaxaca, Mexico about fifteen years ago. The Mexicans have the most fantastic tradition of artisan markets and a long history of art and craft. We also collected Lucha Libre wrestling masks and paper mache skeletons.
Do you have a favourite room, or somewhere you most like to spend your time?Sophie:
It's a toss-up between the kitchen and our bedroom. The kitchen is the heart of the house and the bedroom is my favourite way to relax by reading a book in bed. Very middle-aged nana!
What about objects, furniture or artworks would you find hard to part with?Bruce:
Our
Pierre Paulin Butterfly chair
. It's sculptural, relaxed, timeless and really well made. We bought it ten years ago when we first moved into the house.
Sophie
: I like our dining room table because it's the scene of good food, food mishaps, chats, awkward moments and the odd argument. It's also a really good design piece by
Ronan & Erwan Bouroullec for Vitra
. I think we'll have it for the rest of our lives. It's solid and built to last.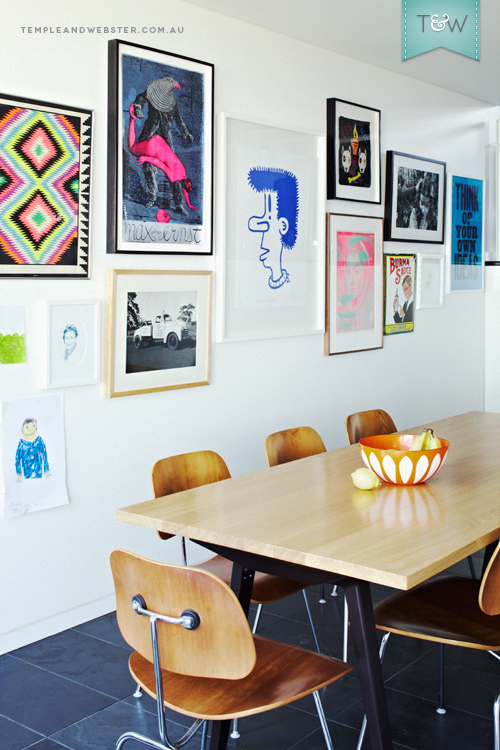 The chairs are Eames moulded plywood chairs by
Herman Miller
and the artworks are a mix of random screen-printed art prints
.Do you have a favourite colour or palette when it come to interiors?Sophie:
Life's too short to ostracise any colours. A good 'creative' can make brown and purple look brilliant. But I do love indigo.
You have a lot of art on your walls. Which artists do you most admire?Sophie:
I wouldn't know where to start as there are too many to name. There are a lot of favourites I can't afford. From Cindy Sherman (we saw her recent retrospective) to obscure American folk artists. From a sentimental perspective, Henri Slorach . Great portraits, daily observations and completely priceless.
Bruce:
There are so many artists and designers I love…Fornasetti, Josef Frank, William Morris, Yoshi Toshi, Tadanori Yokoo, Karl Wirsum, Martin Sharpe, Lucien Henry and Gordon Andrews. That's just a really quick start…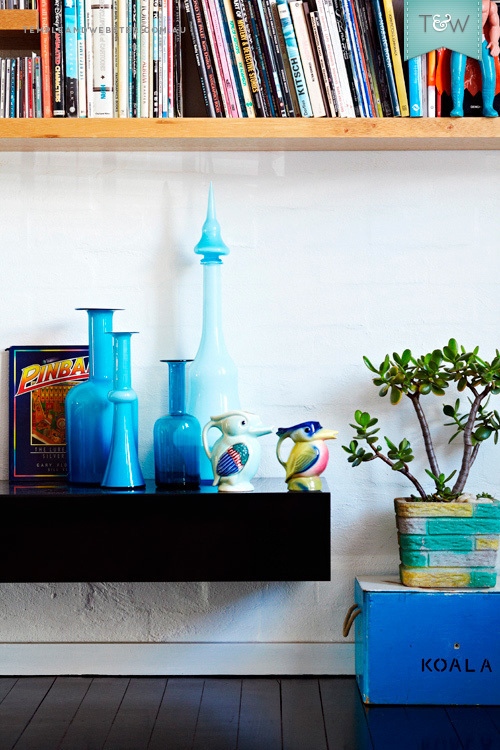 I've bought kookaburra milk jugs and cheesy ceramic koalas over the years at markets and garage sales. We're hoping to launch Utopia Ceramics by the end of the year and there is something about the kookaburra's personality that I love. Probably the raucous cackle. The koala box is from an auction house and used to be for scout training in the 70s. It still has bush notes written on the inside lid.
What do you most obsess about?Sophie:
Running a creative studio requires a certain obsessive DNA. Some of the fabric designs for Utopia Goods took months to illustrate and design and that's not including the endless discussions about colour, shape, size…
Bruce thinks I'm obsessed with plants, cooking desserts, books, training (I'm lapsed at the moment), our design studio and making Utopia Goods the best it can be. And I'm a reformed shoe obsessive. Over the years I've collected shoes from the 1940s and Dries Van Noten heels. As for Bruce, his obsessions are as bad as mine: Holmegaard glass, vintage screen-printed art prints, books, BIKES, Strava, ocean swimming, furniture, Utopia Goods, Deuce Design, environmental graphics and on it goes…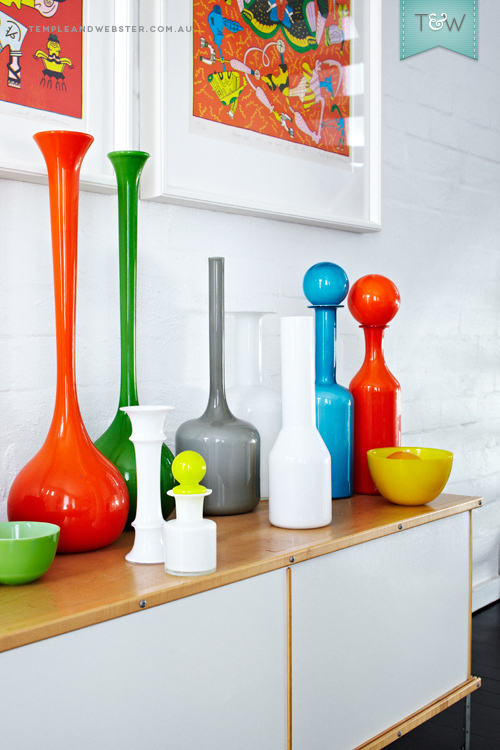 Bruce has been collecting Danish and Italian glass for nearly thirty years. We have a great collection of Danish Artisan glass, Holmegaard (1823). We love it because it's bright, beautiful and hand blown. A great combination of tradition and innovation.
What's been your biggest interior mistake?Bruce:
We lived in the house for six years before we renovated. This gave us the opportunity to see how it worked in terms of light and how to 'live in it'.
If you have one styling tip what would it be?Bruce:
Buy good lighting, if you can. A well-designed light looks great and makes everything else look good. AND, avoid contrived or co-ordinated looks. The proliferation of
Renovation Rescue
-style programmes has encouraged people to follow trends and not follow their intuition. Sometimes throwing the oddest combination of things together can have a really compelling look.
What's your life motto right now?Sophie:
We've got two. (1) My mother drummed into me day-in and day-out. Treat everyone like you expect to be treated. (2) Be brave.
Inspired? Visit our Utopia Goods sale event now.
Photos - Denise Braki
Styling - Jessica Bellef/Adam Powell.
We're pinning all these images on to our Home Tours Pinterest board.