18 July, 2016
The art of assemblage - Kelly Stewart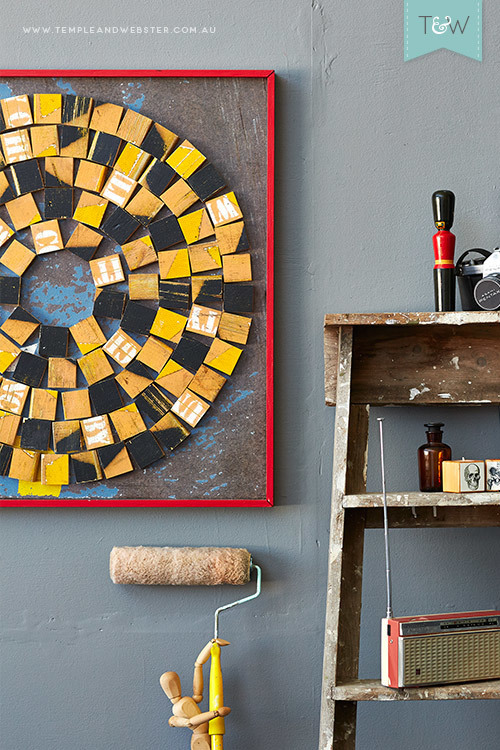 The T&W Australian Art Series is back, showcasing affordable, gallery quality original works by local talent. First up is one of last year's favourite artists, Kelly Stewart. Here we revisit our previous chat with him about his process and pieces, and find out what he's been up to since.
Why have an original artwork in your home?
I don't believe you should decorate your house, I think you should curate it, and if you have an original artwork, that's exactly what you're doing. It will add soul and meaning to your living space. You don't need to 'understand' art, just find something that speaks to you and engages you.
Your works are a collection of interesting recycled materials. Where do you source the material for your assemblages?
I have been known to travel to country refuse tips; there I find the most amazing gems lying discarded amongst 'true' rubbish. I love the thought of taking something that was new at some time and served its purpose, and working it into a form that gives it a new life - it then becomes 'new again'.
What led you to begin creating these captivating artworks?
I started as what was known then as a commercial artist (now the term is graphic artist). I designed and was responsible for the front-of-house billboards for the movie currently on show at each of the Hoyts movie theatres Australia wide as well as exhibition displays and advertising billboards. In those days it was all hand painted, but the process now is large format digital printing. I possess the skills to form and hand-paint typography; it was in learning these skills that I formed an ability to create layouts and colour palettes.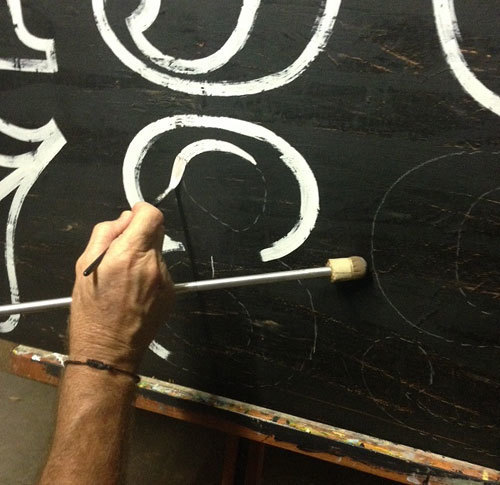 Kelly works on the typographical elements by hand.
There's a graphic element prevalent in your works. Do you seek out the perfect material for the design you have in mind, or do the materials you find direct your designs?
Sometimes I come across a piece of material, be it wood or metal, that speaks to me in that it possesses a certain patina or character that is formed by time. I then work it into a contemporary abstract design. Other times I see something in architecture or nature that gives me the inspiration to create an assemblage using repurposed materials and even typography.
Which artists and creatives inspire you?
Jasper Johns
,
Robert Rauschenberg
,
Wassily Kandinsky
and of course
Rosalie Gascoigne
.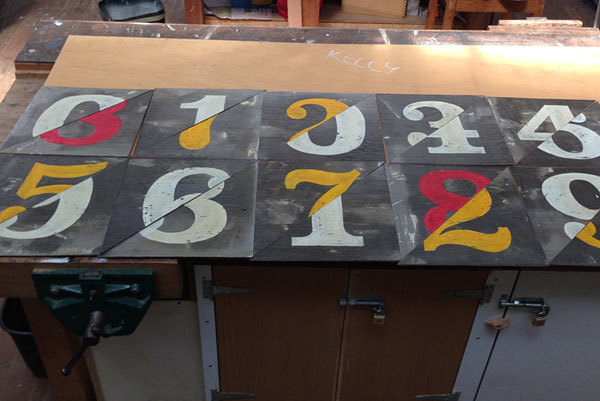 'Zero2nine' in progress in Kelly's studio.
Do you envision a home for each artwork you create?
Well I definitely envision them in a contemporary décor. I believe that the dimensionality of my work adds texture and layers to interiors, and can be introduced as an eclectic element to give contrast, interest and a pop to an interior.
How would you describe your process and your finished works?
I look for a balanced composition, strong contrasting colours, texture and depth in layering. My works are pieces that are truly unique, individual and strong in their contribution to interiors.
How long does it take to create one of your works?
About a week for each piece. The materials are the starting point for me, then I always start work with a fully formed idea of how each one will look. I'll often find myself thinking about whatever I'm working on when lying in bed at 2am.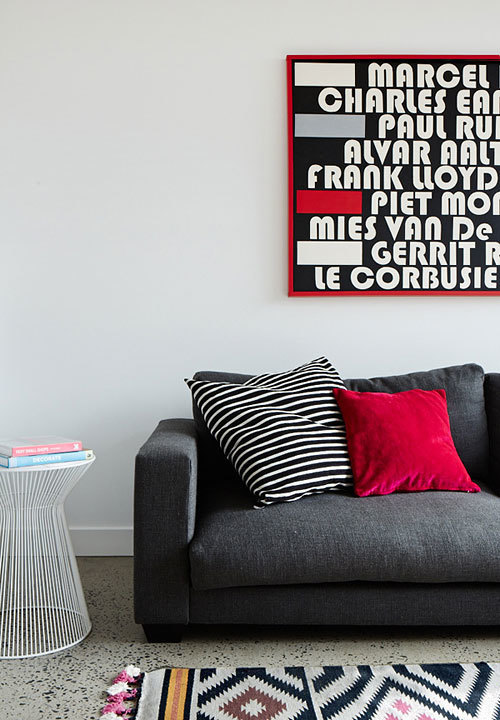 Kelly's work in the Sydney home of Jodi and Brandan York, via The Design Files. Image by Sean Fennessy, production by Lucy Feagins.
What have you been up to since your last T&W Collection?
I held my first solo exhibition at Sydney's Platform 72 gallery, which was really successful. One piece sold to the director of a couple of large Sydney galleries, which made me happy.
Do you have a favourite among the new works in this collection?
Probably
Diagonld
, a yellow herringbone pattern. It's inspired by a piece I created on commission for a couple in Potts Point, Sydney, for their apartment.
Explore Kelly Stewart's unique art today.