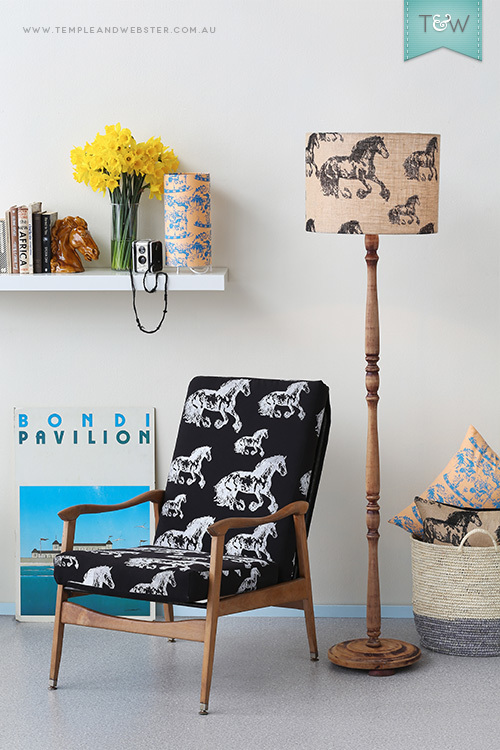 We talked to Johanna Glassborow, creator of the unique homewares in today's Hause of Glassborow sale event about her artistic family and why she loves vintage furniture. Image above by Maya Vidulich, styled by Adam Powell.
How did having a creative family develop your own skills and aesthetic?

Both my parents are artists - my mother is a painter and my father a sculptor - so I guess you could say I was born into the arts. Growing up, my younger brother Harry (a musician) and I never saw our parents get up and go to an office or wear suits, we would watch them wander into the studio in jeans covered in paint.
Mum and Dad weren't just artists, they made a life and a living out of art, and seeing this made me realise you can live your dream if you work hard and believe in yourself and don't give up, even in the hardest times.
Having parents as artists, everything weird was normal and anything normal was weird. I was exposed to a lot of different art from a young age and I was encouraged to experiment with different mediums. Everything was accepted, so I was never told I couldn't work or draw like that, I was always told I could do it or try another way.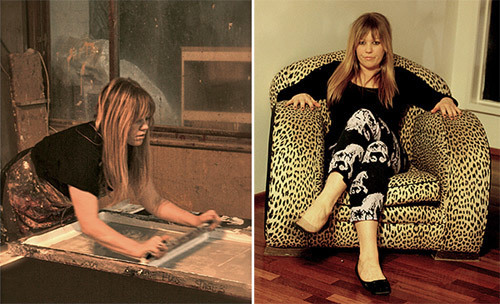 Johanna screen-printing in her studio (left) and wearing her own 'Running with Horses' design (right).
What was your path to fabric design?
Living, studying and travelling in London and Europe for 6 years opened my eyes to a whole other world of cultures and style and it was during this time, while studying graphic design, that I started to take an interest in screen-printing and photography. I loved combining the two and a lot of my fabric designs have come from my photography or by computer manipulating my photographs with sketches or artworks into repeat prints. I finally decided to pursue fabric design after meeting another Australian designer in a hostel on a trip to Prague and Amsterdam with my brother and some girlfriends.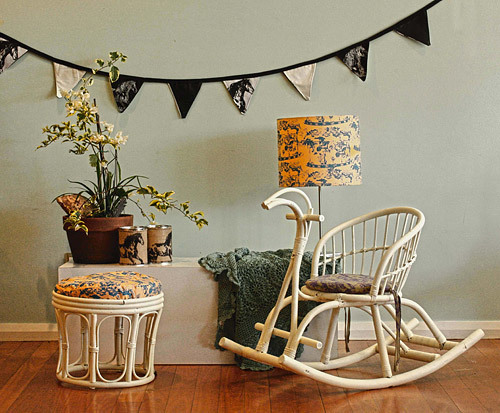 You clearly have an affinity with horses – how did this come about?
I just think horses are beautiful creatures. I don't have a obsession or collection of china horses hidden in my closet ;-), I just find them intuitive, clever and strong creatures. For me they represent the strength of a man and the beauty of a woman. They run with pure grace and stand with total pride.
What's the creative process for your fabric designs?

The creative process just happens - when an idea pops up, I grab it and roll with it and it all flows from there. For me it's kind of like having an amazing dream - you have no idea where it came from but you're in the moment and you enjoy it so you roll with it and create some art and see what it becomes.
The actual process usually consists of hiding in my studio or chosen space for days on end avoiding fellow humans and listing to music while creating, I have a tendency to play a lot of Bob Dylan, Status Quo, Jack White and Seasick Steve and recently the Black Angels and Johnny Cash. There is something about music; I can't work without it.
The
'Twisted Tail'
design evolved from a drawing I did from the tails of My Little Ponies and the
'Merry Gogo'
design started with a photograph of a merry-go-round I took while on my travels through France. They work together as a range with my
'Running with Horses'
design which was inspired by an image I saw on a trip to the library.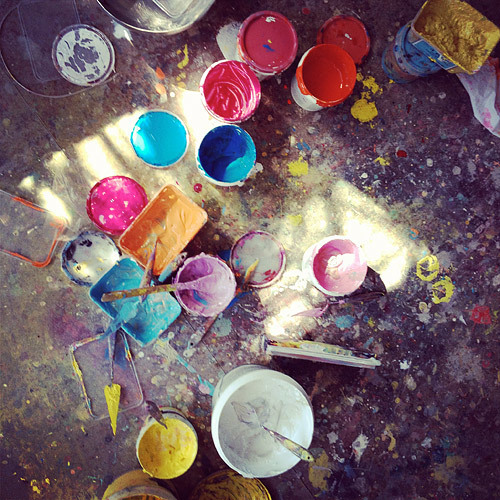 Mixing colours in the studio.
What do you think the by-hand manufacturing processes give to your products?
It gives my products a sense of authenticity and an organic touch - people know their origin, who creates them and what materials I use. I like to keep things real; I buy all my materials on shore and produce everything in Australia. I love to use and support local trades. It's the way it should be, I want to help bring local back! I'm also extremely conscious of being eco and vego friendly.
What's your philosophy around combining vintage furniture & lamps with your products?

I enjoy finding a cool old piece of furniture and turning it into something amazing. I either create a new print to suit the furniture or use something I have.
It also comes down to the quality of vintage furniture. I admire the time and care that was taken to produce these unique pieces, and it's also about being good to Mother Nature by re-using what we already have.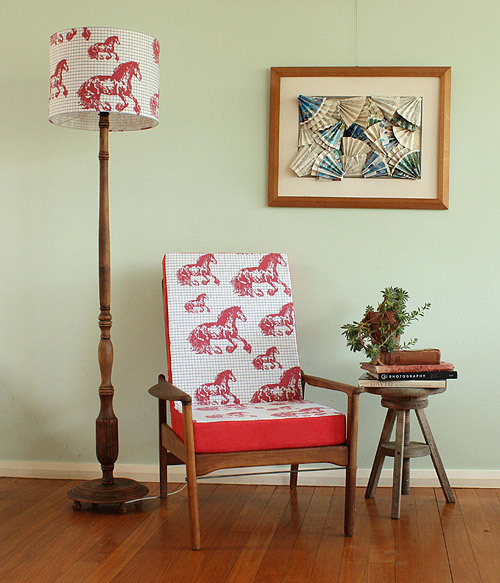 What are your dreams for Hause of Glassborow?

Just keep developing, growing and branching out as a business and designer, to continue to create cool and stylish fabrics and furnishings for people's homes & businesses, and to enjoy the journey and keep it real.
Quickfire questionsCan't live without:
Art / music
Favourite time of day:
I'm a night owl, I love the night.
Pet hate:
politics.
Childhood ambition:
I never had an ambition as a kid, I just think I just wanted to fly or live in a Peter Pan movie.
Designer or artist you most admire:
My parents
Stephen Glassborow
and
Linda Dry-Parker
! Also Vivienne Westwood, Andy Warhol, Alexander McQueen, Dali, Tim Walker, Picasso.
Shop the Hause of Glassborow collection for cushions, lamps & vintage furniture finds.