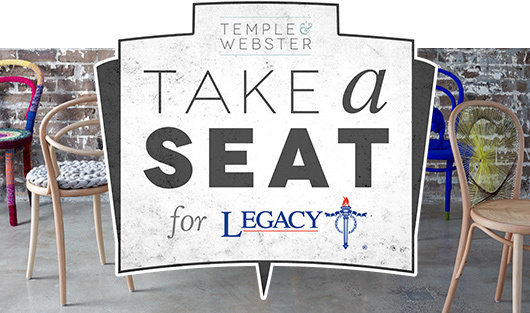 We are very proud to present a preview of Temple & Webster's Take A Seat for Legacy reverse auction, which began on Friday 6 December.
Our special sale event includes 30 chairs, each decorated and personalised by a different Australian personality from the worlds of television, radio, fashion, design, interiors and politics. We are so grateful for the time, creativity and care taken by each participant, and we're giving you a sneak peek at some of the unique designs here.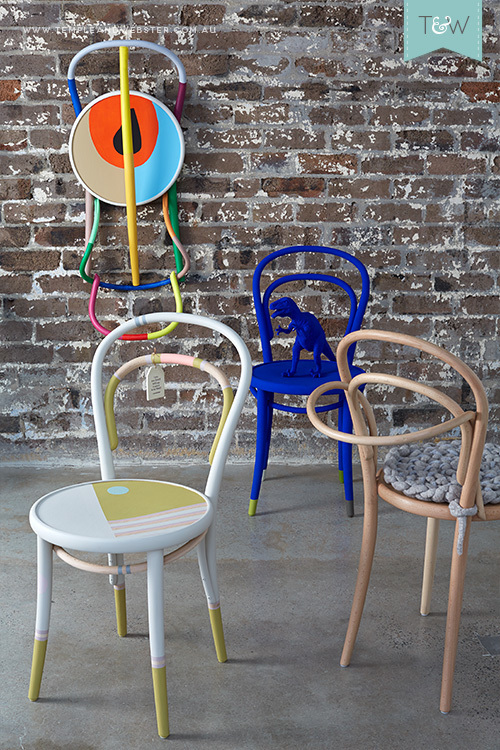 Chairs by artist Stephen Ormandy (on wall) and (from left) stylist Vanessa Colyer Tay, creative Alex Zabotto-Bentley and T&W Editorial Director Karen & McCartney with Little Dandelion's Jacqui Fink.
The reverse auction means that the price of each chair will
decrease
as the sale event continues. The longer you wait, the lower the price - but the greater the chance that you'll miss out! Get in fast to make sure no-one beats you to your favourite chair. It's all for a great cause - 100% of the proceeds will be donated to
Legacy
, dedicated to caring for the families of incapacitated and deceased veterans around Australia.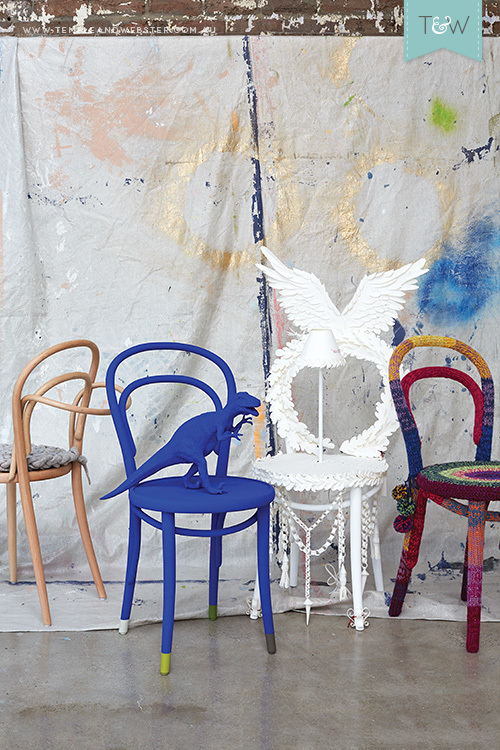 The chairs by paper artist James Gordon (second from right) and the team from Better Homes and Gardens magazine (right) feature beautiful materials and textural details.
The chairs will be on display at
The Grounds of Alexandria
(2 Huntley St Alexandria) this weekend, or you can preview them on our Take A Seat for Legacy Pinterest board or on Instagram via the hashtag
#takeaseatforlegacy
.
Here, a few of the participants tell us more about their creations.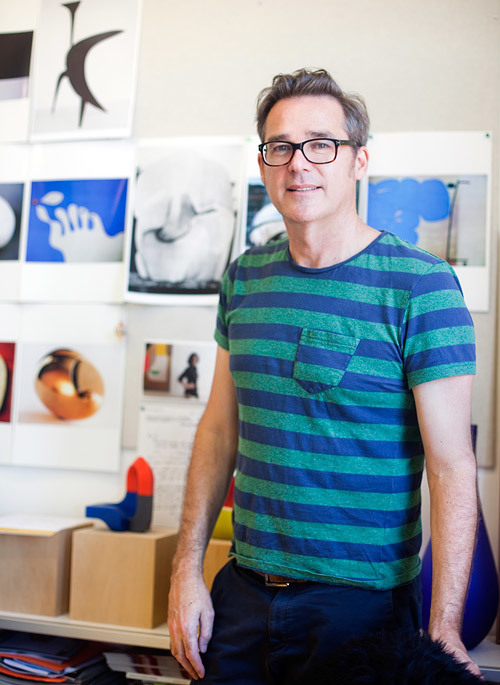 Stephen Ormandy
is a co-founder and creative director of
Dinosaur Designs
and an artist whose bold and graphic works are available through Olsen Irwin. 'I felt the chair offered a wonderful opportunity to explore painting and sculpture in the one piece,' he says. 'I removed the functional element associated with a chair as to create a pure piece of art. This way the "chair" is now exposed and its beauty can be shown and is no longer hidden by its typical functionality.'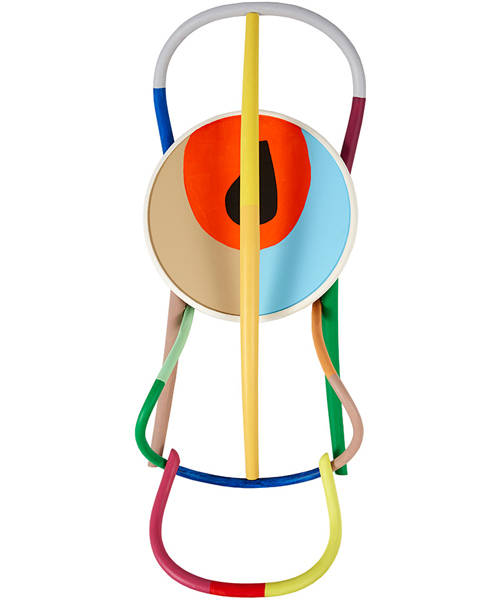 'There aren't many Australians that haven't been affected by war, Legacy plays such an important role in providing incredible support to these families. For me, it's important to know that there is an organisation such as Legacy which supports people through the process of rebuilding their lives.'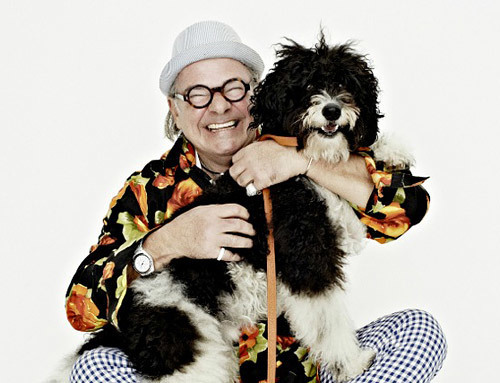 James Gordon
is an artist, designer and former event-planning supremo who never goes anywhere without his dog, Bob. His incredible chair, decorated with hand-cut paper and a working lamp, is made more special by his personal connection with Legacy.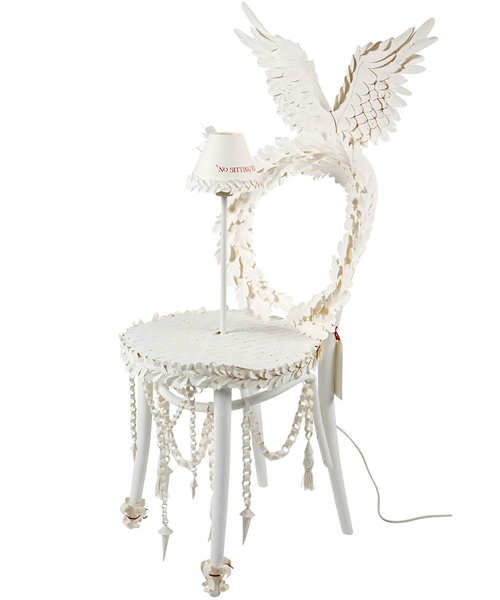 He explains: 'When my Dad died we were all three boys just littlies, and Legacy was a miracle worker to help my Mum get through the trauma and sadness. They counselled her, gave money, new clothes, food packages, dentistry, schooling and God knows what else. Although I purchase the most costly badge on Legacy Day, I've never done anywhere near enough to assist them so this was such a perfect and fun way to say thank you in a small way.'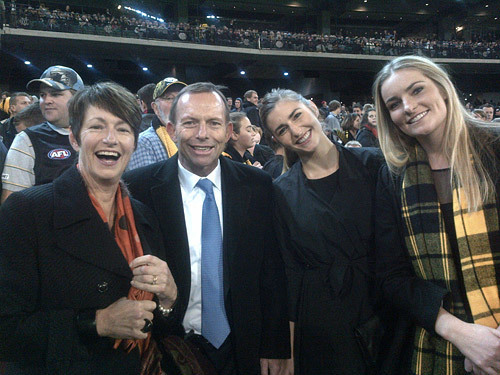 Prime Minister Tony Abbott
, his wife Margie and daughters Frances (left), Bridget (right) and Louise (not pictured) named their chair 'By Your Side'.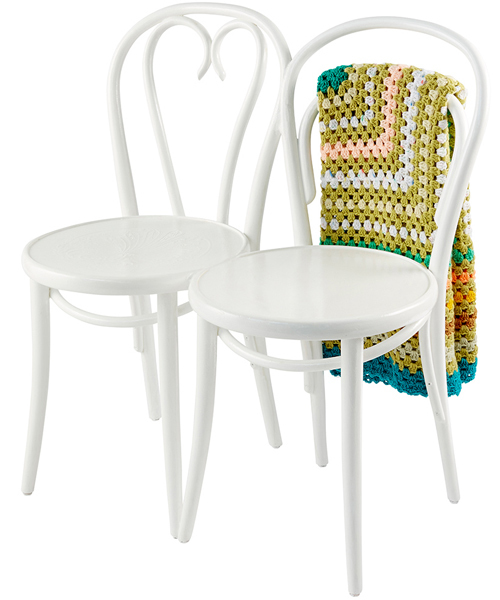 They explain: 'By Your Side represents community, support, unity, family and strength. When our family was first presented the Take a Seat For Legacy brief, we thought of words that best represents what Legacy means to us. From a design perspective we wanted to create something that was functional and timeless. Conceptually our chair is symbolic of how with the support of Legacy, you are not on your own. We hope that this chair will be used for storytelling, offering support, giving advice and enjoying each other's company.'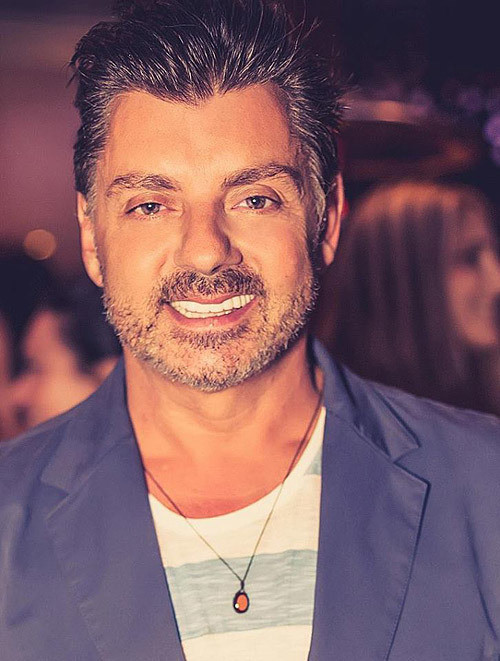 Alex Zabotto-Bentley
describes his 'T-Rex Chair' is 'a monochromatic metaphor; more installation sculpture than an actual chair'. He describes its elements: 'The single colour dipped legs in shades of earth/tree/mountain/cave represent camouflage and the defence force service. The monochromatic Yves Klein blue pigment paint is almost pure pigment. Its intensity has a beautiful, soulful vibration.'
He goes on: 'The Tyrannosaurus Rex, the king of all dinosaurs represents the protection and magnitude of Legacy and its all encompassing commitment to veterans and their families. I want to dedicate this sculpture to anyone that places their safety in jeopardy to protect others. Protecting a nation so that we can live in peace commands our absolute respect.'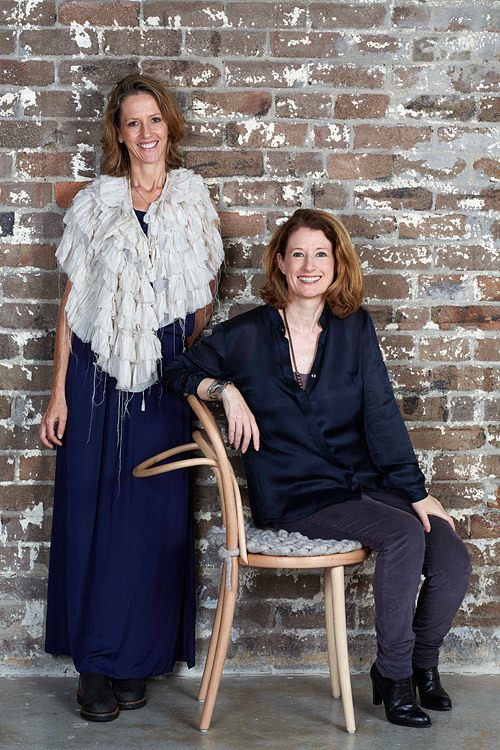 T&W Editorial Director Karen McCartney, pictured above with her collaborator Jacqui Fink, explains the concept for their chair: 'Firstly I knew I wanted to collaborate with knitter extraordinaire Jacqueline Fink at
Little Dandelion
and she knitted a coiled pad in natural wool to fit the seat dimensions. This meant that it had to be a natural execution and instead of painting the chair I liked the soft finish waxing the timber would give. In order to do this properly I removed the bent timber under the seat and while sitting looking at it, with a glass of wine, I began to experiment with where else this piece of timber could go to in order to slightly subvert the normal shape of the chair. This new back section is held in place with brass screws and creates a new form. I call it the 'spaghetti chair' because of its fluid feel.'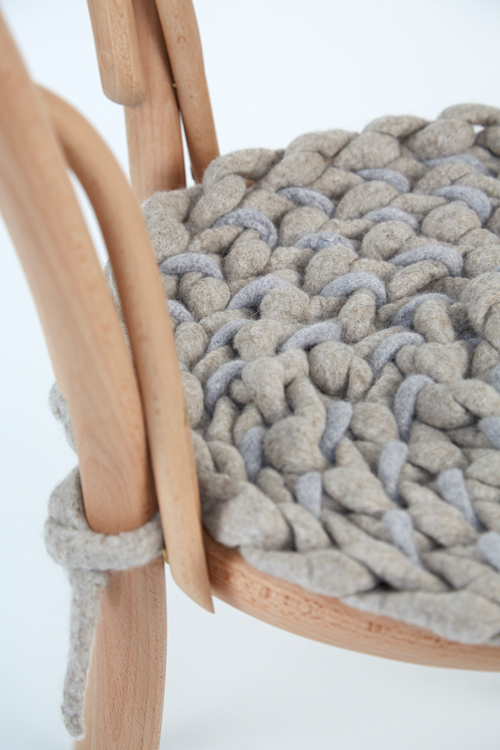 Detail from Karen & Jacqui's chair.
She continues: 'I am happy to support "Take a seat for Legacy' because it sets up the opportunity to support an important cause through creativity. For our comfortable lifestyles to be maintained we rely on others to be away from everything they find comfortable and everyone they love - and it is our duty to support these people, and their families, when they can no longer do it themselves.'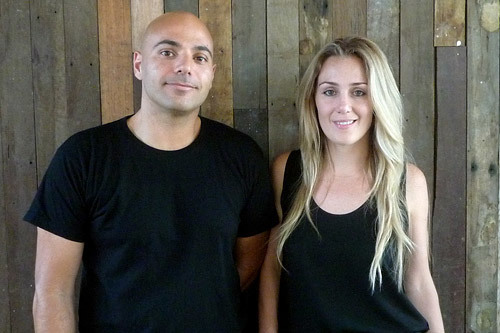 Interior designer
Caroline Choker
and architect
Vince Alafaci
of
Acme&Co
created two chairs, including The Grounds Garden Chair, filled (literally) with life. Caroline explains: 'The Garden Chair is an interpretation of
The Grounds of Alexandria
. This was an experiment in adaptive reuse, illustrating the evolution from seed to chair. Nature has brought life to a static/functional object. Through our contribution we hope to raise funds and give back to the veterans as they have given to us.'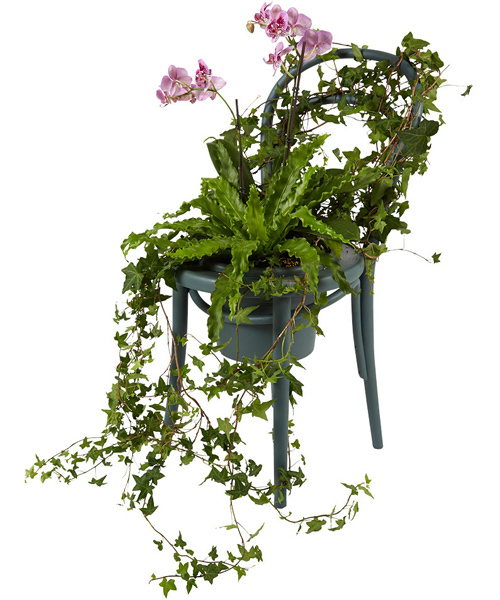 How did she do it? 'We used Dulux Coriole green, then removed the timber seat base and replaced it with life in the form of plants. We chose hedra helix (otherwise known as ivy) to weave through the chair's contours, phalaenopsis orchid as the central focus, offering a sprout of colour and new dimension and asplenium (also known as a birds nest fern) as a sculptural element with a waterfall nature.'
Visit the Take A Seat for Legacy reverse auction or check out the Take A Seat for Legacy Pinterest board.