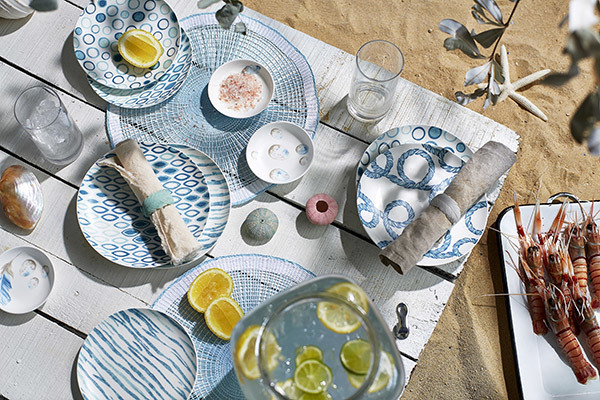 Jono Fleming styles a beachside dining scene, and adds a little smoked paprika to fresh seafood for a summer dish with a difference.
We all love seafood in summer, and it's usual to serve it simply, with perhaps a squeeze of lemon. With this recipe, I'm going for something a little more punchy. Smoked paprika or pimentón is a Spanish spice - it's made from dried capsicum like normal paprika but the capsicum has been smoked over fire. It's not particularly spicy, but it does have an intense, smoky aroma that really enhances the delicate scampi or prawn flavour. I styled this dish with a beachside vibe, featuring blue & white china and linen and plenty of natural textures. Give it a try once the Christmas rush is over and you have time to sit back and enjoy it!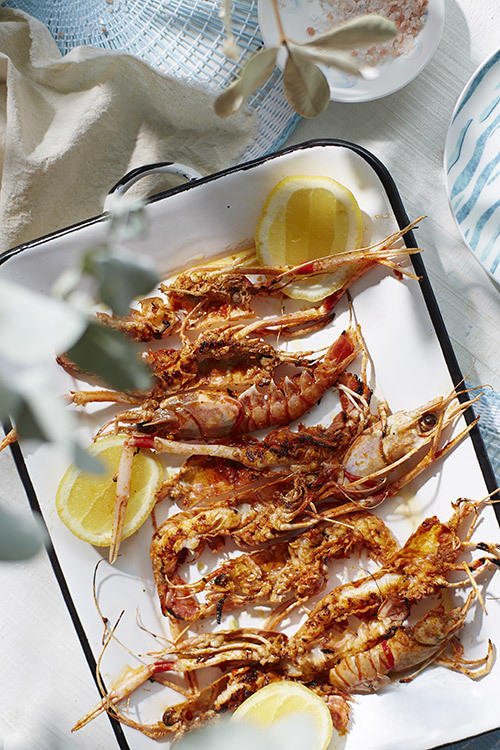 Ingredients (Serves 2)
6 scampi, halved and cleaned. If you can't find scampi, substitute with large tiger prawns
3 cloves of garlic, minced
2 tsp smoked paprika
zest of 1 lemon
juice of 1/2 a lemon
1/4 cup olive oil
Preparation
In a bowl, mix the garlic, paprika, lemon, zest and oil together. Dip the scampi in the marinade and coat thoroughly.
There are two ways to cook the marinated scampi. Either place the scampi on a baking tray lined with baking paper, and place under a heated grill for 3-4 minutes, until the scampi turns white and starts to char just slightly, or cook on a hot griddle pan or the hot plate of the BBQ (no need for oil) for 3 - 4 minutes.
Enjoy all Jono's recipes via our Dish of the Day Pinterest board