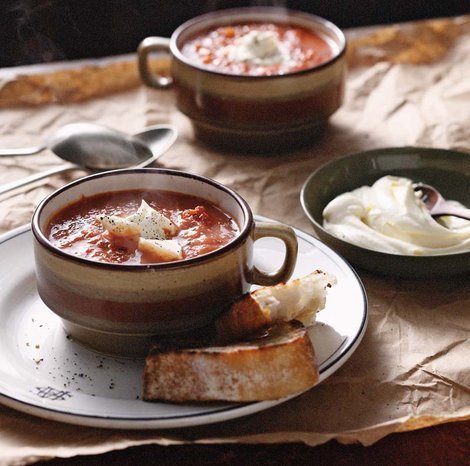 A champion of eating organic, local, seasonal and thereby sustainable food, chef Ross Dobson shares this super-easy recipe with us, thanks to Eatlove. This chunky, roasted tomato soup is the perfect winter-warmer and will last for 3-4 days in the fridge, meaning you can cook it in advance and simply heat and serve on those nights when you're after a quick dinner.
Ingredients
1.5 kg roma tomatoes
6 cloves garlic
1 red onion
1 long red chilli
2 large sprigs rosemary
125 ml (½ cup) light olive oil
2 anchovies
250 ml (1 cup) chicken or vegetable stock
110 g (½ cup) mascarpone
virgin olive oil
crusty bread
Preparation
Preheat the oven to 220°C.
Cut the tomatoes in half and arrange, cut side up, on a baking paper-lined oven tray. Scatter with the garlic, onion, chilli and rosemary. Drizzle with half the oil and bake for 30 minutes or until the tomatoes have collapsed. Allow to cool for 15 minutes.
Discard the rosemary, then place the tomato mixture and the anchovies in a food processor and process until roughly chopped and chunky. Transfer to a saucepan. Add the stock and simmer over medium heat for 20 minutes or until slightly thickened.
Ladle into bowls and serve with a dollop of mascarpone, a drizzle of extra virgin olive oil and crusty bread.
See more at eatlove.com.au where you can follow your favourite chefs, share their recipes and purchase their books.