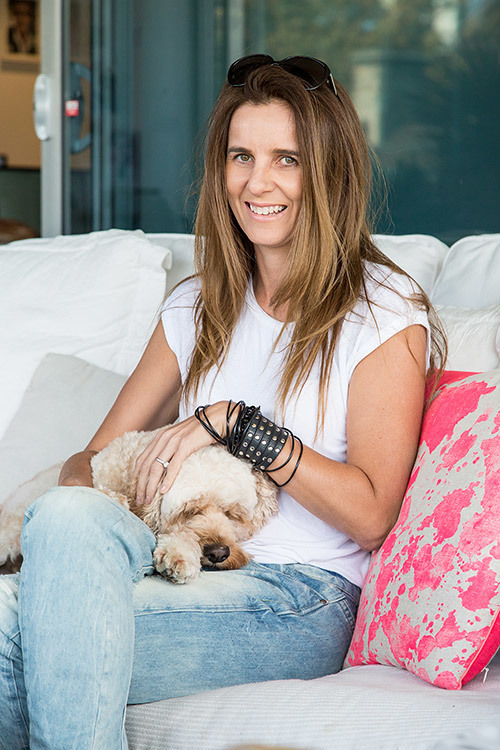 Lisa Messenger is the founder of the Collective Hub community of 'game changers, thought leaders, rule breakers and style makers' and the Editor in Chief of Renegade Collective magazine. Passionate about entrepreneurship, creativity and impactful engagement, she has written two books - 'Daring & Disruptive; and 'Life & Love' - which share her insights on relationships and business. We talked to her about her schedule, her home, and her approach to life, and asked her to pick some favourite images from the Renegade Collective Pinterest boards.
Have you always been 'daring and disruptive' in your approach to life, or did this attitude develop with life experience?
I've always been pretty much this way but over the years of personal development and life experience I have consciously honed the approach to be very purposeful and more "rebel with a cause" rather than rebel for rebel's sake. My unwavering purpose now is to be an entrepreneur for entrepreneurs so I purposefully push things to the limit so that I can live my life out loud and lead by example every single day.
What is the most important lesson you have learned over your varied career?
Find your purpose and live with passion every single day.
What advice would you give to a woman considering starting her own business?
Be brave and courageous enough to get a strong understanding of what your "why" in life is – what do you stand for. What are your values and beliefs. What are your not negotiables. Then surround yourself with an extraordinary team. Become well networked. Understand your weaknesses. Fail fast. Be passionate. Be tenacious. Get your hustle on every single day.
Do you see your home as simply a place to lay your head, or does it play a larger role in your creative life?
My home is very much an extension of me. It could easily become just a place to lay my head due to the crazy busy schedule I have and the amount of travel I do, however I consciously try to have a constant flow of friends, family and my team flowing through my house. I believe this is what makes it a home. I have lots of dinner parties for ten or so people, my family come and stay a lot from Byron Bay and my team do a lot of filming for the Collective there. Also when I'm away I let my team stay there so it's always filled with love, fun and laughter.
How would you describe your decorating style?
Does your passion for 'rule breaking' extend to your home? I'm actually pretty conservative when it comes to decorating. I'm all about neutral palettes with pops of colour. Pretty much my lounges, bed linen, towels etc are all white white white… then I have lots of pops of bright coloured cushions, throws and artwork. My favorite thing is loads and loads of live plants and flowers.
What is important to you about the design of your office/creative space?
A non-negotiable is loads of natural light, fresh air and lots and lots of plants. At the moment our office is pretty chaotic with our rapid growth. But it's a place filled with love and laughter and looks much more like a home than an office (even though there are 23 of us squashed in here).
How do you keep your own perspective fresh?
I travel a lot and try to visit off-the-beat places, shops, cafes etc looking for inspiration everywhere I go.
Quickfire questions:Right now I am reading:
How Google Works by Eric Schmidt.
I was recently inspired by:
a trip to the Whitsundays.
My hero is:
everyone in our community pushing boundaries every day.
My guilty secret is:
I sleep 8 – 10 hours every night.
My mantra is:
Anything's Possible!
Find out more at the Collective Hub website where you can subscribe to the Renegade Collective for regular inspiration.