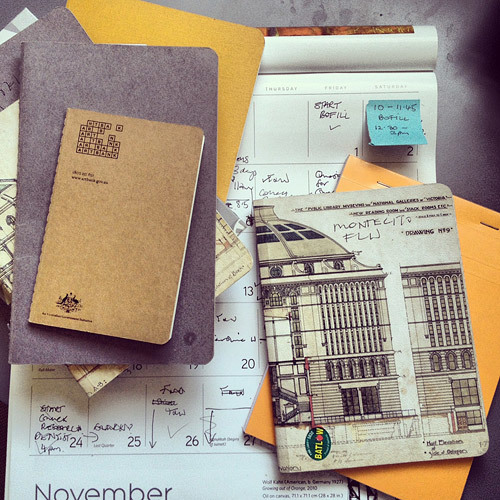 Karen McCartney confesses to a multi-notebook approach, and shares plans for an organised 2014 filled with stylish stationery.
Those little notebooks
Those that know me best know how much I love a little notebook. I have many, sometimes operating simultaneously, and if I am honest, slightly confusingly. I have one for Temple & Webster, one for home, one for each of my projects and for chapters of books within projects. So you can see I am building a picture of slightly dysfunctional notebook addiction. I love a list and each book is filled with a number of 1 – 10 to-do lists. (I do lists on my phone too, but the delete of digital isn't as satisfying as the strike-through of pen and paper.) So for me, 2014 is to be the year of consolidation. I plan to have one small multi-purpose notebook with everything in it – dated, neat, efficient, with smaller, less scrawly writing and more realistic time frames.
Organisation @ home
For the chaos of family life we have a week-to-week diary that sits beside the telephone and I am trying to train the children to write key events in there so that we don't forget excursion day, mufti day, speech day etc. It also helps avoid those matrimonial discussions when you insist that you
did
mention Tuesday was the night you were going out. If you are able to say with a degree of confidence that it is already written 'in the diary' you immediately hold the moral high ground.
A calendar you can write on
I also like a wall calendar with generous spaces for writing in. I use this to try to regulate my work life but there is so much natural flux the pages have a lot of scoring out and Post-it notes on top of densely annotated squares, as priorities shift. It is not a pretty sight and would, I feel, deter a potential employer, as it suggests a chaotic and unfocussed mind. In reality I am ploughing through shed loads of things, it is just that my ambition when planning outstrips the reality of the pace of life. Maybe I just need a good pencil and eraser.
A year at a glance
My daughter goes to high school next year and I am encouraging her to have an annual calendar stuck on the back of her bedroom door so that she can learn to plan (yes, I am an optimist).
Digital v. print
I am a fan of keeping dates and lists digitally too, mostly on my phone, but when all is said and done you can't doodle on a phone and where would we be without a bit of absent-minded creativity.
Tips for an organised life in 2014
1. I like to write a BIG all-encompassing list for the year. This takes in things we need to do to the house, personal goals, work goals and travel plans. Note that some things migrate from year to year. Lose 3kg has been there for some time.
2. Write in all the school holidays, birthdays, public holidays and any other date that is important to remember. It has taken my husband 20 years to remember the date of our wedding anniversary – if only he had used a diary!
3. Write a list for every day either the night before or when you wake up first thing. This helps frame the day and gives you a sense of accomplishment. I never mind if things drift for a few days as long as they get done eventually.
4. Involve the family in contributing to a diary. It really is a step towards a degree of responsibility for what happens when.
5. For insomniacs, a notebook beside the bed helps when those night-time thoughts magnify themselves to terrifying levels.
Be organised with stylish stationery in 2014.