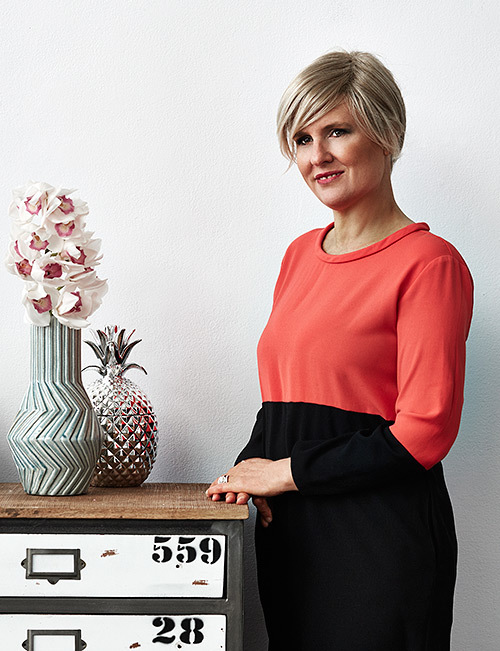 We're excited to have super shopper Melissa Penfold, pictured above in the T&W studio,
pick her favourite products for the Melissa Penfold Collection. Her criteria? Everyday classics to love forever...
Melissa Penfold comes from a long line of canny shoppers. She has honed her skills as interiors editor at Belle magazine, and as the shopping guru for more than 15 years, on the
Sydney Morning Herald
where her weekly Source and Bargain Hunter columns were something of an institution. Add to her portfolio two best-selling books on the subject of
Australian Style
and
Melissa Penfold's Little Black Book: Sydney's Shopping Secrets
(Penguin/Lantern) and you get a sense of just how much shopping is in her blood. Melissa's philosophy is all about ease and accessibility while retaining the excitement of decorating. She has worked with the world's leading names in retail and design, both here and abroad, and her work has appeared in a wide range of Australian publications including Vogue Living, Belle, Marie Claire, Harper's Bazaar, and more. She now has a monthly decorating column in
Australian House & Garden
. Married with two children, Melissa divides her time between her homes in Sydney's eastern suburbs and the Southern Highlands of NSW.
Where did your passion for homewares come from?
The die was cast from an early age. I was always surrounded by beautiful things. I grew up in a wonderful house decorated in large part by Marion Hall Best. It fuelled my imagination from the start, and as it turns out, a lifetime interest. It made me realise that style and decorating is all about balance, an ability to judge proportions and knowing how to finish things. It's amazing how the right cushions, lamps or pictures can make or break an interior. They can give an old room a fresh look, and will cost you far less than a complete overhaul. It's incredible how you can change one group of accessories for a new lot and instantly transform a space, and make it look like you've spent a lot more than you actually have. I love curating and decorating with beautiful bits - done right, it works like magic.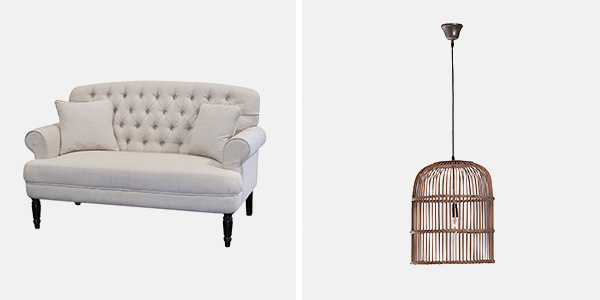 Melissa explains her picks: "A great sofa, like this button-backed classic, is perfect for small space living rooms or for adding an elegant touch to a sun room or study. Use open-weave bamboo pendant lights to wash the ceiling with a gentle glow and create playful shadows on the walls and floor".
Have you always been a dedicated shopper?
Yes, I shop all the time. And always have. I come from a long line of shoppers. If there's a shop, I'm in it. Even if I don't need (or buy) anything. Hitting the shops regularly educates you about what's out there, so you don't miss the good buys. I never shop with an agenda - I find the best things when I'm not looking for them. My antennae are always out. And I shop everywhere: high-end, bargain, online, offline. Whatever city I'm in, the first thing I do is raid the shops. It's how I breathe.
You had many years as the shopping guru for the Sydney Morning Herald - how did that influence your shopping habits? Did it increase or decrease your personal expenditure?
Over the years I realised most of us know how to buy, but not how to shop. Shopping is a skill, and to do it right you need to know how. In the long run, it's cheaper to buy only quality, whether it's a towel, a teacup or a table. Never compromise. In the end my job decreased my expenditure - I bought less, but I bought better. I shopped out of hours. I bought only because something excited, not for the simple act of shopping. I put my faith in the classics. And avoided fashion, especially fads. The focus became suitability. The same goes for everyone - if you stick to what suits you and your lifestyle, you won't go wrong. And I learnt not to be a snob - quality doesn't always mean big names.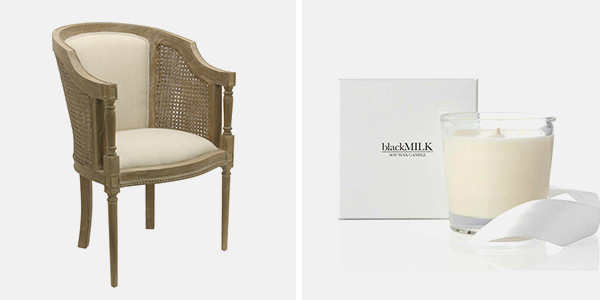 More of Melissa's favourites. Why? "A classic Bergere-style chair in rattan looks great as a pair in a living space or as a solo statement in a bedroom next to the drape of a linen curtain. Black Milk's candles, in perfect packaging and lovely scents, are simple in style and sensuous in fragrance. Pair with a white orchid for the ultimate in bathroom chic."
What do you think are the 3 golden rules when buying decorative items for the home?
Choose the best you can afford. Quality pays long-term dividends, and will give a lifetime of enjoyment.
Only buy things you love. Everything that surrounds you affects you, so only have pieces that resonate.
Don't buy anything that won't last. Look for good lines, perfect proportions and great finishes.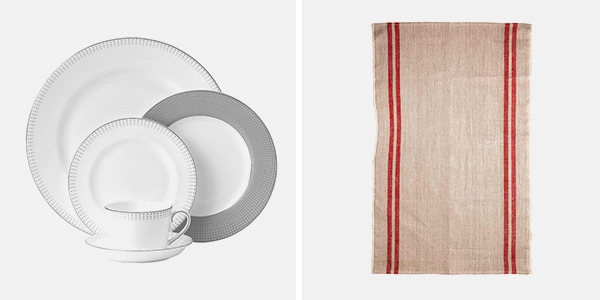 "A set of quality dinnerware with a timeless design is worth the investment – just to remind you that some standards are worth upholding," says Melissa. "You'll be amazed how beautiful textiles such as this pure linen tea towel, add a sense of pleasure to the everyday."
How would you describe your own decorating style?
My interior is about 70 per cent classic, and 30 per cent trends. I think that's the best ratio for ensuring that your interior is both timeless and up-to-the-minute. It's a mix of things from all times and places, from grand to simple.
What is your biggest shopping fail and major purchasing success?
My big fail was a round, dining table I chose thinking it would be more democratic than a long one. But I couldn't make it work; it depressed me daily, and had to go. A major success is a huge old French mirror picked up 20 years ago at an antique market that has brought me daily joy.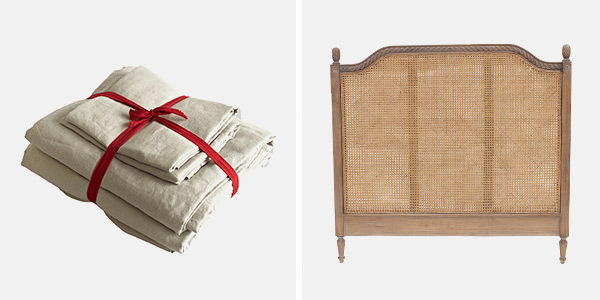 "Opt for the appeal of
beautiful linen sheets
in stone for the ultimate in low-key luxury," says Melissa. "
A statement-piece bed-head
serves to give the bed a certain presence and as such transforms any bedroom."
What approach did you take to choosing your Temple & Webster Collection?
First and foremost, pieces must be well-made, do their job properly, look great, and bring pleasure to everyday living.
Quick fire questions:My favourite colour combination is:
white, ecru, sand, straw, stone, tobacco, butterscotch, coffee and black.
I can't live without:
books (especially ones with fab pictures). For me, they are central to an interior, the ultimate finishing touch. I use them like works of art. They are decorative, interesting and great company.
My shopping mantra is:
you don't need money to have style. It's about sourcing the best products and ideas.
My pet hate is:
overlit interiors. You want your lights to flatter you and your home, not show up every stain and wrinkle. Soft lighting is magic. That's why so many proposals are made over candlelit dinners.
My next buy is:
a Provence-style trestle table in oak that I plan to use as a desk in my new country pad to write my next book.
Follow Melissa on Instagram @mp_style_Shop The Melissa Penfold Collection today.