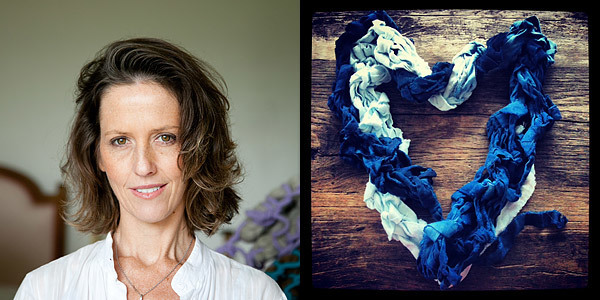 Jacqui Fink is the founder of Little Dandelion, and the creator of the beautiful knitted textiles you might have spotted recently in Vogue Living, Home Beautiful or Real Living. She knits each of the amazing blankets & throws from Australian & New Zealand wool in its natural colours, using the most enormous knitting needles you've ever seen, and also crafts more delicate throws from European linen. They're all unique pieces to treasure for a lifetime, and they make for great photos! Enjoy this record of Jacqui's week, and if you'd like to see more, check out her blog or follow her on Instagram @jacquifink.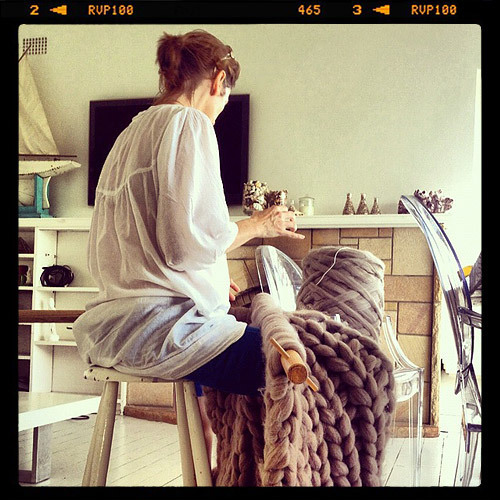 This is a picture of me at work in our house. This is my standard repose these days. It's not my best angle to be sure and I'm clearly having a bad hair day, but you'd be surprised at how much traffic I can manage from this position. Homework, emails, Facebook, Instagram, Twitter and all the while being able to reach for my cup of tea and/or glass of wine from my reclaimed white stool. What more does a girl need? Perfect really!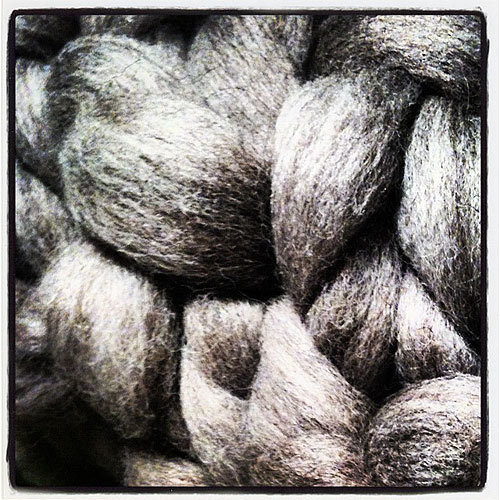 One of my great loves is texture. It's a major driving force of my business. I see my work as a celebration of beautiful, raw materials and the techniques I use play onto the unique properties of wool and linen. The resulting texture is so captivating that it transforms a simple throw, or blanket, into a work of art. I might be kidding myself here, but in any event, it makes me decidedly happy and I am constantly trying to capture the beauty of the texture through Instagram. LOVE Instagram.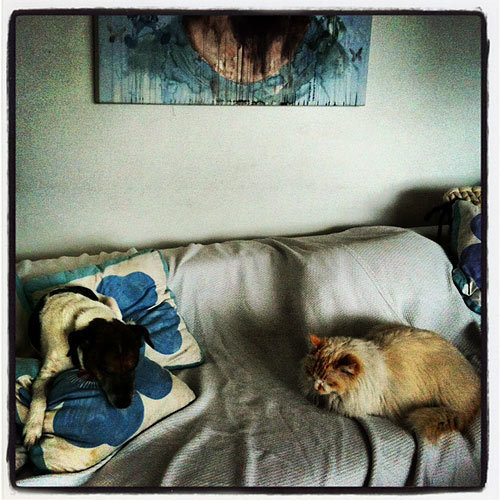 We are a family of five plus three four legged friends. Needless to say it is a busy and noisy household. My husband and I consider our Jack Russell Hugo to be our first born. He is fourteen this year and is only now starting to slow down. He has been a lovely, if not somewhat mad, companion. Chutney, our ragdoll cat, is our first cat as a family and I must admit we never expected to love him so much. Once the little people leave for school of a morning, these two take up their positions on the lounge, never far away from each other, and keep me company throughout the day. Love.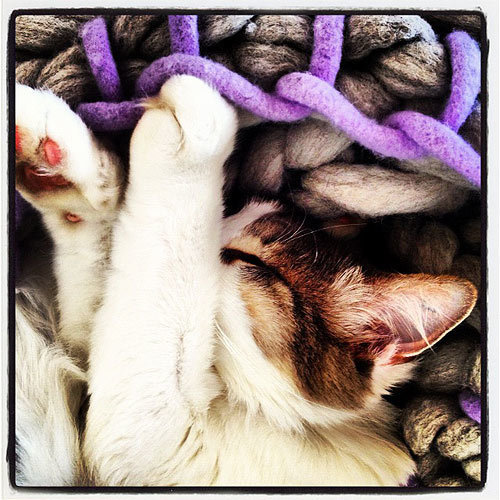 This is Lily, our Manly Council Depot freebie. Our vet gifted Lily to us, after the tragic passing of Chutney's brother Mango. Lily is sweet and girly and well . . . very plump. We all compete for wooly time knowing that we will have to share it with Lily. This silver throw with lilac trim is our very own Little Dandelion and Lily is very drawn to it. We like to dabble in a little anthropomorphism in our household so Lily tells us that she is "product testing". Bless.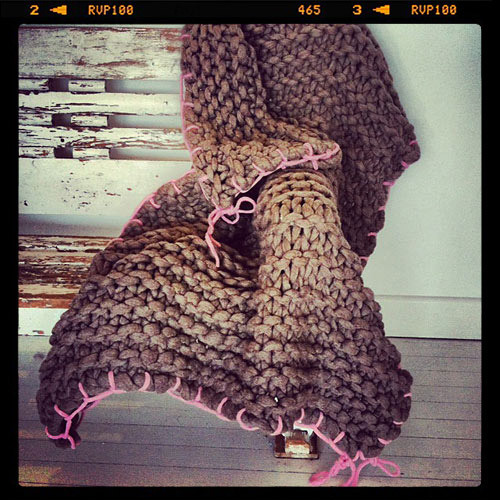 This is one of my latest custom orders: a smoky, grey throw with a candy pink trim. I have a number of beautiful natural colours on hand to use for the body of the throws. I then edge the throw with a chunky felted yarn to add a pop of colour. I make sure to work very closely with clients to ensure they get a colour combination that is suitable for their homes. I devote a lot of time, energy and love when creating my pieces, so it is very important to me they go to a loving and understanding home. I am always overwhelmed by the kind and generous responses of those who end up with one of my creations. It is immensely gratifying to know that, in a small way, I am bringing joy and comfort to the lives of others.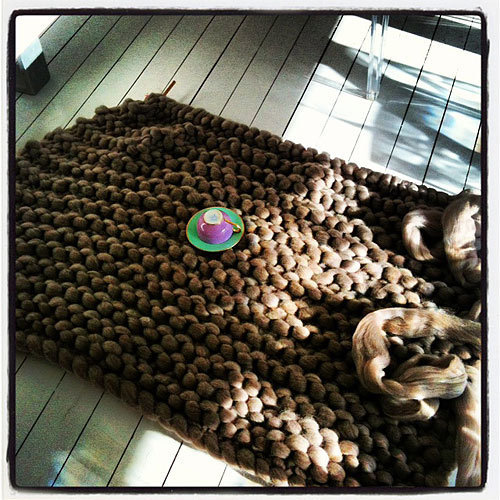 It's difficult to appreciate the scale of my woolies without seeing them first hand. This picture was taken at the request of one of my lovely Instagram friends who wanted a better understanding of the scale of my work. The picture shows a regular sized teacup on a half completed throw. Let me just say this - I have very strong biceps!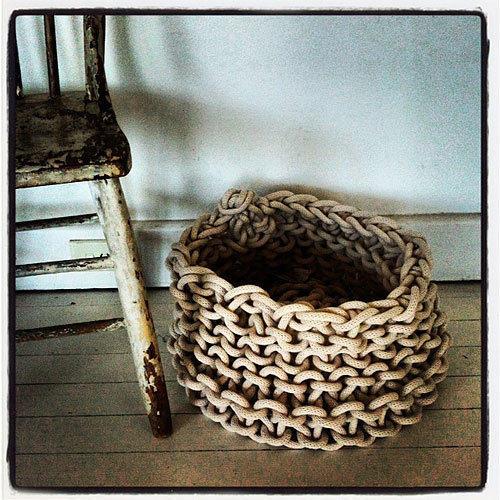 I love to experiment and this soft vessel is my latest design foray. It is made from cotton rope and each vessel uses up a minimum of 100 metres. The vessels have a beautiful sculptural quality to them and are very handy for storing all of my Little Dandelion detritus. They are not so kind on the fingernails though.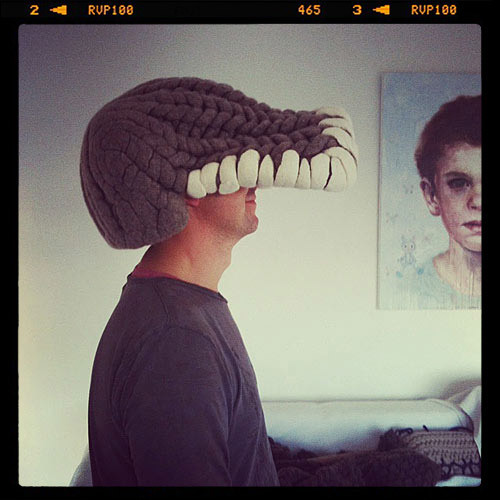 Some of my greatest learnings have come from making mistakes. This "hat" that my hubby Eric is wearing was meant to be a cushion cover. My felting disaster has became a firm family favourite. The "hat" now functions rather beautifully as a note holder in a very fashionable and creative house. Go figure!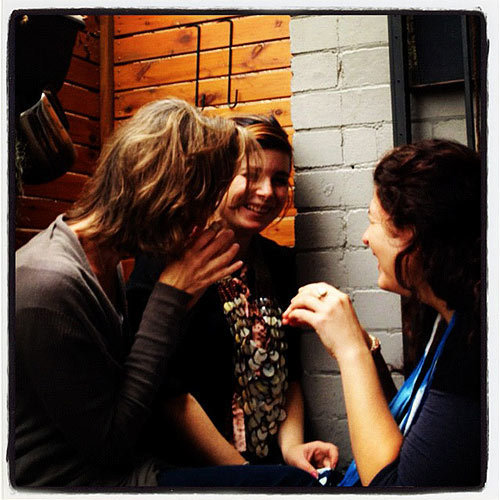 I've been collaborating with Pepa Martin and Karen Davis from
Shibori
for the past two months now. Together, we are creating beautiful hand-knitted throws, which are also hand-dyed in stunning colour ways. To be able to hang out with likeminded creative souls, like Pepa and Karen, is very nourishing and it's a wonder we get anything done. The three of us do enjoy a little, crazy business in amongst our bursts of creativity.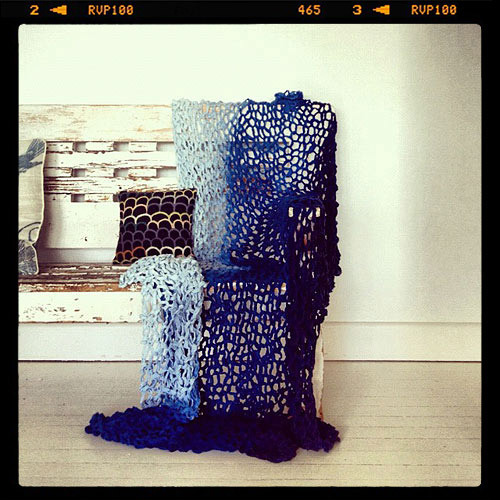 This is one of our fabulous creations. I am a fool for indigo and it was my search for the perfect colour that led me to Shibori's doorstep. Pepa and Karen worked meticulously to create this graduation of colour. It is no mean feat as my throws are quite a handful. There are over 50 hours of work in one of these throws and each is unique. Only four are in existence, but we have many beautiful creations in the pipeline. This particular indigo throw is now in the hands of the lovely Lucy Feagins of
The Design Files
. The throw will make its first appearance at The Design Files Open House from Thursday the 29th of November to Sunday the 2nd of December. You lucky Melbournites!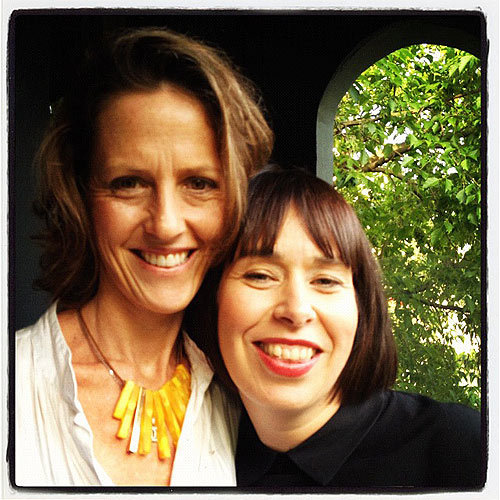 Finally, it's no secret that I am the self-proclaimed number one fan of lovely
Amanda Talbot
. Here we are at the launch of her book, "Rethink: the way you live". This book is thoughtful, considered and taps into the collective desire to simplify our lives. Amanda has been a tremendous support to me this year and I am very fortunate to have made an appearance in "Rethink". Put this one on your Christmas list.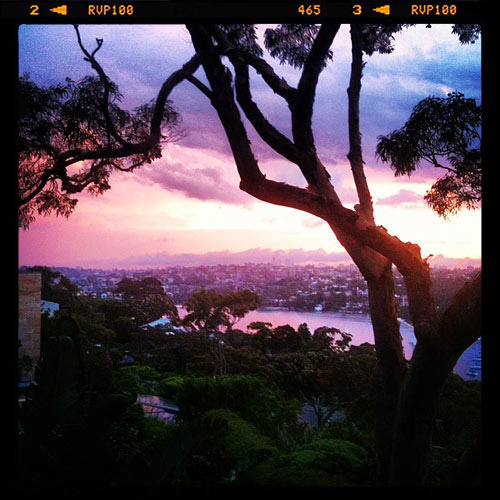 This is the view from our lounge room window in Sydney's Northern beaches. I grew up on the border of NSW and Qld so the pull of the water is incredibly strong. All is not right in my world if I am not near water. We have lived here for two years now and I have never been happier. We live in an old 1940's P&O style home which has housed only four families. It is a simple solid home with a very happy vibe. We have also been blessed with some very special neighbours. They are part of our extended family and we tend to fret without regular contact. I think our moving here can be put down to serendipity.
Follow Jacqui on Instagram @jacquifink.