Every now and then we like to challenge T&W food stylist, Jono Fleming. For his most recent Dish of the Day, we threw him a curveball: Colombian cuisine. Has he ever been to Colombia? No. Rather, Jono drew inspiration for these Shredded Beef Arepas from a street stall in Brooklyn - and we've got to say - they are the perfect companion to La Tapa's Colombian Cooking range.
Arepas are a flatbread made with cooked corn flour, served with sides like cheese and avocado. They can also be split in half like a sandwich. If you're feeling adventurous, give the full finger-licking recipe a go. Otherwise, the Shredded Beef is perfect for filling tacos or smothering over rice.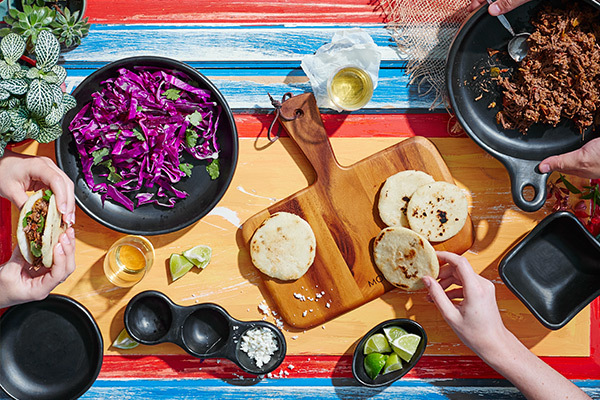 IngredientsShredded Beef
1kg beef casserole meat
3tsp salt
3tsp black pepper
2tsp granulated garlic
2tsp cumin
2tsp dried oregano
1tsp dried chili
2 tomatoes, roughly diced
1 red capsicum, roughly diced
1 yellow capsicum, roughly diced
1 brown onion, diced
3 garlic cloves, minced
2 bay leaves
1 lime juiced
½ cup tomato sauce
2 cups of beef stock
Arepas
4 cups pre-cooked corn flour (look out for the brand P.A.N., available in most supermarkets)
2 tsp salt
4 cups warm water
Preparation
Mix the salt, pepper, granulated garlic, cumin, oregano and chilli together to create a spice rub for the meat. Place the meat in a hot pan and sear the spice rub over the meat evenly on all sides. Remove from the heat.
In a separate large pot add some oil and put in the tomatoes, capsicums, onion and garlic. Stir for a few minutes on a medium heat and then add the beef to the pot. Throw in the bay leaves and pour in the lime juice, tomato sauce and beef stock. Give it a good stir and then reduce the heat to a simmer, put a lid on it and let it cook for 3 hours. Low and slow! Check it every now and then and give it a stir.
The beef can be pre-cooked and stored in the fridge. Reheat it in the microwave or on the stove.
To make the arepas, preheat the oven to 180°C. Mix the flour and salt together and pour in the water. Mix well and it should form a soft dough, kind of like a play dough texture. With wet hands, divide the dough into 16 pieces, and roll it out into little patties, a bit smaller than an English muffin and about 1cm thick. Put the patties on trays lined with baking paper. In a pan, add a little bit of oil and fry the arepas for a few minutes, until each side has a nice golden brown crust. Once they're all fried off, cook in the oven for 10 minutes, then set aside to cool slightly.
To assemble the arepas, slice them open. The insides should be chewy and soft and the outside should be crispy from the frying pan. Fill each arepa with the beef and then choose other flavours to add in. Perhaps try some red cabbage, avocado and pickled chilies. I've served mine with red cabbage, coriander and some crumbled Greek feta on top for an added salty kick.
For your own South American feast Colombian Cooking style, pick up your perfect pieces here.