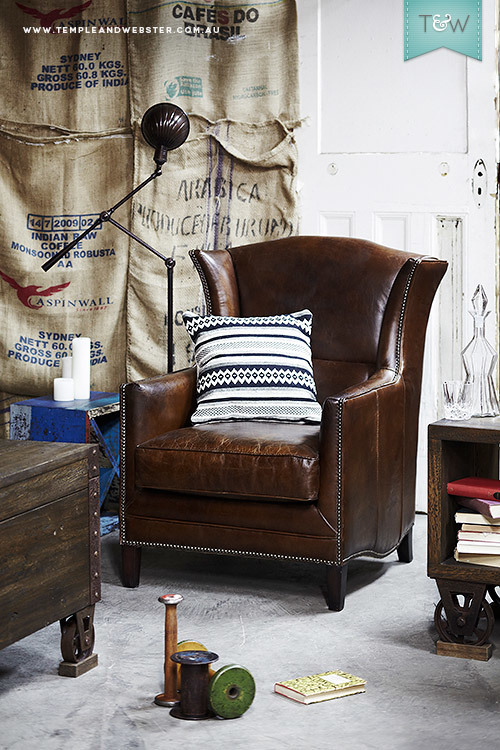 Love the industrial style in today's sale event but don't know how to work the look? New contributor Verity Magdalino (more about her soon!) writes about how to successfully create the industrial vintage look in your own space.
The industrial look - think mis-matched vintage furniture, floorboards and concrete - has its roots in the early 90s when young inner city urbanites aspired to the big airy spaces of New York loft living. The high ceilings and raw surroundings provide a perfect backdrop to furniture and homewares with a history like the aged leather Chesterfield sofa and reclaimed timber coffee table in today's sale event.
We spoke with our in-house stylist, Jessica Bellef on the best way to achieve what she likes to call 'industrial-meets-whiskey lounge' style in your own home. Her top three tips are:
1. Play with different textures
The raw hessian backdrop brings to life the richness of the soft leather chairs. Lighting can also emphasise the contrasting textures in a room. "Imagine," says Jess, "the warmth and cosiness factor in this room of an evening, when the lamps are on and the candles are lit."
2. Think of a unifying theme
Combining different styles of furniture is key to creating a personalized space. The secret to preventing a 'fruit salad' of styles is to keep to a subtle unifying theme, such as the studding in the seating, pictured, which is repeated in the studding of the table, or the worn and aged textures of the hessian feature wall and leather lounge.
3. Highlight with colour
To ensure the mood isn't too dark and heavy, accessories like the vintage bobbins and books add colour, while the cushions, throw and candles in variations of white reflect the lightness of the door in the background.
This can be quite a masculine look, and to tone it down Jess advises adding a rug for some colour underfoot, and delicate pattern via cushions and throws. Choosing a rug with a curvy motif will soften the sharp edges of the tables while faded colour tones are better here than poppy brights, which would make the space feel even more dramatic. A beautiful bunch of tulips or poppies will add that final feminine touch.
We've gone to Pinterest for some images of aged leather pieces living happy lives in contemporary, light spaces - proof that you can live the industrial vintage dream minus the cool breezes of a New York loft. You might recognise the second image - it's from
Megan Morton's
home (as featured on
The Design Files
).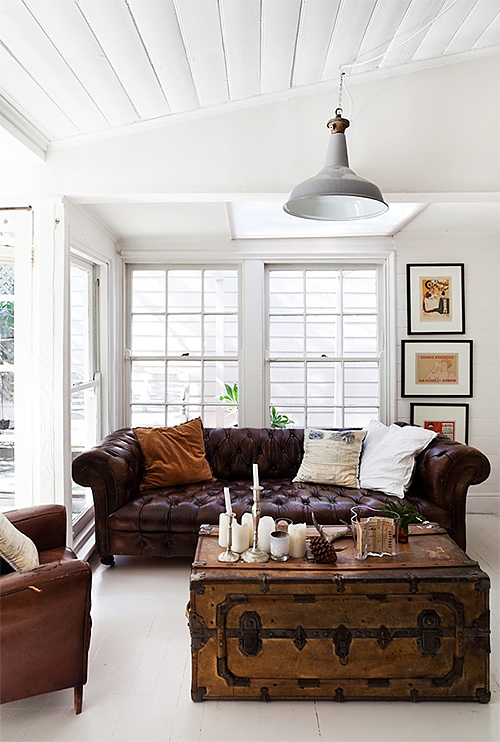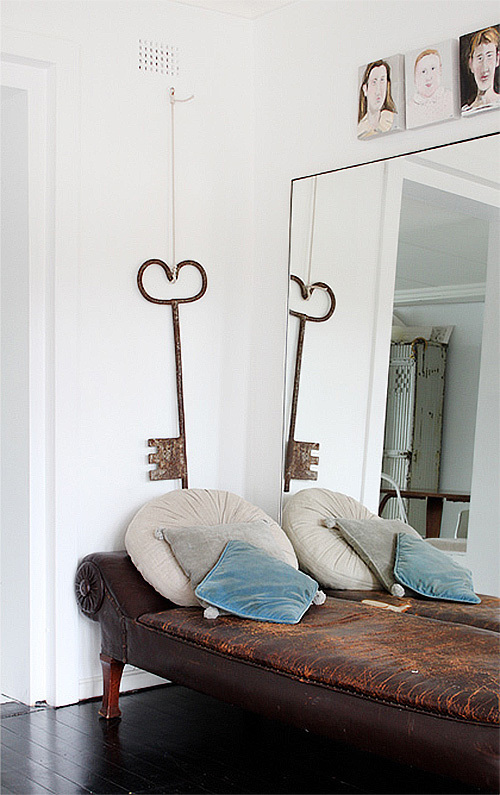 Feeling inspired? Visit today's sale event now!