Yes, it's easy to just turn on a
heater
and warm up the bedroom that way, but studies have shown that we sleep better in a warm bed in a room that's actually cool. With the cost of electricity going up, it also makes more sense financially to warm up the bed, rather than the room. Here, we show you how to layer your bed from bottom up, to make it extra snug and cosy for winter.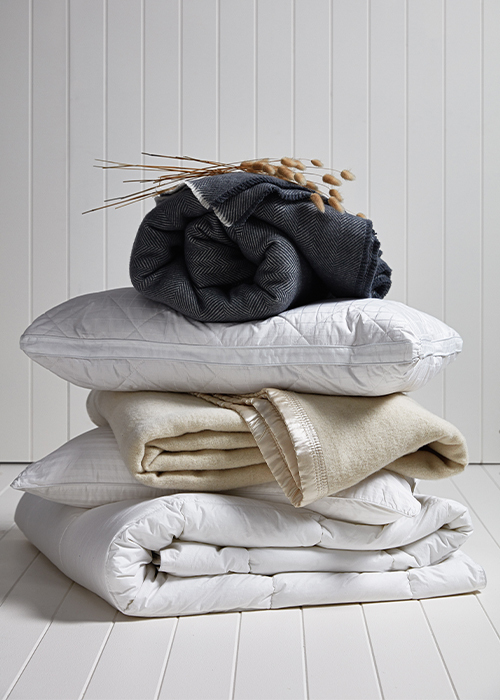 Mattress toppers & underlays
Not to be confused with
mattress protectors
,
mattress toppers
are thick layers that are added to the top of your mattress to create extra cushioned support. It's a great way to also extend the life of your mattress, and make mattresses that may be too firm feel extra-soft.
Mattress underlays
are a lot thinner than mattress toppers, and are primarily used to regulate body temperature. Using both mattress toppers and underlays will make a bed significantly warmer and cosier. For the ultimate in plushness and warmth, choose a down-filled mattress topper and a wool underlay.
​Wool underlays and underblankets are also ideal for those who suffer from chronic joint pain or arthritis, supporting and distributing body weight evenly thereby relieving pressure on muscles and joints.
Flannelette, high thread count & linen bed sheets
As the temperature drops, it's time to put away the bamboo and low-thread count cotton sheets, and pull out the warm
flannelette sets
. If you don't like the feel of flannelette, use
1000-plus thread count cotton sheets
which are extra-thick and heavy.
Linen bed sheets
, much to many people's surprise, is also a fantastic winter bedding option. As it is breathable and can naturally regulate body temperature, it particularly suits people who can feel clammy in the middle of the night from all those extra bed layers.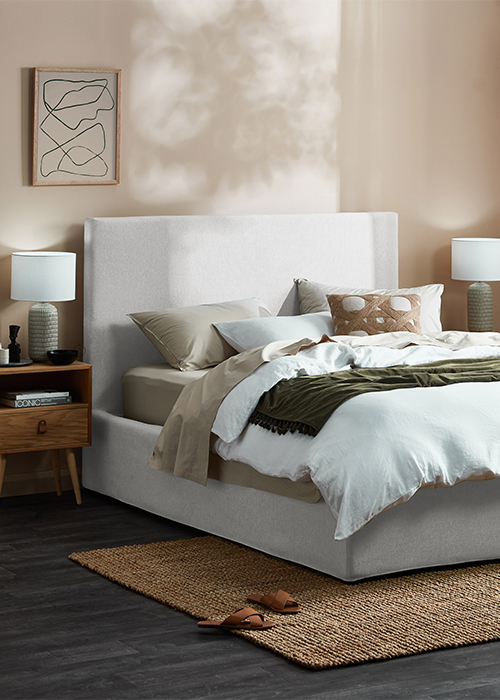 Quilts & duvets
Feather and down quilts
are the ultimate choice for that luxurious feeling of warmth without the weight. If you're prone to allergies, opt for a
microfibre quilt
which will give you the look and feel of feather and down without causing you the sniffles.
​Alternatively, if you prefer something heavier,
wool quilts
are wonderfully warm and are also a great choice for those with allergies or asthma. To avoid cold draughts or doona tugs-of-war, pick a quilt size that is one size larger than your bed to ensure there's enough overhang and sufficient covering for all.
Blankets & throws
Nothing feels more comforting in winter than a thick blanket. For warmth, softness and beauty, opt for durable and breathable
wool blankets
.
Weighted blankets
filled with glass beads go the extra mile by providing deep pressure therapy, helping you to relax more easily. And, if you really can't beat the chill,
electric blankets
are the way to go. For a bed that exudes cosiness, layer
throws
in different textures such as velvet and knit.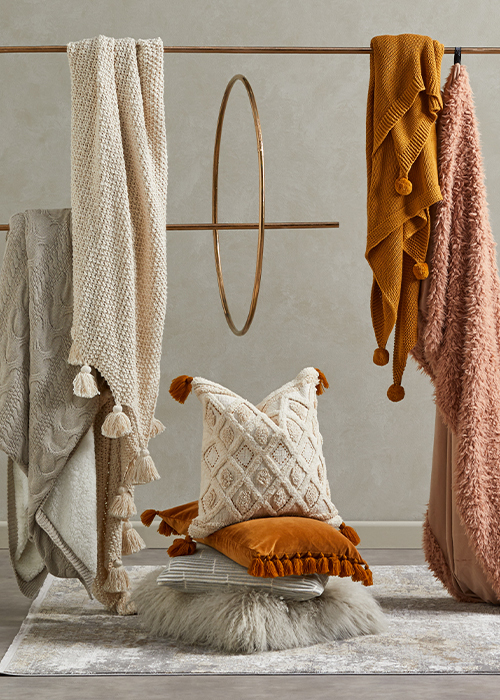 Upholstered bedheads
Late-night reading and streaming in bed is always more comfortable and cosier with an
upholstered bedhead
. Consider an opulent
velvet bedhead
or
linen bedhead
for a sophisticated look or, if you're worried about stains or enjoy the flexibility of colour options, you could always opt for a
bedhead with slipcover
.
Bedside rugs & slippers
Create warmth as you climb out of bed by laying down a
shag rug
or
cowhide rug
on either side of the bed. Want even toastier feet? Try these cute
bedroom slippers
.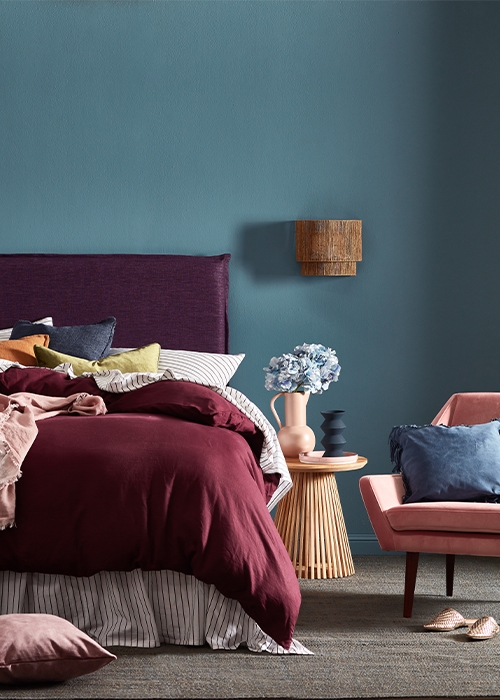 Other tips for staying warm
- Have a warm bath just before you go to bed.
- Exercise before bedtime to get your circulation going
- Place a heated water bottle under your sheets before sleeping to pre-warm your bed.