Obviously we know that, in theory, yoga and meditation can be practised anywhere, although, in the case of yoga, a flat hardwood or tiled floor and a thick
yoga mat
with good traction, does make the routine easier. Given how yoga and meditation has provided some much-needed calm and balance for so many of us at home during these trying times, it only makes sense for these practices to remain part of our everyday routine and integrated permanently into our spaces.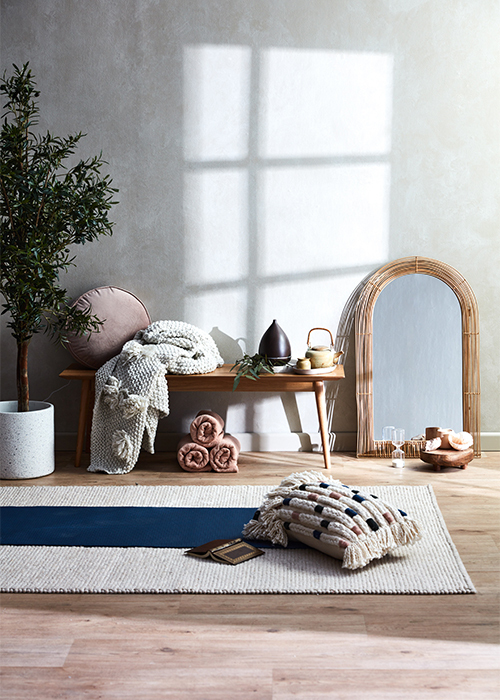 We're not talking about a dedicated yoga room (although how lovely would that be). All you need is a quiet, low-traffic area within your home; it could even be the corner of your bedroom. If you're using the space specifically for yoga, you may also want to consider having a wall nearby to assist with any inversions if you're that way inclined.
​Here, we share how to create a yoga and meditation space that uplifts and inspires you through the careful consideration of the five senses of sight, smell, touch, sound and taste. And, once you've set up your space, it might just become your personal retreat; a place to read, nap, daydream or simply be.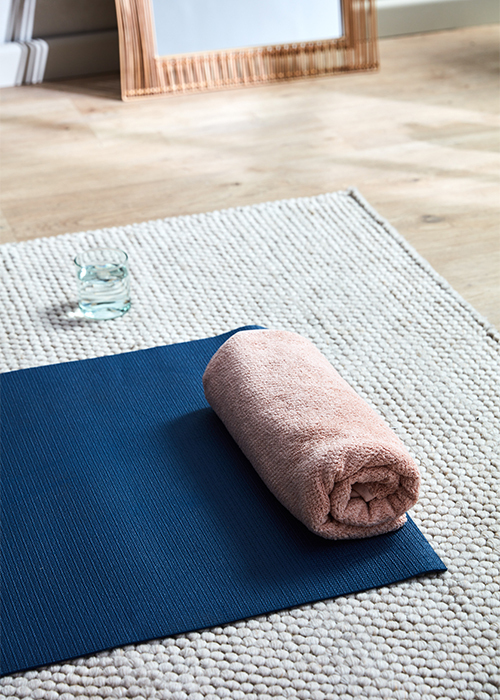 Keep it minimal & purposeful
While too much stuff will distract you and limit your movement, too little may lead to restlessness. It also helps to create several focal points especially for yoga, so you have something to cast your eyes to as you move into Warrior One. Consider ornamental, functional or objects of personal value to inspire you. Also, keep practical things such as rolled
towels
in
baskets
to dab your brow and to provide added comfort or to use as a bolster;
cushions
that can double as yoga props; and
trays
to hold
candles
and your
water bottle
. If you can, leave your yoga mat unrolled so it's there as a reminder of your daily routine.
Choose calm colours
Shades of blue or neutral, earthy tones are always a safe bet for creating a serene atmosphere. The intensity of the colour will be a personal preference. Darker colours will make a room feel smaller, while brighter colours will open up the space by reflecting more light, so it depends on the vibe you're going for. If you don't want to paint the walls, you can always add
wall art
or large cushions to add colour, although go easy on busy patterns to avoid distraction.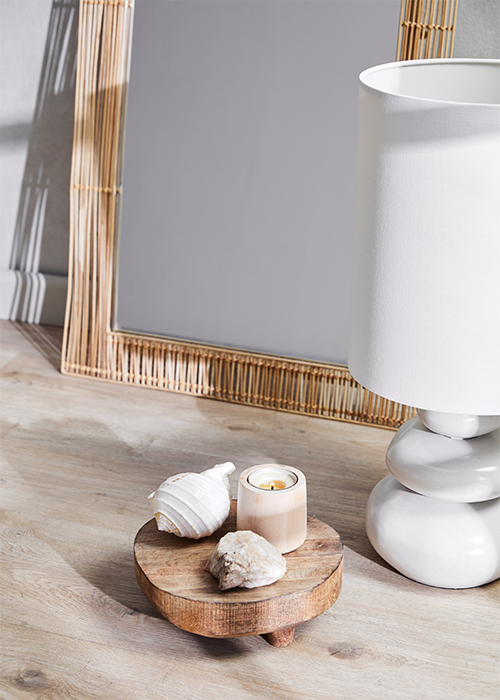 Create soft lighting
Lighting
can have a profound effect on our moods, although it is also a personal preference. Perhaps you prefer a darker cosier atmosphere, in which case, you may want to avoid setting up a space by windows, or add
curtains
and
blinds
to minimise light, and use
lanterns
and candles which are easier on the eyes. Alternatively, you may be inspired by light and brightness, so you may want to not only surround yourself with natural light, but also reflect that sunlight around your space with the addition of
mirrors
. To avoid the harsh glare at sunrise, add
sheer curtains
to diffuse direct light.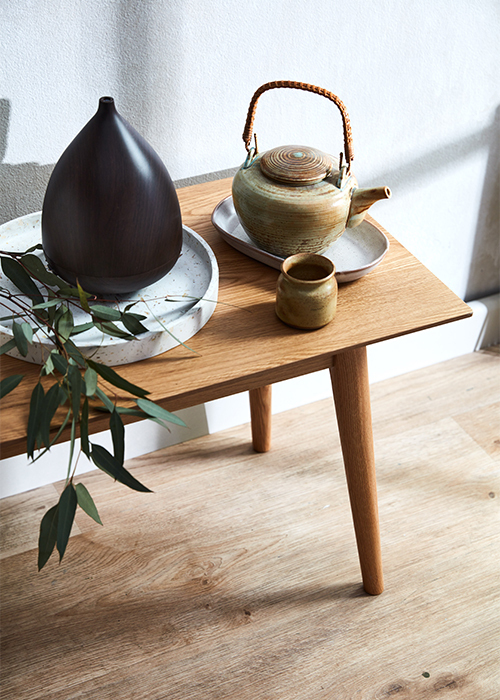 Add relaxing aromas
Smell is often underrated, but studies have shown that our olfactory receptors can greatly influence our mood, thoughts and stress levels. Burn a
scented candle
, use a
room spray
or turn on an
aroma diffuser
to not just create relaxing scents, but to also cleanse and humidify the air. If you're not a fan of strong fragrances, think about other factors that might affect the smells within the space. Use natural cleaning products to avoid chemical odours, and perhaps add more subtle aroma through a steeping
teapot
that you can enjoy after your session.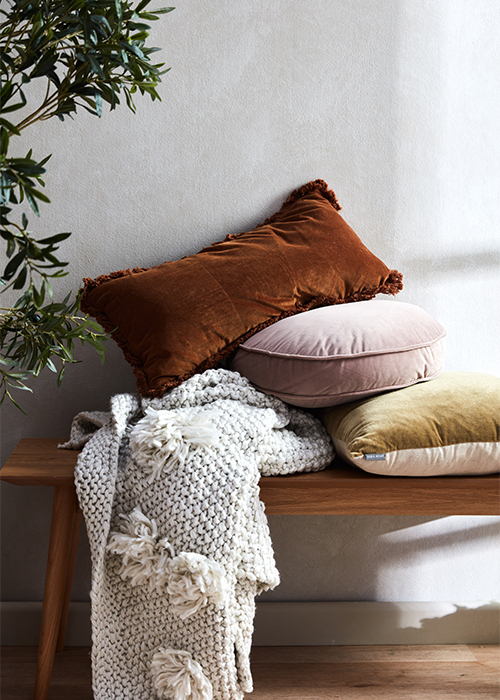 Establish the right temperature
Depending on your own internal body temperature and the kind of yoga that you're doing, you may need to adjust the temperature of your space. Consider a
heater
, or if you're meditating and are prone to getting cold, have some
throws and blankets
on standby.
​
Consider the sounds around you
While in theory, yoga and mindfulness should ultimately help you shut out the unwanted noise around you, sometimes you just need a little help.
Room dividers
can be an easy solution to absorb sound (and create privacy), as can soft surfaces like
rugs
. Better still, mask interfering street noise with your own relaxing soundscapes using a
compact speaker
. And, of course, don't forget to turn off your phone.