Keep your rugs looking brand new with our tips on basic care, stain removal and deep cleaning for different rug materials.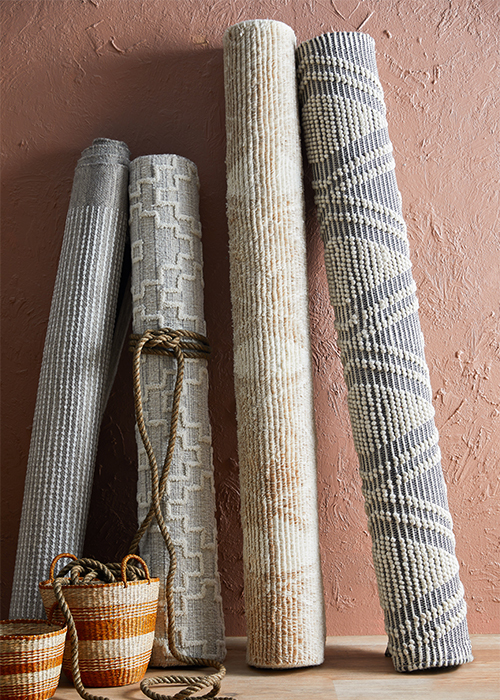 Basic care for all rug materials
- Your rug may arrive folded or rolled, and will take a few days to flatten out. Some rugs, especially hemp rugs, may also shed for a few weeks – this is normal and should ease after vacuuming.
- Vacuum your rug once or twice a week to remove dust and dirt. Start by vacuuming against the direction of the pile, then finish by vacuuming in the natural direction of the pile for a smooth result. Regular vacuuming removes dirt on your rug's surface before it is worked underneath the pile and is harder to clean.
- If your rug is reversible, make sure you vacuum both sides.
- If you have pets, use a stiff brush to remove the hair, brushing in the natural direction of the pile.
- If your rug is in a sunny spot or receives a lot of foot traffic, turn it at least twice a year to even out the wear.
- Rug underlays are a great way to keep a rug in place and to protect your floor from coarse fibres. They also protect the base of the rug against inevitable friction against the floor, working as a shock absorber.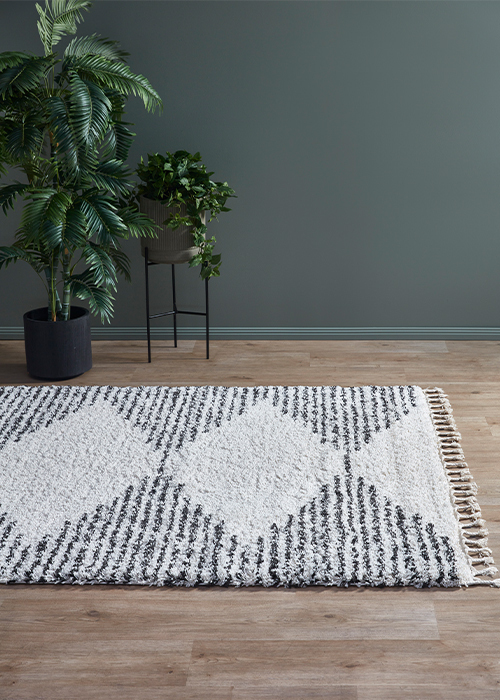 Spot cleaning spills
Whatever the rug material, it's best to attend to spills as soon as possible. Here's a step-by-step guide to spot cleaning spills:
​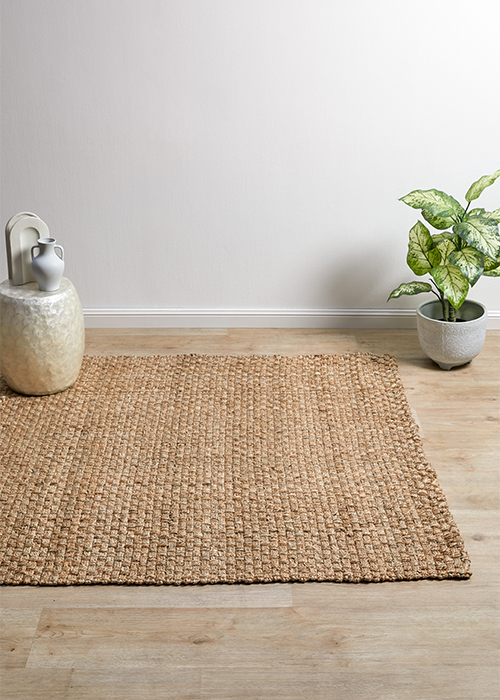 1. Remove any solids from your rug making sure you don't scrape them into the rug.
2. Blot stain with a plain dry cloth to soak up excess moisture; do not rub.
3. Using a toothbrush or soft sponge, dab a small amount of mild dishwashing liquid or carpet cleaner around the spil, working it gently.
4. As the stain dissolves, blot with a clean damp cloth to remove foam or cleaner.
5. Pile a stack of paper towel over the cleaned area and press down to absorb remaining moisture.





Deep cleaning rugs

In addition to regular vacuuming and spot cleaning, it's worth deep cleaning your rugs to extend its lifetime and keep it looking as good as new.





Steam cleaning

Wool, silk and synthetic rugs can benefit from a professional steam clean once a year to remove the dirt that a domestic clean can't access. Lighter-coloured rugs that receive a lot of foot traffic may need even more frequent steam cleaning. Cowhide and sheepskin rugs can also be steam cleaned, but both are pretty durable and can be just as easily maintained with brushing and spot cleaning.





Dry cleaning

Avoid steam cleaning or washing with water when cleaning jute, hemp and sisal rugs as moisture can damage the rug's fibre and cause changes in colour and mould growth. Instead, sprinkle over a dry rug shampoo or baking soda, let it sit for a few hours, then vacuum both sides.





Using a washing machine

Small and medium flat woven rugs made from cotton and synthetic fibres like polyester and polypropylene can be cleaned in a washing machine in cool water on a gentle cycle. It's best to let the rugs air-dry to avoid shrinkage and fibre damage.