Your taste in art is entirely personal, but it pays to think about the style of the room you're decorating. Is your room contemporary or vintage? Feminine or bold? The artwork you add should complement the overall feel of the space. Use our handy guide to navigate the process – we help you choose the right artwork for your space and style it like a professional.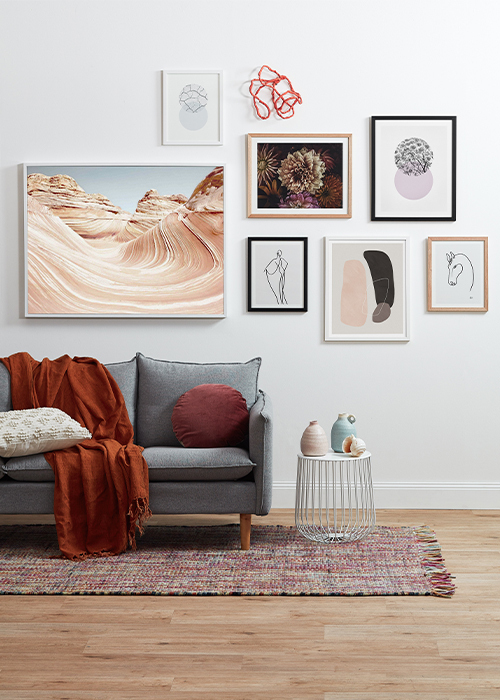 Colourful canvas
Make a splash with a wash of beautiful colour and abstract design. Go bold to create a focal point, or choose subtle tones to complement your existing décor.
Our tip:
Your new artwork doesn't have to 'match' the paint colour or furniture in your room. Use small accents like vases, frames and cushions in the same colour scheme as your art to tie the room together.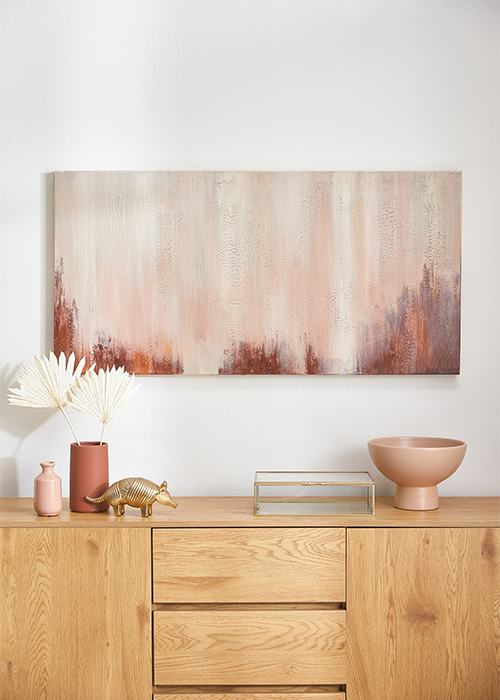 Playful prints
Here's your chance to be adventurous – add framed botanicals to your colonial style sitting room, a pair of pretty florals to your boudoir or a cute design to the kids' rooms. Start a collection around the colours or subjects you love and group together for impact.
Our tip:
Don't put unframed art in a drawer to be framed 'later'. Many prints fit affordable frames available in standard sizes, or affix to your wall with colourful tape, clips or pegs for a fun, informal look.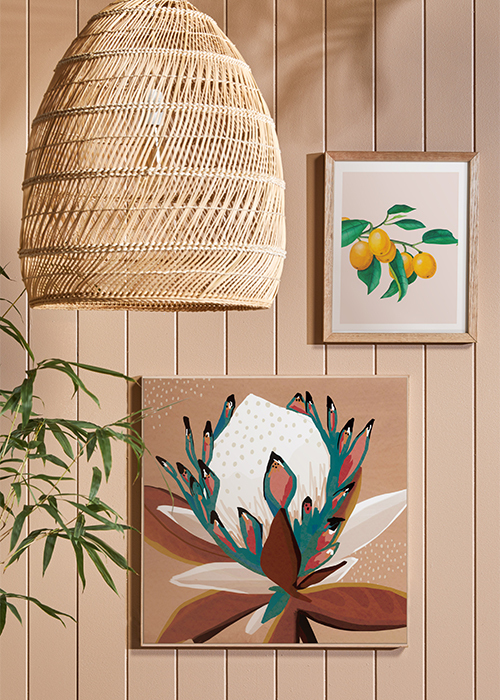 Vintage posters
Often based on iconic advertising or travel posters, the graphic pop of vintage posters makes them a popular choice. With originals now commanding high prices, reproductions are an affordable way to get the look.
Our tip:
Posters make a great addition to the kitchen, bathroom or kids' room. Choose something with personal meaning for you or your family – a favourite destination, colour or brand.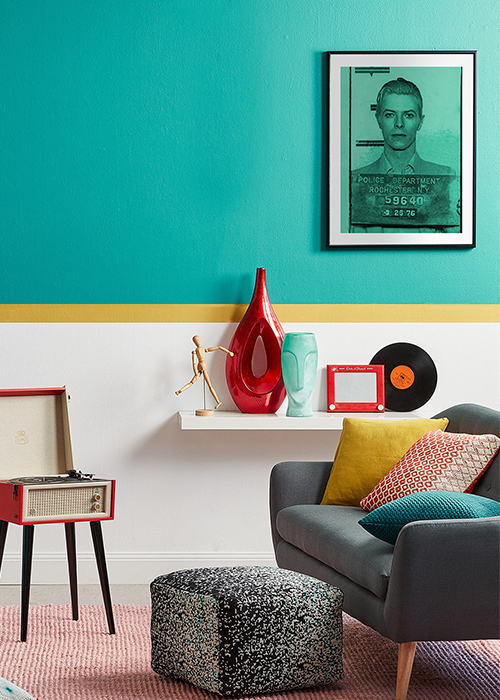 Photography
Be inspired by your favourite destinations, flora and fauna every day with beautifully shot photographs. Whether they're framed or printed on canvas, photography has a way of bringing life into your home and feels deeper than two dimensional.
​
Our tip:
Group similar shots together to create a collaged snapshot of a place or time. Black and white photographic artwork is timeless and doesn't hog all the attention, but if you're worried about it feeling too cold, select a timber frame for a warm finish.
​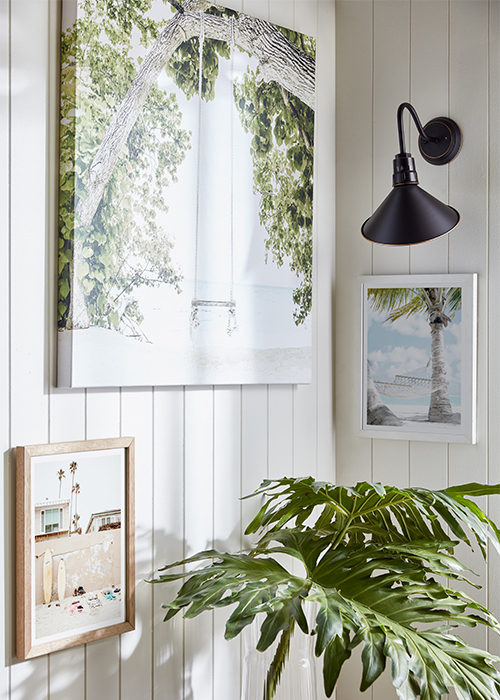 Tips for styling artwork
Whether you prefer your art framed and hung or propped in a more casual display, our styling secrets will help you get it right.


The centre of your artwork should be at about eye level when you're standing in front of it. In a room where you're always sitting (for example an office), play around with an even lower height.


Hang art above furniture to allow each to enhance the other. Think about providing a visual link between the two with a lamp, vase or décor piece that overlaps.


Hanging art behind a sofa? Leave around 30 cm between the sofa and the art so you won't bump up against it.


Get your proportions right – a small piece of art may not work above a huge piece of furniture. Make a template from paper to see how it will look before you get out the drill.


Prop larger works on the floor (consider carefully if you have kids or pets!) for a casual look.


Smaller artworks look great propped on a shelf, mantel or table (use Blu Tac to secure their bases if you have any concerns). Style with books, ceramics and fresh flowers, and rearrange whenever the mood takes you.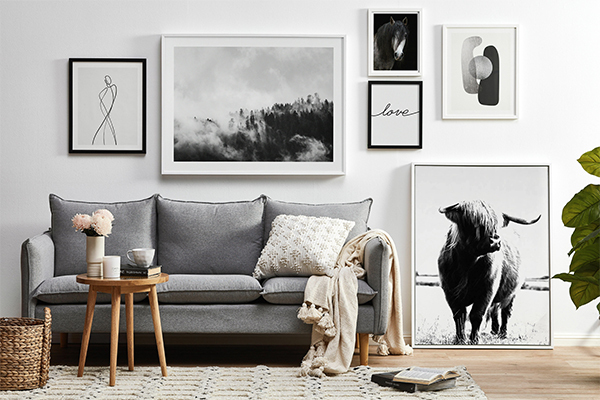 Glossary
Canvas
: The cloth (usually cotton or linen) used as a base for an artwork. Canvas artworks may be original paintings or reproductions (prints).
Print
: A reproduction of an original work. There are many different methods of creating prints. Prints which are limited in number (limited edition) and signed by the artist tend to retain value.
Stretched
: An artwork on canvas must be stretched over a timber frame before it can be hung.
Unstretched
: An unstretched canvas will arrive rolled up, and you'll need to take it to a professional framer to be stretched.