In any review of 2015, we couldn't leave out the day when Saskia Havekes of Grandiflora arrived at the T&W studio with a van full of incredible flowers. She is a florist of considerable note, and her small Potts Point store is a mecca for those in search of beautiful and thoughtful arrangements, whether for a huge event or a personal celebration. We asked her to share some tips on working with three different vase shapes. Watch our video above, or read on for more detailed tips and a close look at Saskia's work. We predict a pinning frenzy on these images!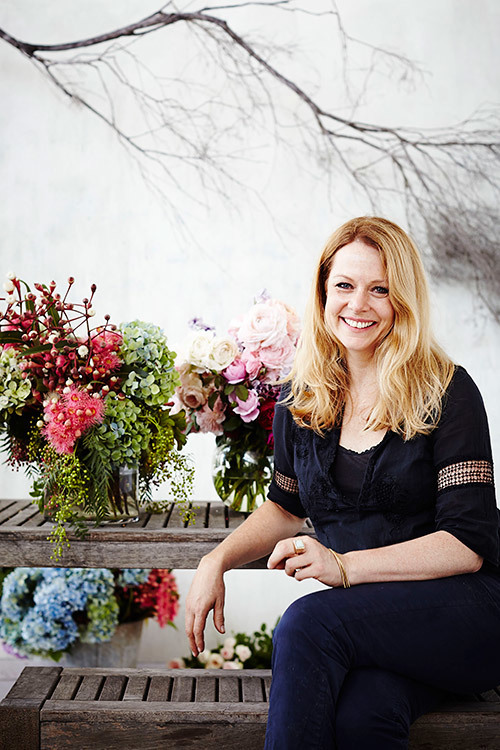 Saskia has been visiting the flower markets for over 20 years, as well as creating weddings, events, installations and many, many individual bouquets. Her favourite flower is (of course) the Magnolia Grandiflora after which her business is named, and her pet hate is dirty water. We asked her first for a few basic tips applicable to whatever flowers or vessels you're working with, and then for advice on working with round, squat and cylindrical vases.


Cut at least 3cm off the stems of cut flowers or foliage when you get them home from the market or store, and strip away any greenery that would be under the water line in your chosen vase.


Change the water in an arrangement every 2 – 3 days. It's easiest if you have two people – one to hold the arrangement and one to empty and refill the vase with cold water. Take this opportunity to pick out any dead flowers.


Long stemmed flowers which are a little past their best can be revived by cutting the stems much shorter (this makes it easier for water to travel up the stem). Rearrange in a low vase and you should get an extra 3 – 4 days out of them.


If you're not a confident arranger, start simply with masses of one kind of flower. Always make sure your arrangements look generous, and take time to separate and spread the flowers and stems so they have room to breathe.


Don't fill the vase right up to the top – it's not necessary (and not elegant!). Do make sure all your stems reach the water level.


If you don't like the pollen on lilies, pick of the anthers (little stems inside the flower) before they are coated with pollen. If you leave it too late and get pollen on clothes or fabric, start with sticky tape!


If you're having a party or celebration, recut and change the water of your arrangements on the day – they tend to lose energy over time and this will revive them.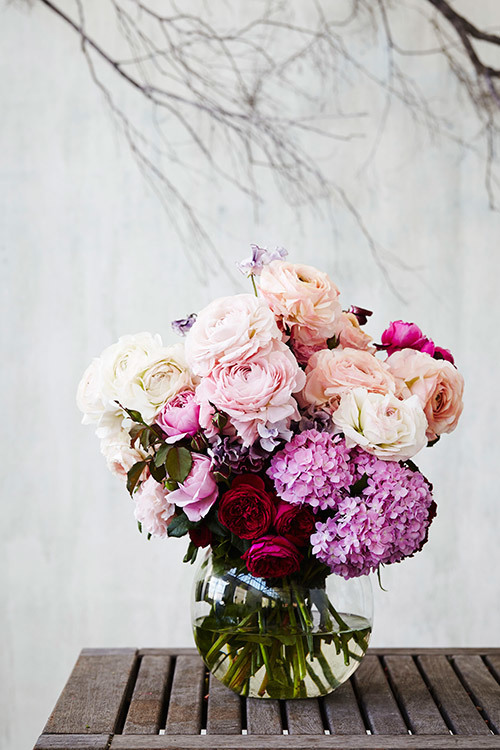 1. The sphere
Flowers used: Celosia, Prospero roses, ranunculus, pink hydrangea, variegated sweet pea


Choose flowers or foliage as a base – think of these as the bones of your arrangement – and tie them together to form a strong, supporting anchor.


Arrange more beautiful blooms higher, to make a feature of them. Think of your arrangement as a landscape, and include a variety of layers and heights to give the eye somewhere to travel.


Remove thorns from roses using a rose stripper (available from florist supply stores), or a tea towel. Don't be too rough or you'll damage the stems.


Remove any marked or imperfect petals or leaves. Check your arrangement regularly and cut out any flowers which are past their best.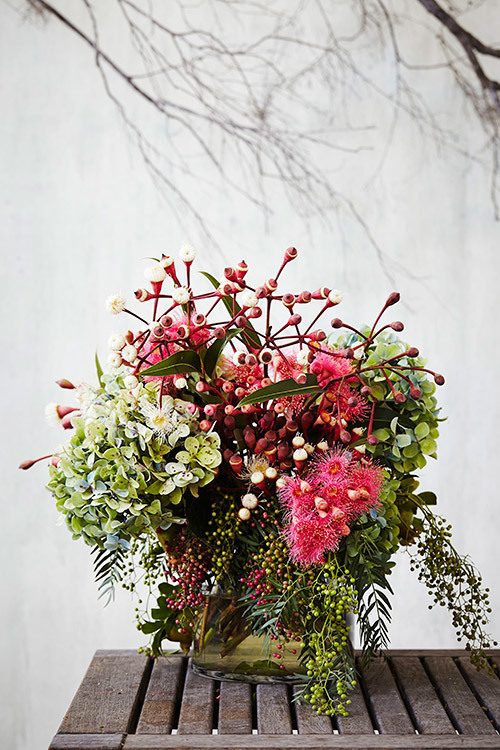 2. The pail
Plants used: Pomegranates, pepper tree, pink and cream flowering gum, hydrangea


Use the lip of the vase as a support and lean stems against it. Trailing foliage works well when it has somewhere to rest.


Use the height of the vase as a guide for the length of the stems, and always cut a little longer than you think. It's easier to re-trim but impossible to extend!


Don't be afraid to snip off a few leaves to better display flowers or berries. Flowering gums may need a little cleaning up – the caps look striking and sculptural even without the fluffy stamens.


You could recreate this arrangement with foliage from your own garden and a few store-bought blooms. Natives (and foliage) will generally last longer in the vase than cut flowers.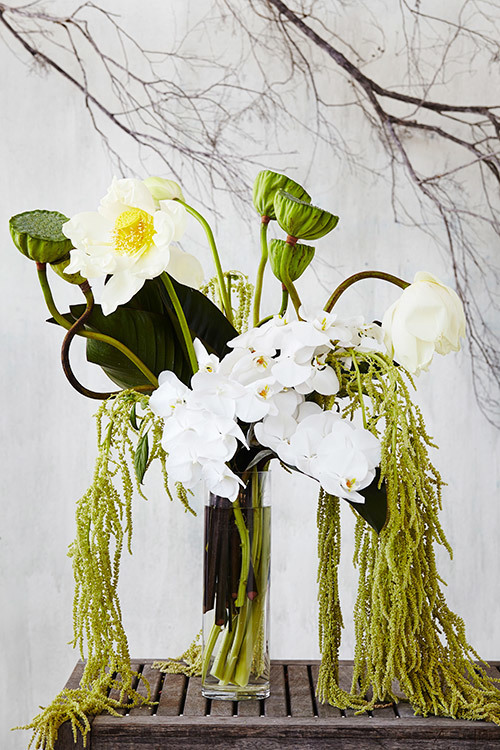 3. The cylinder
Plants used: Lotus, trailing amaranthus, Phalaenopsis orchid, palm leaves


Always cut stems on an angle so they don't sit flat against the vase – this means it's easier for the plant to drink. Cutting some shorter allows for a variety of heights.


Allow the flowers room to breathe, don't cram them in. Flowers are always more beautiful when they are arranged loosely, in a natural way.


For this style of vase, it's best to keep your arrangement simple and sculptural. The trailing plant helps to hide the vase – it's in a supporting role, not the star. Tall vases are inclined to blow over, so place them somewhere safe.


Tidy up the edges of leaves if you need to. Large palm leaves work as a strong base, and can also be used to support (and show off) more delicate flowers.


Cinematography by Natalie Hunfalvay. Set styling by Jessica Bellef. Music via www.bensound.com