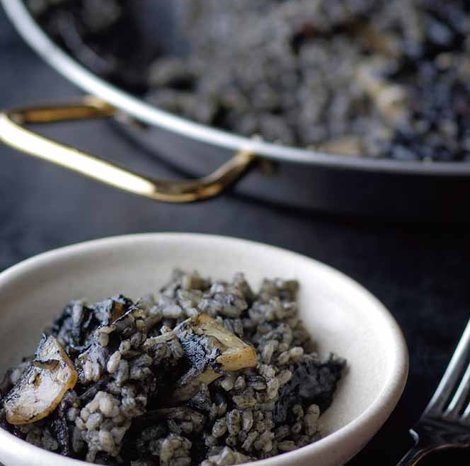 Frank Camorra had a big part to play in bringing Spanish tapas back to Australia and making it cool again. The chef and restauranteur behind MoVida has also produced a cookbook of the same name (Murdoch Books) – which is where this gorgeous paella recipe can be found. Thanks to the good guys at Eatlove, we're sharing your next dinner party success story...
Ingredients (serves 4-6):
125ml olive oil
500g cuttlefish or calamari
1 brown onion
2 garlic cloves
1 heaped teaspoon cuttlefish ink (available from fish mongers and speciality stores)
5 tomatoes
200 ml dry white wine
400g Calasparra rice
1.25 litres hot fish stock
Preparation
Heat 60ml of the oil in a paella pan or large, deep, heavy-based saucepan over high heat. Seal the cuttlefish, in batches, by cooking it for about 1 minute each side. Season each side while cooking. Remove and cover with foil. Discard the oil.
In the same paella pan heat the remaining oil over medium heat. Add the onion and garlic and sauté for a few minutes, then reduce the heat to low–medium and cook for 5 minutes until the onion is soft and translucent. Add the cuttlefish ink and mix well. Add the tomato and cook for 5 minutes to soften slightly then add the white wine. Continue cooking for about 15 minutes, until the mixture has reduced to a thick paste. Increase the heat to medium and add the rice, stirring well to coat it in the paste. Cook for 2 minutes, stirring continuously, until the rice just starts to become translucent.
Pour in the hot fish stock and mix well. Increase the heat to high, bring to the boil then reduce the heat to medium. If the flame or element doesn't cover the base of the pan, move the pan around during cooking to ensure an even cooking. Place the cuttlefish on top of the rice and cook for 10 minutes.
By now the rice will have expanded a little so reduce the heat to low–medium. Cook for 10 minutes. Just before removing from the stove, increase the heat to high and cook for 1 minute to help form the socorat (crust) on the bottom of the pan. Remove from the heat and cover with a clean tea towel for 10 minutes before serving warm.
See more at
eatlove.com.au
where you can follow your favourite chefs, share their recipes and buy their books.