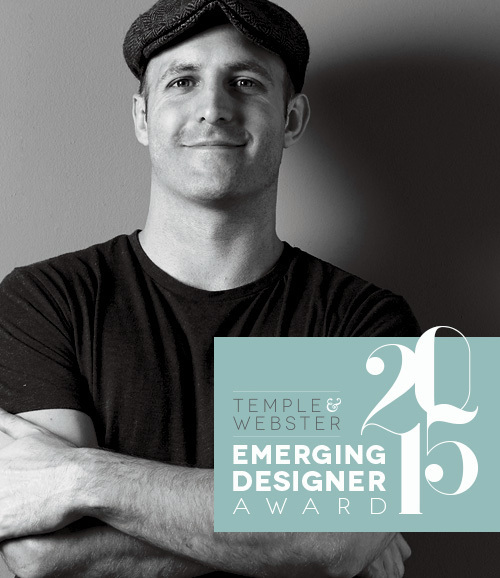 Elliot Gorham is a Melbourne-based designer and maker whose Noddy Boffin practice produces furniture and lighting with contemporary and conceptual aesthetics. He is one of the nominees for our Emerging Designer Award 2015 and his furniture and lighting designs can be found in our special sale event.
How would you describe your design philosophy and aesthetic?
Simple but clever, is the ultimate goal, but it's easier said then done…
My design philosophy is to create objects that are attractive and engaging and as much as possible, I try not to follow trends. I am continually experimenting with different processes, materials and aesthetics, to be interested and interesting. Lastly, quality and credibility are very important, durability to function into antiquity and longevity to be environmentally friendly.
What is your biggest motivator or muse when you are designing?
I've got 'Big hairy audacious goals' (coined by business consultant and author Jim Collins), whether I'm using the 'BHAG' term correctly or not, I'm a big believer in big ideas and goals and it's these aspirations that drive my business and the design development within it. Most of all I'm motivated by the pure enjoyment of producing something functional and attractive from raw materials. I enjoy the sense of pride and satisfaction once a product is completed, this motivates me to continue making.
Influenced by my daily encounters, whether trawling the internet, flipping through magazines, walking through exhibitions, sitting on chairs, eating at tables, spying lights and any and all other conscious and subconscious interactions. There are very few times that I can nominate one individual point of inspiration, it is amassed from many sources.
What has been the most pivotal point or event in your design life so far?
I've just had a son so brace yourself because this next bit is a bit corny, you've been warned. There is no other thing that I can say that I've contributed to and that I am as proud, impressed and enamoured by as much as my 9 month old boy, Sonny. It's without doubt a life-changing event (this will I'm sure affect my design life).
Seriously though, in my design life the biggest most pivotal event was the very beginning, my education and training at the ANU art school - furniture/ woodwork workshop. This was not only a time in which I credit the beginning of the refinement of my skills and knowledge in furniture manufacture and design, it was also point in which I was engaged and exposed to creative thinking and practice. Following this, and second on my list of important steps, was setting up and establishing a shared furniture making studio here in Melbourne (
Handsome & Co
), without which, it would have been impossible to have created and be continually developing my design business Noddy Boffin.
What (or who) inspired your most recent design?
The 'Morse Lamp' is my most recent release and it is inspired by the metal spinning process as seen being used by number of local Melbourne designer/makers, each designer offering their own distinctive aesthetic in their choice of material and finish. Two of specific note are; Coco Flip's 'Mr. Cooper' copper lamp and 'Spun Light' by Life Space Journey. The idea that drove the shape and assembly of the two components is inspired directly by the conical form of a 'morse taper' (a.k.a. machine taper). Morse taper systems are used in almost all machine tool spindles, acting as the primary method of attachment for tooling. It is this function that inspired the combination of materials and the way in which the spun steel is met and supported over the timber spindle.
Do you have a favourite design in your portfolio, and why?
It's difficult to take favourites. I'm very close to the product that I create and have had ups and downs within the processes of refinement of each one. I don't have favourites, instead I enjoy varied elements from each.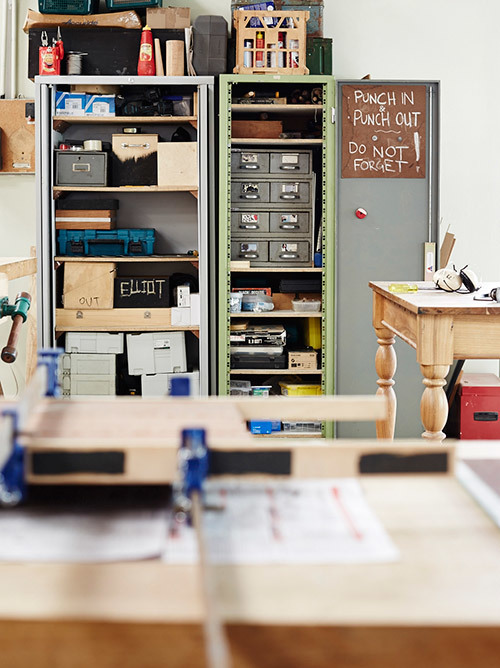 What materials, processes or new categories do you hope to explore in future?
I'm excited to start investigating and trialling an idea for night lights using rotational casting and polyurethane resins. I've neither worked with plastics nor have I had any exposure to mould making and rotational casting, so I'm looking forward to learning and experiencing a new process.
Do you have one piece of styling/ design advice for home decorators?
Pineapples, lots of pineapples. Pineapple wallpaper, pineapple shaped table decorations, pineapple adorned pillows, pineapple art, pineapple lamps and anything else pineapple related. There can never be too many pineapples in one room.
In addition to this I'd ask that you seek out to support and utilise the variety of local designers and makers in Australia. Yes it will probably cost more, but the quality of something that is made with care and love should not be compared to mass-produced imported goods. Buy with care and the expense will afford you something special and also benefit the earth as well.
Quickfire questions:
My favourite iconic design is:
'Chest of Drawers', Tejo Remy (Droog)
My dream project would be:
I'd love the opportunity to create a space full of my furniture products, where the public could view, use and be part of the environment that I've created. This would most likely become a reality in a restaurant or café context
My guilty design secret is:
I occasionally embrace the opportunity to rap loudly to Kanye West, while machines are running and I think nobody can hear over the noisy drone of dressing timber
My favourite era for design is:
'Bauhaus' and more recently 'Conceptual Design' in the 1990's early 2000's (i.e. Droog & Moooi)
I am creatively fuelled by:
A passion for my work… and chocolate
Follow Elliot on Facebook, on twitter @noddytheboffin or on Instagram @noddyboffin
Voting in our Emerging Designer Award 2015 has now closed.