Photographer, author and creative Claire Lloyd spends much of her time on the Greek island of Lesvos, documented so beautifully in her book My Greek Island Home (available in today's sale event). Claire and her partner, artistMatthew Usmar Lauder have also created My Greek Island Guesthouse, a retreat overlooking the Aegean Sea. Here she shares a slice of her enviable island life…
Imagery is my language and I the way I communicate.
It doesn't matter whether I am creating a nurturing living space, taking a photograph, filming a moment in time, designing a brochure, painting a picture or serving a meal, I create imagery that moves beyond the one-dimensional, offering a living breathing, sensory experience.
What I know about myself is that I love: the smell of jasmine, sunshine, the sea, family, friends, creating nurturing spaces, flowers, light, animals and making people laugh. I also love, nature, living with an artist, the colour white, soft fabrics, food, travelling, taking photos that ignite emotion, living in a community and finding beauty in the smallest detail.
This is the entrance to
My Greek Island Home Guesthouse
, a place I created to share. It's a pretty little house high up in the village with views to the Aegean Sea. The house is filled with natural light and is a serene and nurturing space, a great place to retreat to. On the right is
me with Mavroula, who was one of our rescue dogs. Mavroula was on a chain in the Greek countryside but she now lives very happily in the UK with lots of land to run around and patrol. There are horses too, who are her new best friends.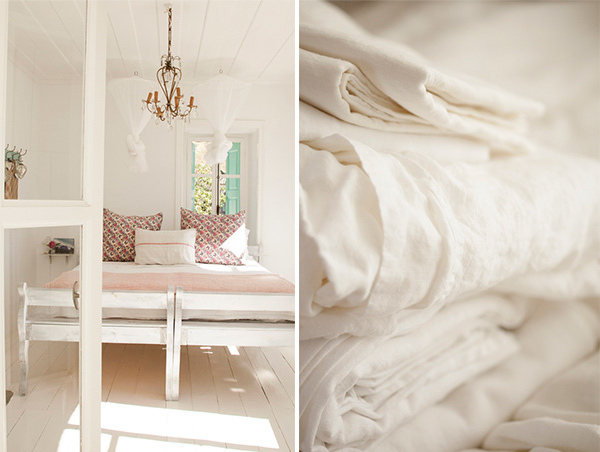 My Greek bedroom (left) is my favourite room in the house. The room is only small but it's filled with the afternoon glow of warm sunshine. When I wake up I instantly feel happy, and happy is a great way to start the day. The chandelier came from a friend in London and Matthew made the wooden bed. It's a treat sleeping on something that has been made especially for you. My favourite fabric in the world is linen and I have to admit to having quite a lot of it. I wear linen pretty much every day and I love to sleep in it too. Linen sheets are an addiction. I have lovely old French ones and beautifully woven new ones. Here (right) is a stack waiting to be ironed. The texture is fab.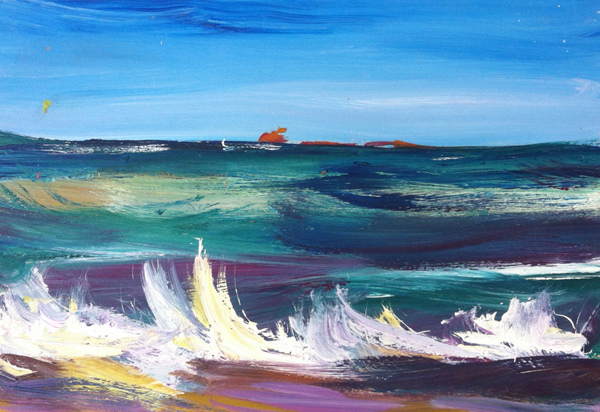 The strong brush strokes and colour in this painting by
Matthew Usmar Lauder
move me. It captures the Aegean Sea perfectly.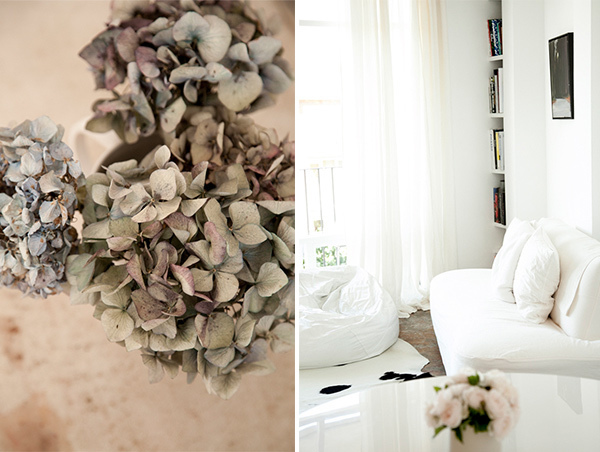 I am a great lover of flowers and surround myself with them whether I am in London, Greece or Sydney. I really enjoy photographing them even when they have started to wilt. These hydrangeas
(left)
have now dried out but their colours are fabulous. This photo has a painterly quality; it was shot in my Sydney apartment. The flowers came from my favourite Sydney florist
Grandiflora
.
(Right)
You can see by peeking into my Sydney flat that white and light are important wherever I am in the world
.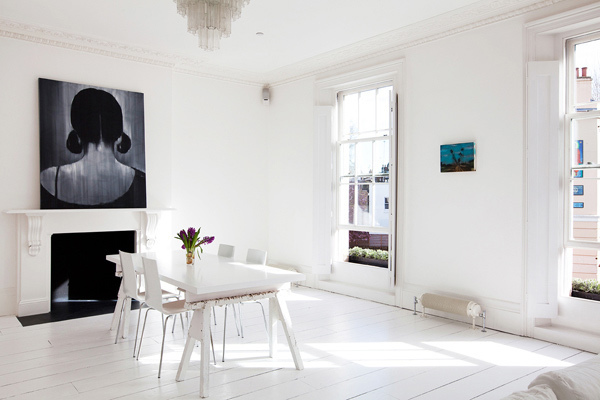 Image by Nathalie Priem
This is the sitting room of our West London apartment – it sits above a pub. It has three enormous south facing sash windows, which flood the room with light. There is a fireplace at each end of the room. The large black and white painting above the fireplace is by my partner
Matthew Usmar Lauder
. I love the scale and strength of his painting. The small jewel like painting in between the windows is also by Matthew.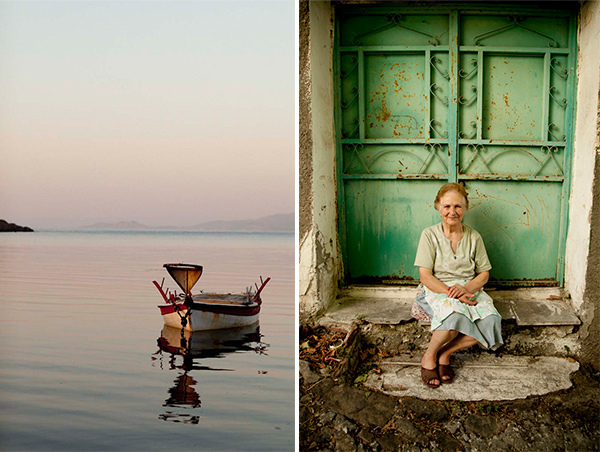 Sometimes at the end of the day I walk the dogs to the water where small Greek fishing boats sits on a very still Aegean Sea. The colours at this time of day are breathtaking. I LOVE Greece and My Greek Island Home. One of the joys of living in a Greek village is conversing with the locals. My Greek is not great but I love having time to be able to stop and chat. There are certainly plenty of opportunities for chatting, especially when spring arrives and the locals open up their shutters and come out from behind closed doors.
(Right)
This is a picture I took of one of our neighbours; she looks so small sitting in the shadows. The colour of her dress and apron sit perfectly with the metal gate.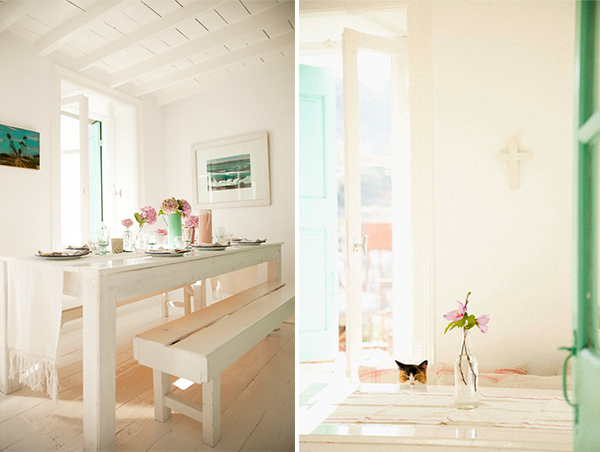 I love entertaining and especially making things look pretty. Matthew made our dining room table and the benches at My Greek Island Home; they take up a large part of the small room. Here the table is set for lunch with flowers from the garden, old cutlery and linen napkins. The porcelain jugs are from Turkey by my friend
Tulya Madra
. Meet Sweetie
(right)
our first rescue cat; we decided to keep her. Sweetie runs our house and gets very out of sorts when a new dog, puppy, cat or kitten, enters our garden – which is rather too regularly. Since we have lived in Lesvos we have rescued and re-homed a number of dogs and cats. They have been sent as far away as Chicago. They all have been given the love and care they deserve.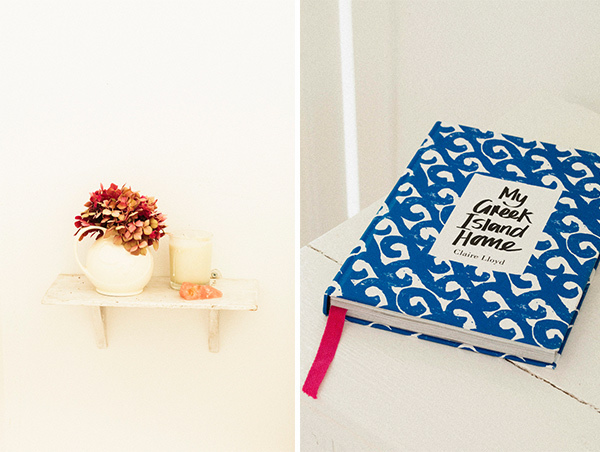 This simple little bedside shelf
(left)
was another great find by Matthew. The vase was my mum's, so it has sentimental value. The hydrangea is from the garden and the candle is from a collection by my friend Louise in London at
The Stanley Supply Store
. I have rose quartz by my bed because it represents love.
Papas Spiti – this film captures the light and feel of My Greek Island Home perfectly. My beautiful goddaughter Grace gently walks you through the house.
Images by Claire Lloyd except where noted.Follow Claire on Instagram @clairelloydloves and @mygreekislandhome