We've all had the problem of leftover wine (well,
some
of us anyway). An opened bottle is never as good on the second or third day, but it seems such a shame to pour it down the drain. We give you the recipes to put those last drops to good use and give your dishes a bit of extra oomph.
Tips for cooking with wine
Just like with anything, moderation is key, and wine can be a bit temperamental. If you get too pour-happy or add your wine at the wrong time, your dish can go from fab to drab just like that.
It's important to think of quality; if you wouldn't drink it, why would you cook with it? Avoid anything labelled 'cooking wine' as cheaper wines tend to have a higher salt content. If you're worried about alcohol content, remember that the majority of the alcohol will be cooked off. On average, the wine will contain only 40% of its original alcohol content after 15 minutes of cooking, while a slow-cooked dish might only have 5% of its original alcohol content after two hours.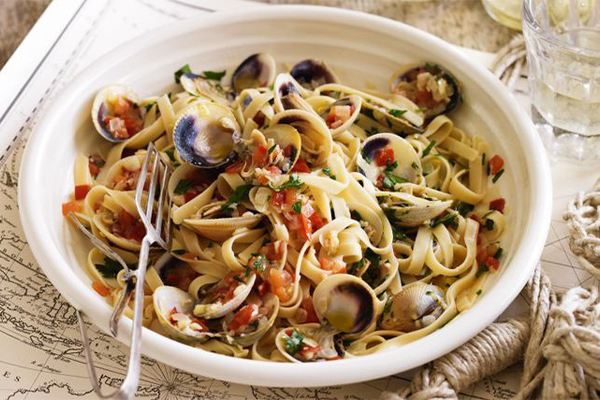 Vongole fettuccine with white wine sauce. Image via taste.com.au
When choosing what wine to use, think about what you would usually serve with that dish. If the recipe just says a 'red' or 'white', the safest bet is a medium-dry to dry drop such as a pinot noir or pinot grigio. For red wine, a cabernet sauvignon would be full-bodied, while merlot and shiraz are considered medium-bodied. Where white is concerned, chardonnay, sauvignon blanc and riesling would be your go-to dry wines, whereas gewürztraminer or viognier are more fruity. If you need a fortified wine, look for a marsala, vermouth, sherry or port, but be careful, these are not to be used interchangeably and should be used with caution.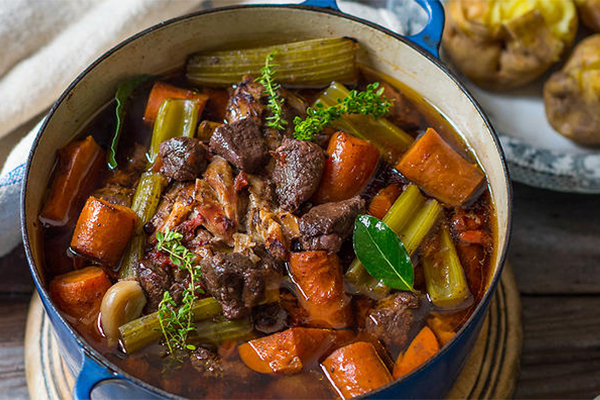 Beef shin daube. Image via sbs.com.au
Recipes with red wine
Red wine is widely known to pair well with red meat and is often used in the cooking of hearty dishes such as bolognese. A classic example of how red wine is commonly used is in this
b
eef shin daube
, where both meat and veggies are slow-cooked together for a winter warmer. Red wine is also used for a lot of rich sauces such as this dish of
l
amb rack with pinot noir sauce
, which features wine, vegetables and Vegemite which is reduced to create a thick and flavourful gravy.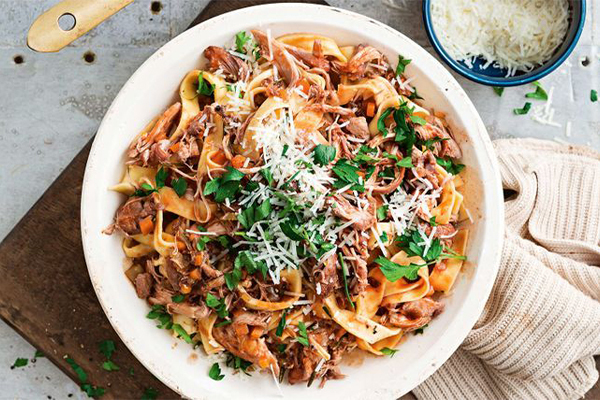 Chicken and pancetta red wine ragu. Image via taste.com.au
There's no need to limit a red wine though, they're just as easily paired with white meat or no meat at all. Take this
c
hicken and pancetta red wine ragu
for instance, or this
r
ed wine risotto with chestnuts, mushrooms and cavolo nero
which can be made into a vegetarian version very simply by leaving out the pancetta.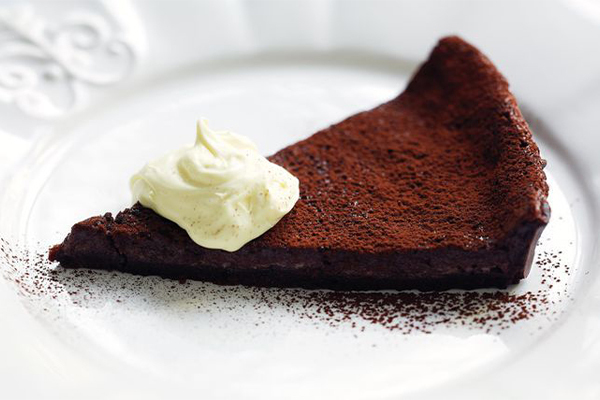 Red wine and chocolate tart. Image via taste.com.au
And let's not forget the beautiful combination that is red wine and chocolate perfectly represented in this rich
r
ed wine and chocolate tart
. If you're not much of a decadent chocolate person, try this dessert of
s
piced red wine poached pears
instead.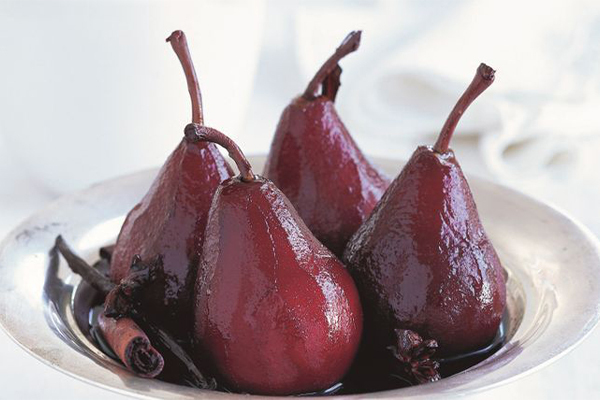 Spiced red wine poached pears. Image via taste.com.au
Recipes with white wine
Think light and fragrant when cooking with white wine, known to pair best with creamy chicken and seafood dishes. A simple classic would be this
c
hicken and white wine pie
, a perfectly comforting dish that's not too heavy.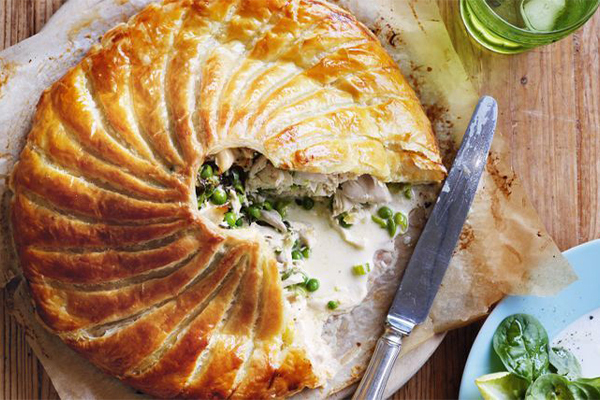 Chicken and white wine pie. Image via taste.com.au
There are many seafood dishes that do well with a splash of white wine, but it's most often used when cooking with mussels and clams. Try this classic French recipe for
m
oules marini
ère
, or test out this
v
ongole fettuccine with white wine sauce
. A cult favourite in parts of the world, especially San Francisco, is a classic
clam chowder
with a dash of white wine to bring all those flavours together. If cream isn't really for you, there are also plenty of tomato-based white wine recipes that are just as delicious, like this
c
ioppino
.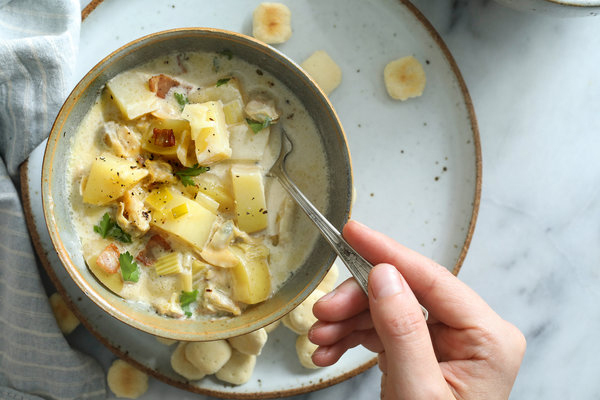 Clam chowder. Image via cooking.nytimes.com
To finish off the feast, nothing works better together than a white wine and jelly combination like these
r
aspberry prosecco jellies with panna cotta
. Jelly isn't for everyone though, so if you want to play it safe, give these
w
hite wine cookies
a go. Originating from Italy, these moreish biscuits are perfect with a short black or your daily cuppa.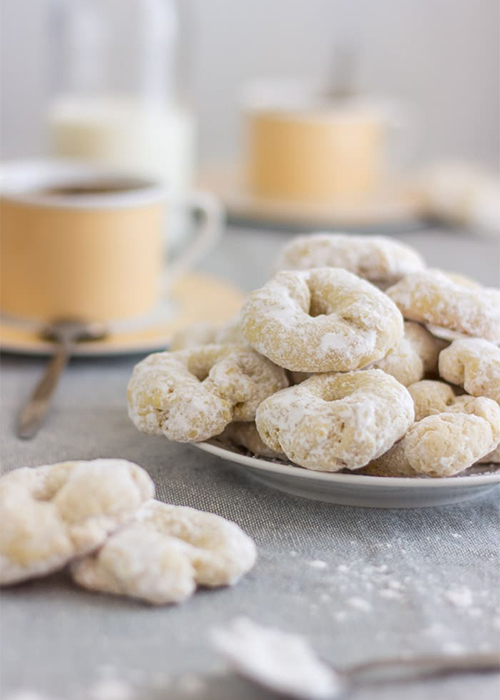 White wine cookies. Image via happyfoodstube.com
Shop our cookware, bakeware and kitchen accessories now for all your cooking needs.