Known for his spectacular desserts and streetwise style, Sydney pastry chef
Andy Bowdy
can't be beaten for Easter dessert inspo. If it's not one of his beautiful celebration cakes, it's a fresh batch of hot cross buns from
Saga
, the bustling neighbourhood cafe he runs with his partner, Maddison Howes. Ahead of the long weekend rush, we caught up with Andy to chat Easter plans, whacky flavour combos and how his sneaker obsession translates to the world of
home decor
.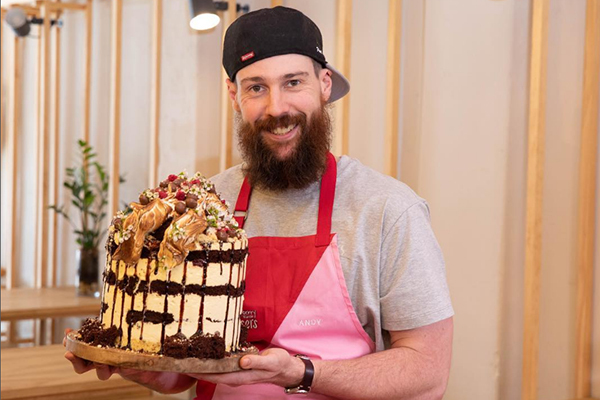 Sydney-based pastry chef, Andy Bowdy. Image via @andybowdy.
How did you end up making amazing desserts for a living?
I was a fan of all things sweet growing up, so it was common to find me hovering around the legs of both my Nans when they were baking in the kitchen. My mum also used to own a kids' clothing store in Leura [in the Blue Mountains, NSW], and I would spend a lot of time warming the bench at the local deli, watching intently and cleaning the leftover mud cake mix from the bowl and paddle. I didn't initially intend to pursue these fat kid dreams as a career, but after a few failed attempts at university and an overseas trip of self-discovery, I found myself working in a kitchen in London. They needed someone to put their hand up and make desserts, and I thought, why not?
What inspired your signature celebration cakes?
Once upon a time, I was making the same glazed enticements as everybody else—then I saw what
Christina Tosi
was doing at
Momofuku Milkbar
. I loved the idea of these big celebration cakes that didn't have to be perfect and polished. I'm not a big fan of buttercream, so I experimented with using mousse and changing the ratio of cake to cream in favour of cream. I also added textures in the same way I would a plated dessert.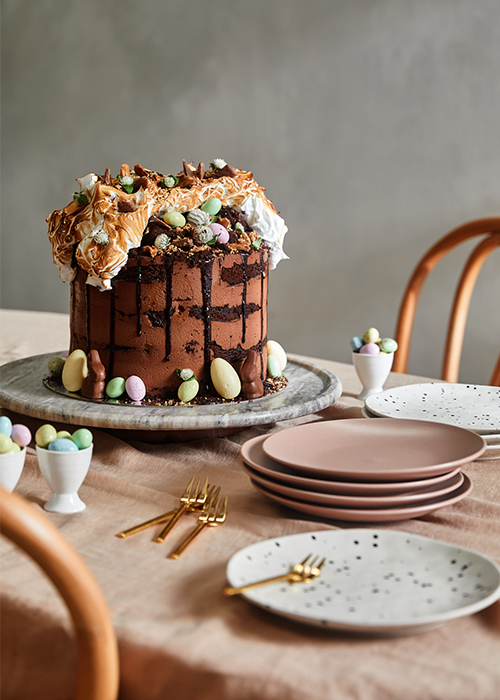 An Easter spin on one of Andy's signature celebration cakes.
We hear you're a big sneaker fan and named your cafe Saga after a pair of Asics. How many pairs do you own all up?
A lot! I've stopped counting because if I don't know how many I have, Maddison can never tell me I have too many, right? It's over 350. I haven't bought any sneakers this year, though, just slippers, and I've recently discovered a brand called
Lusso Cloud
, which makes the comfiest outdoor, all occasion slippers.
How do you store all your kicks?
They used to live in our bedroom, but it got a little claustrophobic, so when we moved, we made sure to find a two-bedroom place. They aren't displayed in any special way, just shoeboxes on shelves. It's probably what you imagine the backroom of a Footlocker to look like.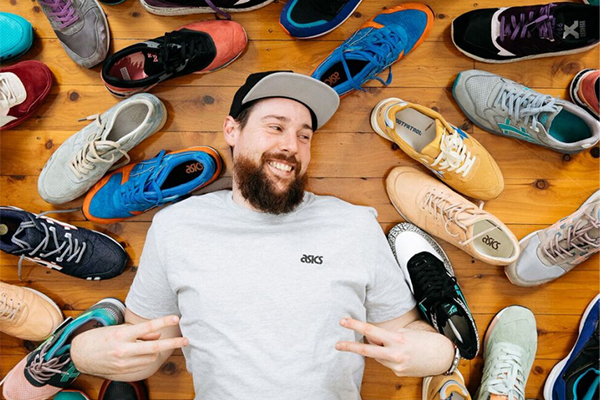 Andy's sneaker collection clocks in at over 350 pairs. Image via Broadsheet.
Does your home match the casual, vibrant vibe of your sneakers or is it more like your decadent cakes?
I'd say it's pretty casual and vibrant. For the most part, grey, navy and white form the base, with pops of brighter colours all over the place. We recently bought ourselves a yellow
coffee table
. It's pretty full-on. We also have a lot of
artwork
up at home. Prints from
Dave White
, black and white photos from
Estevan Oriol
, a growing collection of
Mark Drew
prints, and Mads recently picked up a lovely painting from
Vanessa Encarnacao
.
When it comes to your home's look and feel, do you and Maddison have the same taste?
I'd say we are both generally on the same page when it comes to style, and we discuss everything we buy before either of us goes out and makes a purchase. As I've gotten older, my love of sneakers and streetwear has started to cross paths with
furniture
and design, and I now find myself wanting to save up for
chairs
or
lamps
or
artworks
instead of sneakers.
Are you a whiz in the kitchen at home as well?
I'm not too shabby in the kitchen at home, although after spending all day in a kitchen at work, going home, cooking and making a mess at home isn't always that appealing. In saying that, we recently got an
Everdure charcoal barbecue
which I'm a big fan of. Cooking on a barbecue means fewer pans to clean, and that's always a win in my eyes. Besides the barbecue, a good
cast iron pan
, a
crockpot
, and a sharp
knife
are must-haves.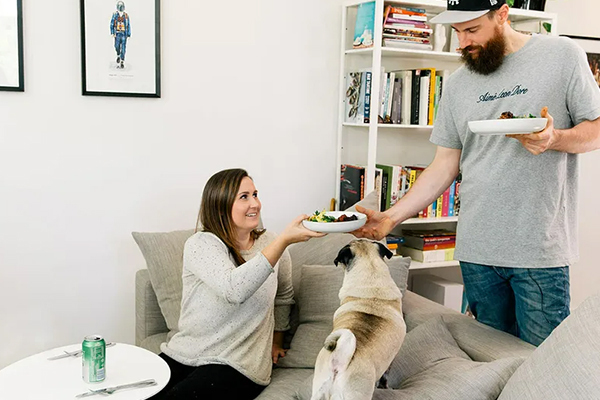 Andy and Maddison at home. Image via Realestate.com.au.
You run your business together with Maddison. What's it like working and living together?
We have been living and working together since we met, so it's not an issue. I'd like to say that we both do a bit of everything, but I'm well aware of my ability to take a nap when Mads wants to clean, and I'm also aware of Mads' ability to be engulfed in trashy reality TV when I need to get work done. So we balance each other out.
Now that you two are engaged, what's the plan for your wedding cake?
Someone else will be making it! Having to worry about setting up a cake in a designated time period, in a strange kitchen, often with limited space, can be a tad stressful and something I don't want to deal with on my wedding day.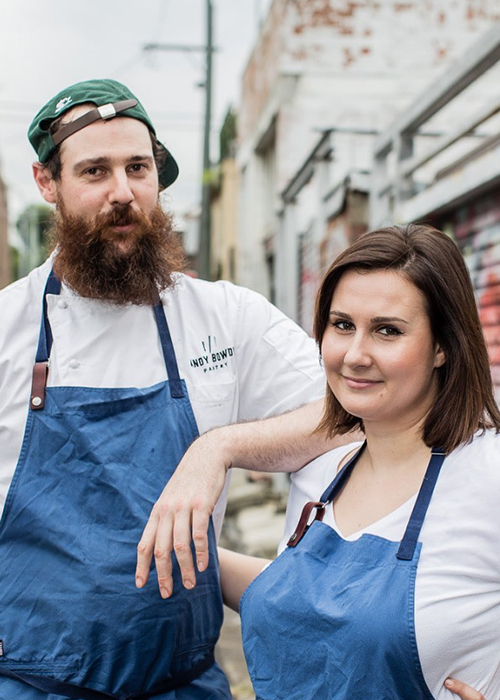 Andy and his fiancé Maddison co-founded their cafe Saga in 2017. Image via @andybowdy.
Do you have any tips for how we can present cakes beautifully at home?
Keep it simple, and let the cake speak for itself.
What's the most surprising so-weird-it-works flavour combo you've come across?
Back in my
Hartsyard
days, I made a dessert with strawberry, soy milk and celery. It was a play on strawberries and cream, and I thought it was delicious. Unfortunately, it sold about as well as it reads, so it didn't last very long.
Finally, what are your Easter weekend plans?
I will be standing in the kitchen at
Saga
throughout the night and all weekend to ensure that everyone can get their hot cross bun fix.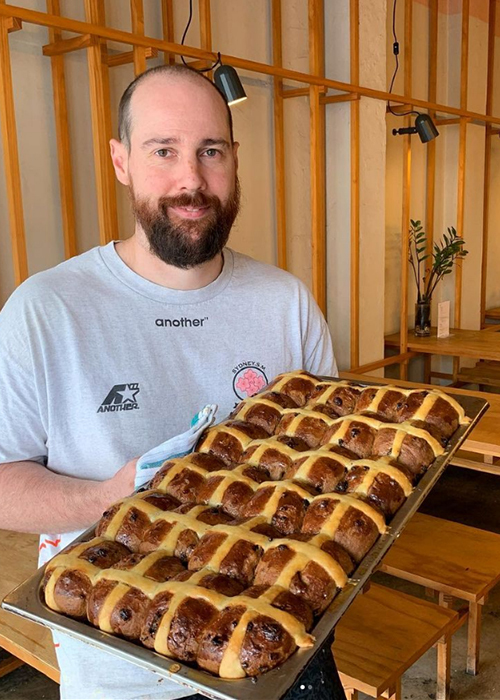 Sydneysiders can drop by Saga in Enmore for their hot cross bun fix this Easter long weekend. Image via @saga_enmore.
Rapid Fire
Chocolate or strawberry?
Strawberry.
All-time favourite dessert?
Ice-cream.
Favourite pair of sneakers?
Ronnie Fieg x Asics Gel Lyte 3 Flamingos.
Minimalist or maximalist?
Minimalist.
Industrial or mid-century style?
Industrial.
Early riser or night owl?
Both, unfortunately.
Dinner at the table or on the couch?
Couch.
Words to live by:
Work hard, spend hard.