It's all about layers in the perfect winter bedroom, from luxe sheets to warm quilts, throws, cushions and coverlets. Here's our T&W stylists guide to creating a beautifully layered, Pinterest-worthy bed that will have you ready for those cool nights in no time. Shop the collection on T&W now.
Start with your surroundings
When creating your perfect
winter bedroom
, it's not just what goes on the bed that counts! You're never going to be able to relax if you have a pile of dirty laundry in one corner and your partners collection of fishing gear in the other. Clear the space around your bed so you can walk around it comfortably, and add a
rug
for extra warmth underfoot on cold winter nights. Make sure your
bedside tables
have adequate space for essentials like your favourite book and a glass of water - they don't have to be fancy! Here we've used a pair of
bentwood chairs
, which work just as well as more traditional options.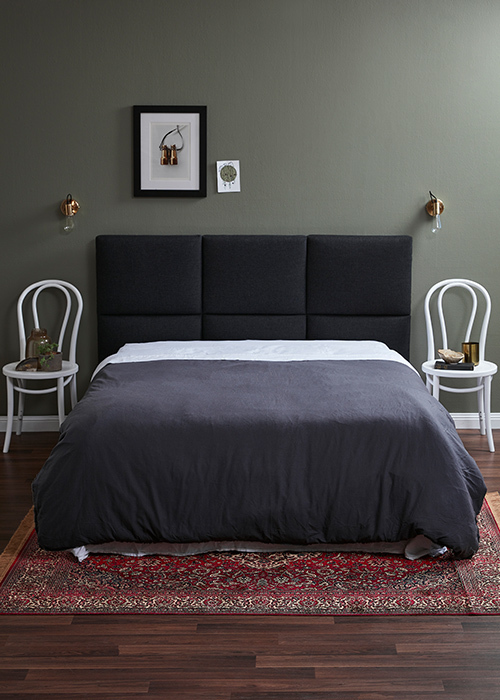 Bed down the basics
We spend more than a third of our lives sleeping, so quality bedding basics are key to achieving a comfortable sleep space. Buy the best bedding you can afford and stick to neutral colours so that your linen never goes out of style. Pure cotton sheets like this white Bed by T&W set are perfect for keeping you warm in winter and cool in summer. A classic waffle quilt cover in a moodier colour like this slate grey Bed by T&W set helps add cosiness. The blend of cotton and linen will get softer the more you wash it, and helps create the more relaxed effect that looks great on a layered bed.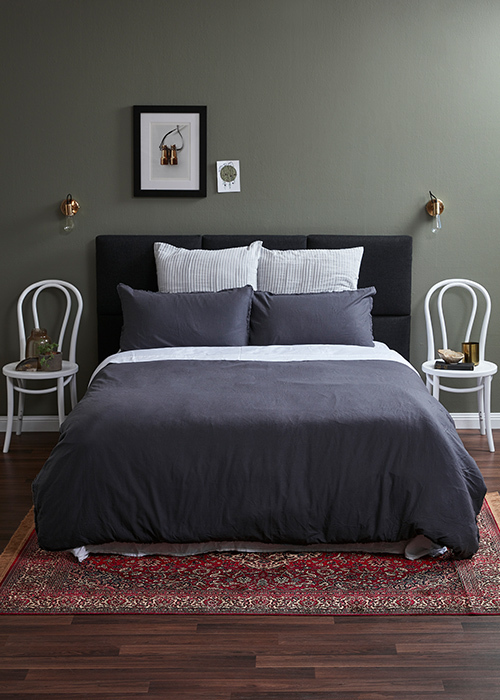 Create comfort
Pillows
are one of the most important factors when it comes to getting a good nights' shuteye (and when it comes to creating a beautiful bed!) Here two
European pillows
in linen
pillowcases
add texture and depth behind the standard size pillows - they also make things extra comfy if you love to sit up and read in bed. If you've got an ornate bedhead you don't want to hide, two standard pillows stacked one on top of the other is another great option - the key is to use your pillows to start to build layers of height, texture and colour on your bed.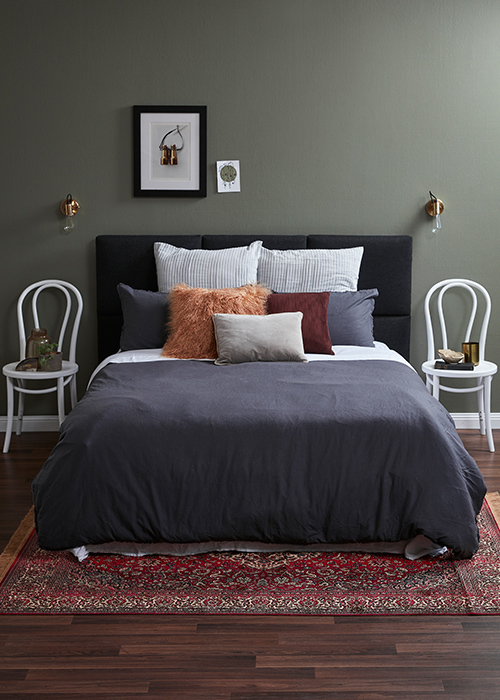 Cushion caper
While throw
cushions
are the mortal enemy of boyfriends, partners and husbands everywhere, choosing the right combination for your bed need not be a source of stress. Keep things simple by focusing on fewer cushions of different shapes and sizes in one or two tones. Here we've chosen this
fluffy cushion in a warm blush
to add interest, a
deep red cushion with a corduroy pattern
and a smaller
cushion in a neutral grey
. For a more formal bed try an even number of cushions placed symmetrically. For a more laid-back look, an odd number with a more random placement works best.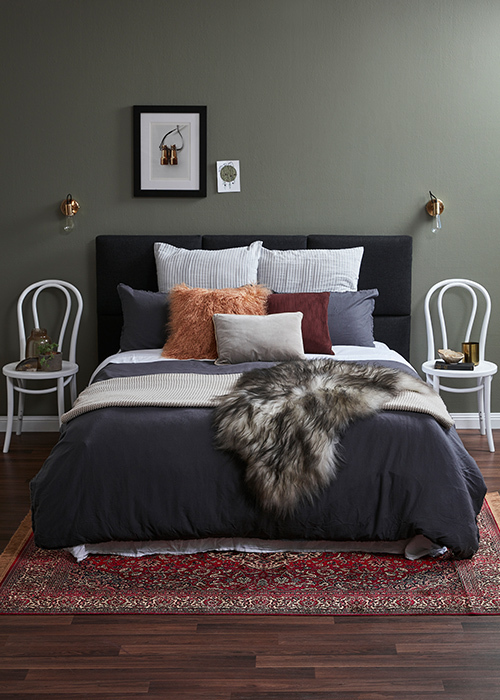 Think throws
The finishing touch to any layered bed is always a soft
throw
(or two). Again, keep things tonally similar to avoid confusing or adding clutter to your bed. We've chosen a
chunky grey knitted throw
to drape across the width of the bed and a
grey and white sheepskin
placed to one side to amp up the cosiness. As with cushions, style and placement can make all the difference - try a tasseled or or textured blanket draped over the edge of the bed if your vibe is more relaxed, or place a neatly folded knit or velvet throw across the width of the bed to create balance in a more classic scheme.
Shop our collection of bedroom essentials in our All Wrapped Up sale, and check out our top tips for winter decorating with our Warm Welcome series.