Like many fantastic dishes, nachos was created by accident. The story has it that in 1943, the head waiter of a restaurant in Piedras Negras, Mexico, cobbled the dish together one day, when, in the chef's absence, he had to come up with something quickly to serve some army wives from Texas. The waiter whose name was Ignacio Anaya called the dish
nachos especiales
after his nickname Nacho, and so the dish was born. Anaya's namesake didn't catch on in his home turf, but it did become wildly popular in Texas and across the US. For International Nacho Day, we celebrate this Tex-Mex tray bake with next-level nacho recipes, plus cooking tips for the ultimate loaded sensation.
6 next-level nacho recipes to try
1. Skip the meat and go vego with
Matt Preston's Mexican black bean and corn nachos
featuring a smoky chipotle mixture.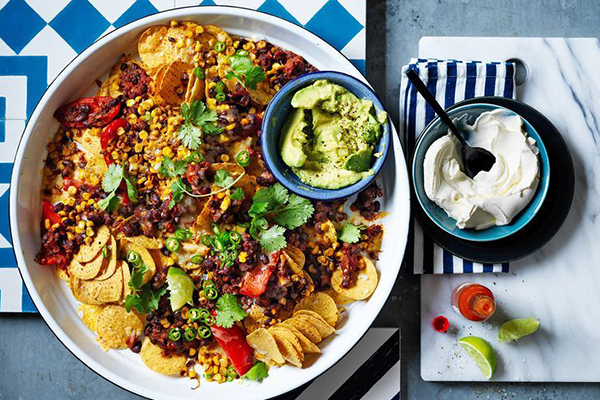 Image via delicious.com.au
2. Bring crunch and tropical flavours to the table with
pulled pork, cabbage and caramelised pineapple nachos
.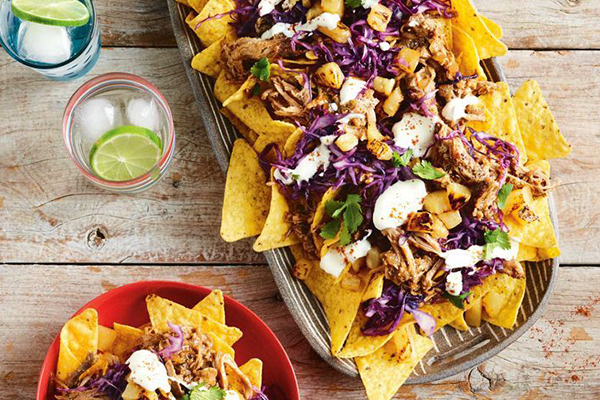 Image via taste.com.au
3. Add the sweet, smokey and tangy flavours of Memphis barbecue to nachos with this recipe for
Memphis-style loaded nachos
.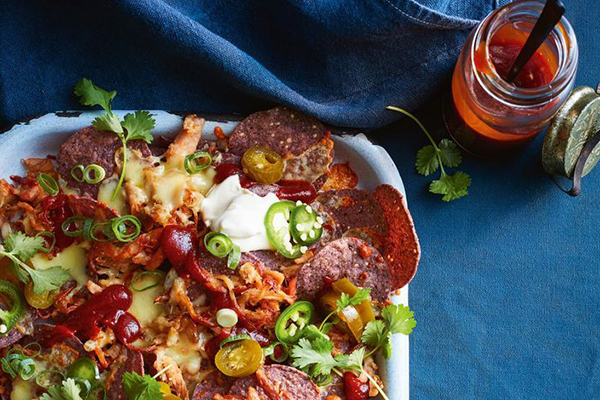 Image via taste.com.au
4. Make nachos extra substantial with this
nachos with the lot
loaded with beef and bacon meatballs and served with pineapple and chilli salsa for kick.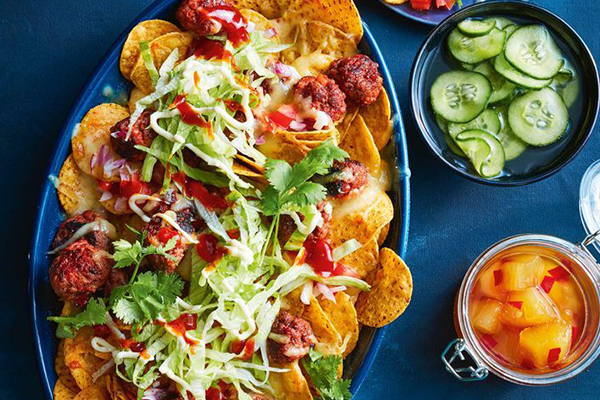 Image via taste.com.au
5. Slightly controversial and calorific, but we love the idea of combining tortilla chips with crunchy chicken skin in these
crispy chicken skin nachos with jalapeño and avocado salsa
.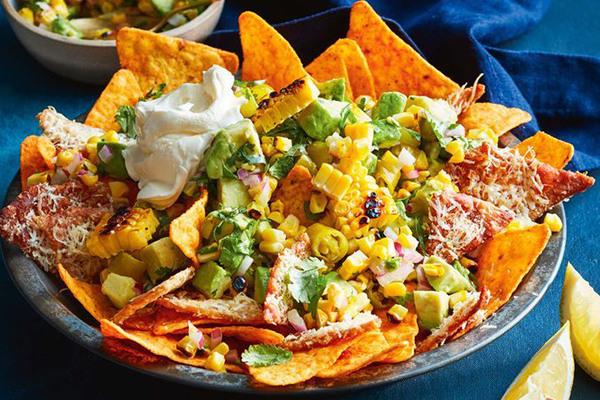 Image via taste.com.au
6. Learn how to make nachos for breakfast with
chilaquiles
, corn chips served with refried beans, fried eggs and spicy red salsa.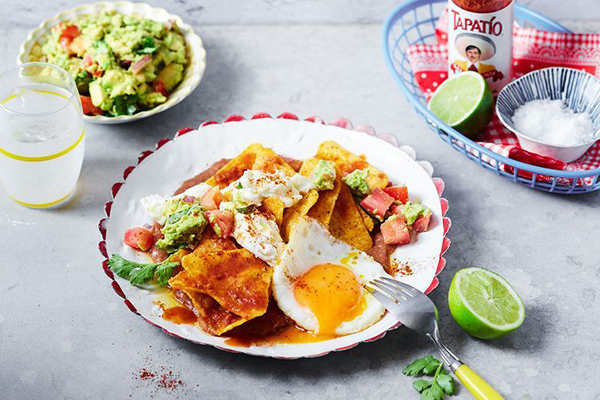 Image via delicious.com.auTips for the best nachosThe layering
It's all about strategic layering when it comes to nachos. Don't just spread all your chips out flat in a single layer, then pile on the toppings. Instead, make multiple layers and stack your chips at varying angles to create height and to avoid limp chips at the bottom. Start by a thin layer of chips, a layer of meat, beans or vegetables, then scatter over some cheese. Bake this first layer on a
baking tray
in a very hot oven, then repeat the layering and baking in this way to ensure more even crisping.
The chips
Another way to ensure your chips don't get soggy is to bake the nachos first, then finish them off after under the grill. It's also worth using good-quality thick tortilla chips that don't absorb liquid so easily. We're a fan of Tostitos Tortilla Chips.
The cheese
Traditionally, Monterey Jack cheese is used for nachos, but as this isn't readily available, you can use cheddar which we think also gives a better flavour to the dish. Try and avoid using pre-shredded cheese and use a
grater
to grate your own for more uniform melting.
The condiments
Guacamole, sour cream, tomato salsa, coriander and sliced jalapeños are essential for flavour, texture and colour. Don't revert to store-bought salsa. You can make your own in seconds combining chopped tomatoes, red onion, coriander and lime juice. For extra crunch, add chopped radishes and spring onions to the mixture. To avoid nachos getting soggy and to ensure cold condiments stay cold, serve the guac, sour cream and salsa in individual
bowls
on the side.
Enjoy your nacho fiesta!