Justine Hugh-Jones is a Sydney interior designer with a beautiful and sophisticated aesthetic. She was recently awarded a Belle Interior Design Award for Kitchen Design for the kitchen pictured above. We asked for all the details, plus her advice on how to approach a kitchen redesign or renovation.
Congratulations on your Belle / Coco Republic Award for Kitchen Design. Tell us about the winning project.
I was asked to design a beautiful open plan family kitchen in a Sydney Harbour foreshore home. The brief was to include a kitchen island with bar height seating, a separate dining area, a walk in pantry and ample room for food preparation, generous ovens and refrigeration. For me the kitchen is the soul of the house and I chose to locate it in one of the most appealing areas of the home with panoramic views of the harbour and the local reserve with a backdrop of magnificent Angophora trees.
Another important consideration was the kitchen opened directly onto the main living area and while it needed to function practically as a work and preparation area, it needed to look attractive and blend in seamlessly with the adjoining room. This was achieved by designing beautiful hand stained bespoke oak joinery that wrapped around the whole space, incorporating a large walk in pantry. In spite of this openness the preparation and cooking areas of the kitchen remain private and discreet. A walk in pantry, freestanding and wall ovens, large fridge and even an in wall television are located discreetly out of sight but still within the main kitchen area.
At the end of the kitchen large sliding windows open up to the view and were an obvious location for built in oak timber banquette seating stained in the same hand painted finish as the rest of the joinery. The dining table is slim enough to enjoy casual intimate weekday family meals but extends at both ends to entertain a larger group. A beautiful pair of copper
ClassiCon Selene pendants
add an elegant and decorative touch.
The wall above the dining table and the end of the island were designed with the inclusion of art and wall sculpture in mind. These artworks elevate the tone and functionality of the kitchen to another level and add a beautiful inclusion of colour, form and texture.
The colours and tone of the kitchen finishes were kept contemporary, light and fresh. A wall of white hand glazed Morrocan tiles add texture and discreet pattern and the Calacatta marble bench tops are of a beautiful soft hue.
How do you approach a kitchen design – is there a particular order in which you consider the different design elements?
The kitchen is the hardest, most challenging, most expensive room in the home to design but also one of the most enjoyable and rewarding, as it's the most important! The challenge comes from creating a great design that works on a practical level but also looks stunning. I always start with the floorplan and layout and work at getting the most out of the space in every conceivable way. Once the layout works then the visual design comes later. There are so many design styles that you can develop for a kitchen but there is generally only one layout that works its hardest to be the winner. That's the rule for me of designing a successful kitchen.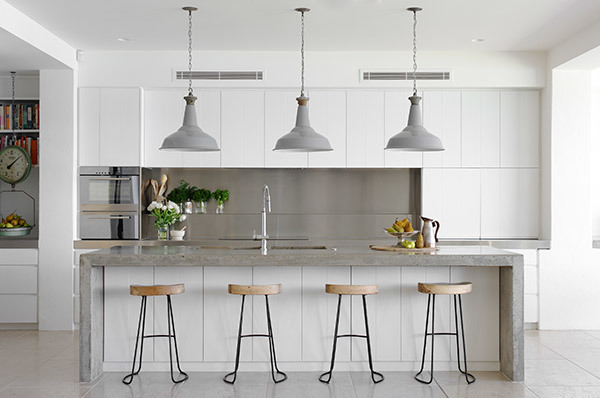 Which materials do you choose to work with again and again, and why?
Such an easy answer: natural materials win hands down every time for me, along with stainless steel. Combining the two together is a match made in heaven!
What was important to you when designing your own kitchen?
My own kitchen was open plan to the rest of the living area so it needed to look as beautiful as the furniture in these spaces. I wanted to invest in quality tactile finishes that suited the rest of the room. I designed an open style island and glass fronted cabinetry out of beautiful stained timber and stone that took centre stage but then around the perimeter had more practical cupboards and drawers that were very simple in design with a stainless steel bench top. Stainless steel is a chefs dream and I'm always slightly wary of people that tell me they love cooking but the fingerprints on stainless steel drive them insane. The two for me don't sit very well together.
I also like to see all of my beautiful dining glassware and crockery . It makes me happy to see all those gorgeous pieces and I would hate for them to be behind closed doors. It's also an inviting sign to welcome friends into your kitchen for some good home cooking. The sight of what is to come…it's the same concept as an inviting open bar .
What do you think is the best starting point for the kitchen user?
Really think through how you live in and use a kitchen, draw up a concise brief as to what your requirements are and walk through the space in your mind over and over again before you commit to a design. Being honest about your needs is a good starting point. If you are big entertainers and great cooks then investing in quality appliances and two dishwashers will stand you in good stead. If you eat out a lot however and are rarely at home don't over invest in a space that rarely gets used.
Many people respond to concerns about resale value by keeping everything white. What do you think of this approach?
I'm afraid you are asking the wrong person that question as I totally disagree with the all white approach. I have to admit I do love white in my interiors but there are so many other great colour choices out there for kitchens that have more depth than just white. I think it would be advisable to stick with a neutral colour but this can range from all shades of white to grey to black to natural timber.
To what extent do you find your clients are led by trends? Are you a fan of inspiration sites like Pinterest?
Yes maybe we all get influenced by trends to a certain extent but it's what you do with them that counts. Pinterest in particular is a great design resource tool and one I love using. There are literally thousands of different ways to design the look of a kitchen and maybe this is what is hard as a designer with the relationship with their clients. Once you have agreed on the design concept you need to stick to it as you will keep seeing new ideas on all of these sites that cause your mind or judgement to waiver. Trust your designer and don't listen to or be swayed by too many other influences.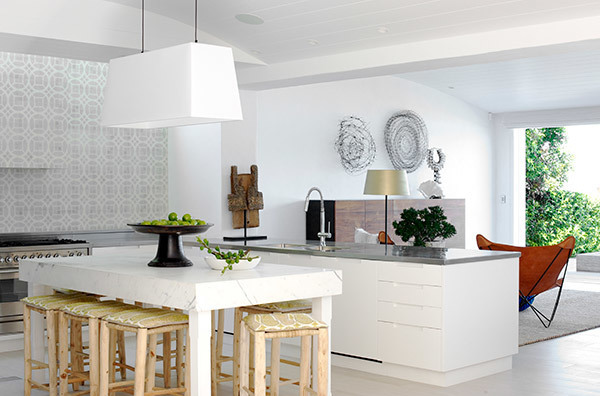 What 3 pieces of advice would you give to someone planning a kitchen renovation?
1. Engage the services of a professional who has experience in designing kitchens .
2. Australia is a world leader in restaurant and bar design. Soak up great design and use of innovative finishes on your own doorstep whenever you are out for dinner or having your morning flat white!
3. Think about how the kitchen looks as a room as well as a functional workspace. Artwork, sculpture, lighting and gorgeous vessels are a lot more beautiful to look at than a Thermomix and a bread maker. Be challenging in adopting a more creative, beautiful approach to kitchen design as well as a practical one.