We spend so much of our time in our living rooms, it's no wonder that our
coffee tables
wind up amassing a range of clutter and chaos. Putting in a little styling is an opportunity to create a beautiful and personal display at the centre of your room, while keeping it functional. We share the seven elements that are required to create the perfect tabletop.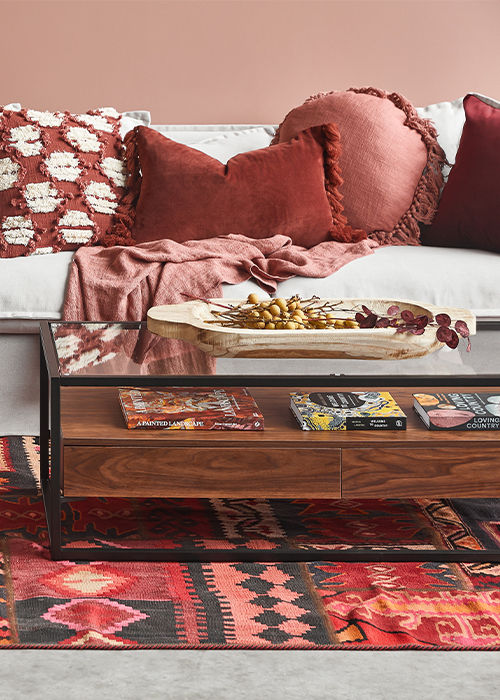 Stack some books
A stack of your favourite coffee table books is a chance to share your passions, and books work as a talking point for guests as well as adding colour and personality to the room. Group by similar spine colour and typography for a visually pleasing arrangement and place larger books at the bottom of the pile, graduating to smaller on top. Keep your piles low and neat to avoid a cluttered feel. The magic number is three!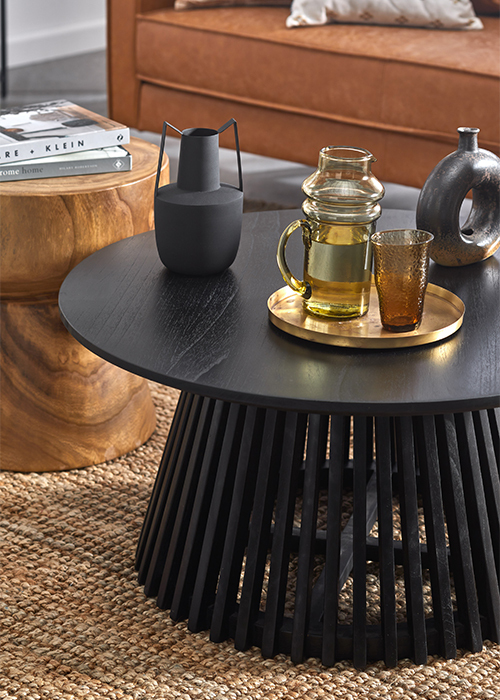 Curate a collection
Take the chance to display a treasured collection, whether it's stones or shells collected over time, ceramics, vintage treasures or
statues
. Play with combinations of shapes and materials but make sure they have something in common, whether it's colour, shape or material. If you're really stuck, look at the themes of your books and go from there. Bring a book stack to life with a collection of items that reflect the content, for example coral and driftwood with a stack of books on coastal style.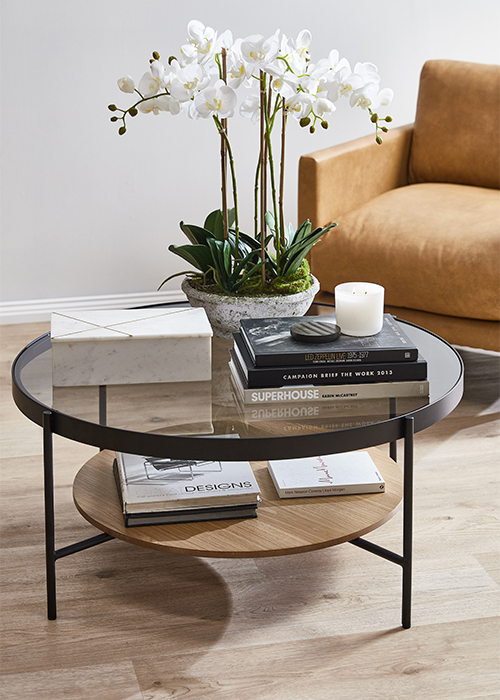 Add a tray
Anchor and highlight your collections of smaller items by arranging them on a
tray
. It looks more organised, and on the practical side, a tray lets you easily push your collections aside if you need to make space to rest your weary feet at the end of a hard day. Decorative boxes can also be useful for hiding essential but unsightly items. Remote controls are practical but don't look nice.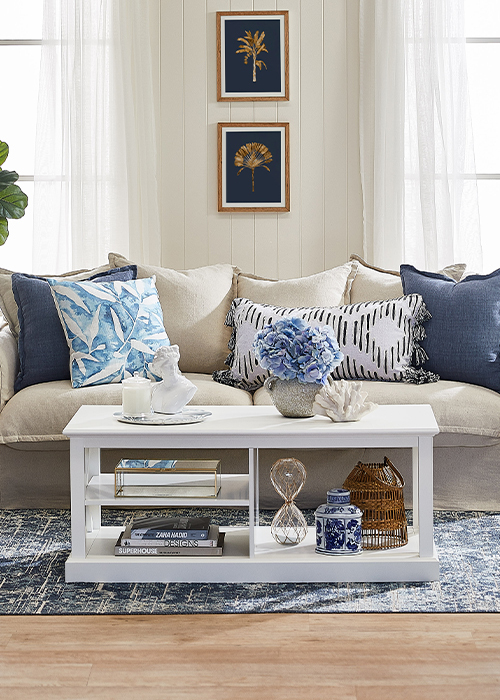 Play with height
Make sure your display includes items of varying heights. Create visual interest by using a book stack as a platform for a small grouping of items. Include something tall and shapely as a conversation piece. Curves are a great idea if everything else in the room, like your
furniture
,
rug
and architecture, feature straight lines.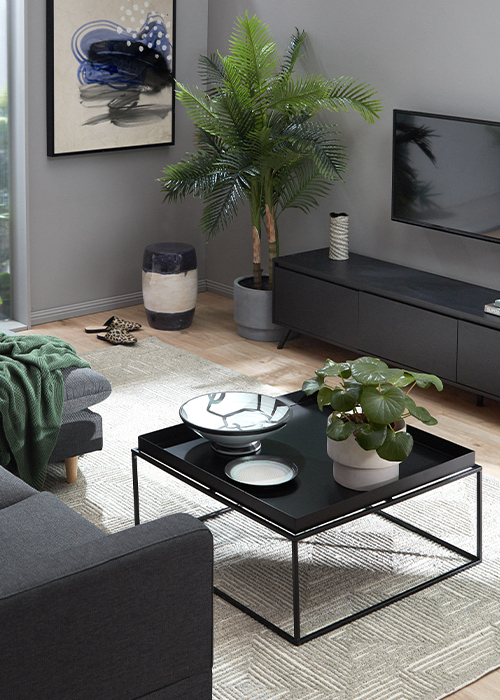 Incorporate a natural element
Try to include something organic – fresh or
faux flowers or foliage
, an elegant potted orchid, a lush fern or a shapely branch or shell. This will help create a sense of calm in a room that is often buzzing with television noise and laptop hums, as well as adding colour and texture. Best of all, it doesn't have to be expensive and you can change it up with the season, or as often as you like.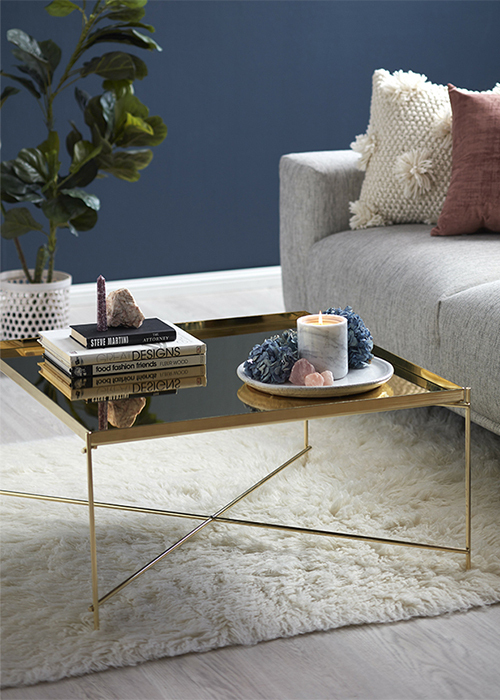 Look at the placement
Make sure your decor has a balanced look by utilising the shape of your coffee table. For a square table, style on a grid. Rectangular tables sing with a strip of pieces down the middle. Organise in a triangle and use different shaped objects for a round table. Most importantly, don't overcrowd your coffee table. Pared-back arrangements look cleaner and neater than an assortment of cluttered piles. Remember, it's there to serve a purpose so don't get in the way of functionality.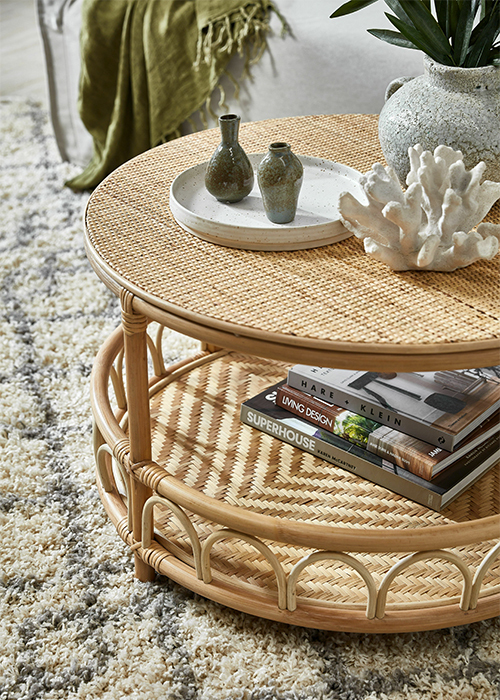 Don't forget about levels
If your coffee table has multiple levels, make sure you're adding some styled elements to all of them. Place book stacks, spines out so they're easily readable, and smaller decor on the lower shelves to allow the eyes to travel over the whole piece.