Out of all
bedroom furniture
,
bedside tables
give you the most opportunity to really explore and show off your unique style. Whether you're a fan of the matching look, you're keen on a more asymmetrical feel or you want to add a little surprise by using a
bar cart
instead, there are a few practical things you should consider. We help you find a bedside table that's both functional and stylish.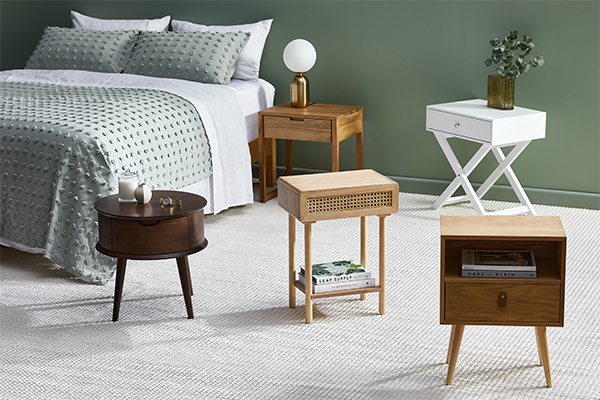 What height should a bedside table be?
As a general rule, the top of your bedside table should line up with the height of your
mattress
. This is the optimal height for reaching for things while lounging in bed and creating a visual flow to your space. Measure the height from your bedroom floor to the top of your mattress and then filter bedside tables by height using the toggles as pictured below to find the perfect bedside table for you.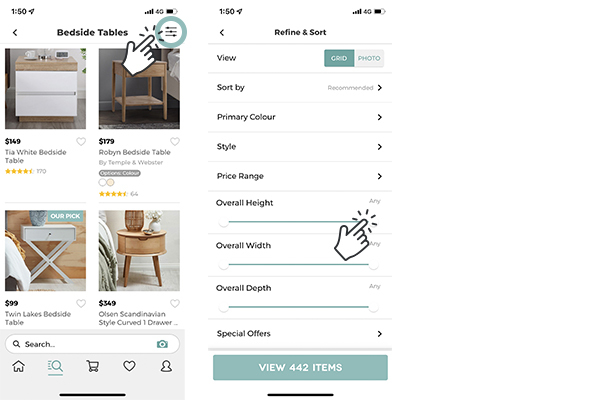 Consider surface space for your nighttime essentials
Depending on what you reach for most before bed or first thing in the morning, you'll want to make sure you have enough surface space to cater to your needs. If you're the kind of person who tends to accumulate a lot of clutter, it might be worth minimising surface space and choosing a bedside table with
drawers
or
shelving
. Drawers are ideal for storing those items you'd rather keep out of sight, like medication or hand creams. This is also a good opportunity to figure out what you actually need to store next to your bed. Most miscellaneous items like spare charging cords or old wallets can be stored elsewhere, freeing your sleeping space of clutter. Once you've figured out what you need, check out our article on
how to style your bedside table
to keep it looking beautiful.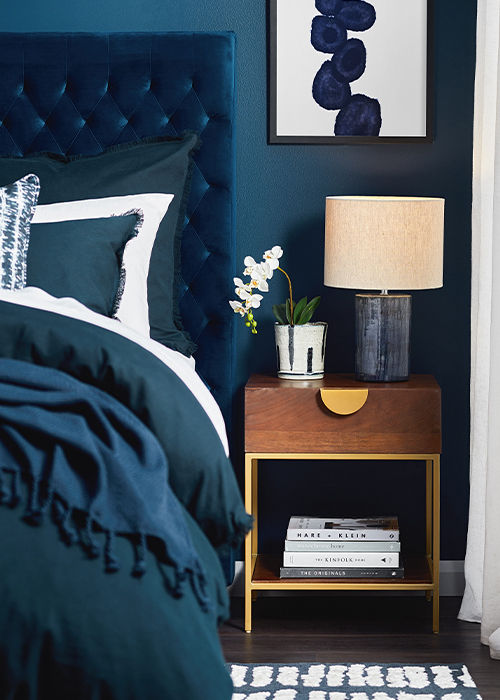 Pick a style that works in your bedroom
Material, colour and shape all play a part in the overall style of a bedside table, and how they work with the style of your space. Natural or bleached
timber
and
rattan
lend themselves well to relaxed coastal, boho, rustic and even Scandi styling, whereas sleek
metals
and clean lines suit refined modern and luxe aesthetics. To ensure your bedside tables work within your current bedroom styling, go for colours that complement the walls or other furniture pieces with shapes in a similar theme. You can filter our range of bedside tables by primary colour, style and frame material as pictured below so you can easily find one that works with your space.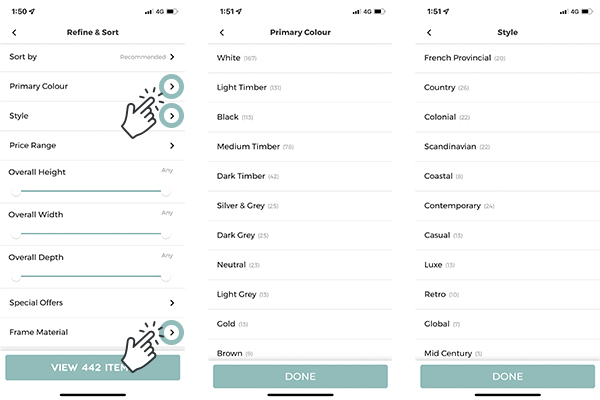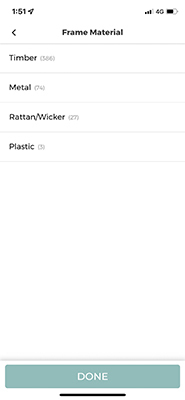 Do bedside tables need to match?
The best part about choosing and arranging your bedside tables is the versatility. You can go for a symmetrical look with two matching bedside tables on either side of the bed, or you can go for two different bedside tables for a bit of fun and visual interest. Just be sure there's a common element between the two, like colour, material or shape, to tie them and the room together. If you have a smaller space, having only one bedside table is perfectly fine, plus you can pick something that really shows off your personality and adds contrast. Take the opportunity to think outside the box and inject some character into your space by using a
console table
,
bar cart
,
stool
,
boxes
or even a
dining chair
instead.