Across the country, 'home' means and looks different to different families and households. In this series, we take a look at the diverse ways in which Aussies are living, and find out what works for them, and what makes home special. Here, we chat to Kate Hansen who lives in coastal Kiama, NSW, with her husband Nick with whom she runs a video production agency. Kate tells us how she manages work and home life with Nick and their three kids, eight-year-old Abbie and five-year-old twins Charlie and Isobel.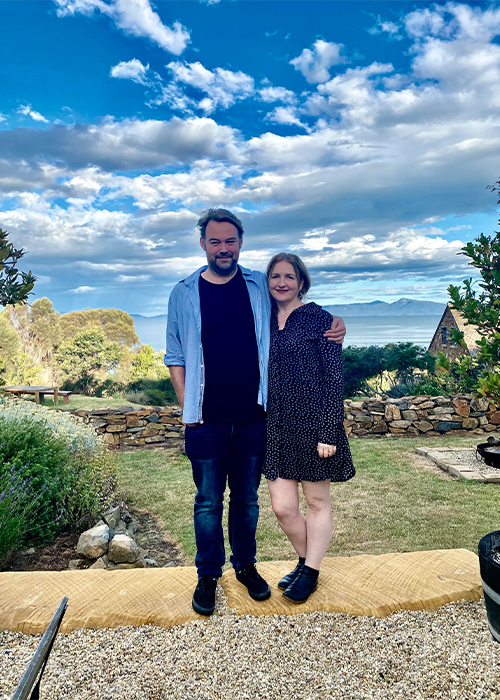 Nick and Kate Hansen
How did you and Nick come to work together?
Nick and I met in 2006 when we were both working at MTV. We got together a few years after that and then Nick started
Swingtime Creative
in 2010 working from our home in Leichhardt. When Abbie was 9 months old, I joined Nick and we've been working together since. We have similar temperaments and complementary skills sets, so it just made sense.
​
Tell us about your sea change.
When the twins were born, we needed more space. We always loved Kiama. We got married there; my parents then moved there coincidentally buying a home on the street where we got married; we always loved holidaying there, plus we knew we could buy something so much bigger there for a lot less. We were haemorrhaging money on nannies and childcare with the twins and we worked out that having an au pair was the answer to all our problems and a bigger house allowed us to do just that. It was also really nice to have the kids at home, so we could spend time with them when we weren't working.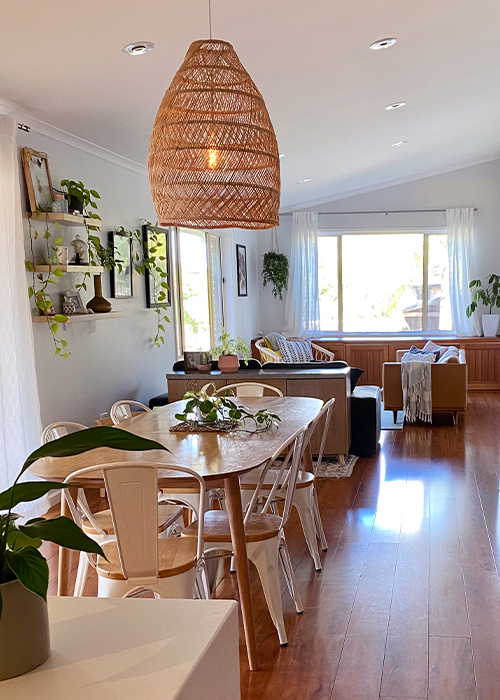 The Hansen family's large open plan living room
How do you separate work life from home life?
We try and avoid talking about work when we're not working, especially around bedtime and mealtimes. Having a separate office and being able to shut the door also helps, as do locks to avoid interruptions! The kids are pretty good though. We've worked from home for their whole lives so they know the rules and it's second nature to all of us. There's a lot of tag teaming. It's chaotic, but we try and make each other laugh and see the lighter side of things.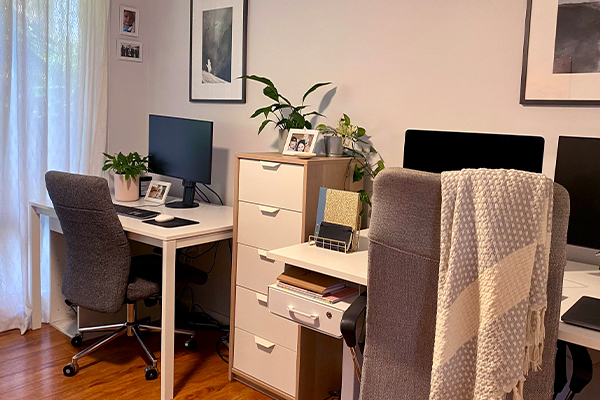 Kate and Nick's home office
How do you describe the style of your home?
It has a relaxed coastal vibe with elements of Scandi and Boho. I really fell in love with the huge open living space. It's like a hall! It was a bit overwhelming in the beginning, but I've learned how to break it up into dining and living zones. We also put in a white kitchen to replace the old dark wooden one and we've splurged on a few pieces like a walnut bar, which is now a bit trashed by the kids, but as a friend said "It's better to have nice stuff that's a bit trashed, rather than crap stuff that's just trash!".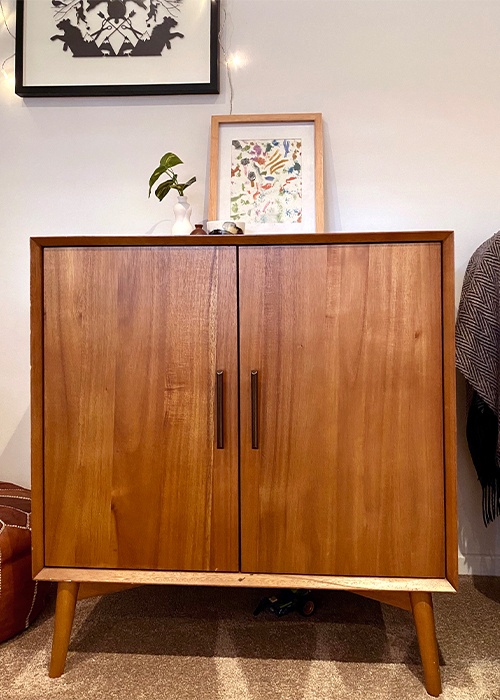 The walnut bar that now houses more of the kids' stuff
What are some of your daily rituals?
I make it a point to get up everyday before the kids, to go for a walk. Once I get home, it's go go go. Reading to the kids in the evening is also a big thing for us. Abbie is a total bookworm and will stay up all night reading if she could.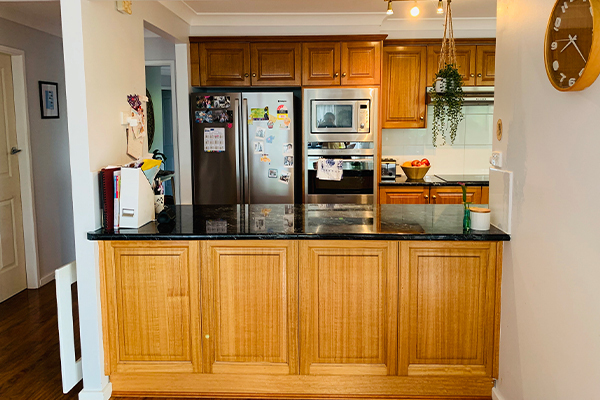 The kitchen before the renovation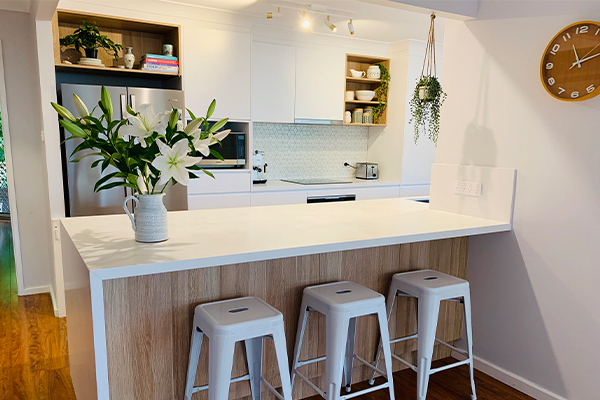 The kitchen after the renovation
What do you love most about your home?
It's lovely having so much room for the kids to run around. We have a self-contained guest area so our Sydney friends can come and stay. There's also a pool and jacuzzi which Charlie used to call the 'nice and warm' when he was a toddler. It's stuck so a lot of our friends and family call it that too. The other thing I love is our little ocean glimpse. The look of it changes every day from dark and broody, to bright and sparkly. A couple of nights ago, we had some friends over for a BBQ and the full moon rose right in the middle of our little view. It was stunning.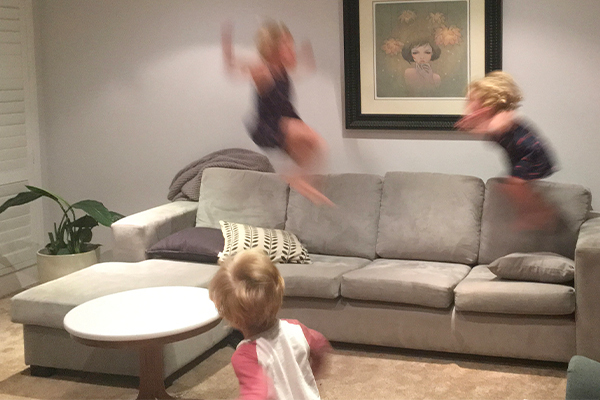 ​The Hansen kids enjoying the ample space of their home