It's a curvaceous all-rounder that's right at home in any situation – in a chic French bistro, a local cafe, a formal dining room or pulled up at a rustic timber table. Here's what you need to know about the classic bentwood dining chair.
The back story

While it may be synonymous with classic French style, the original bentwood chair was actually developed by German-Austrian cabinet maker
Michael Thonet
in the 1800s. He invented the technique for steaming and bending solid wood to create sturdy yet simple furniture using only a few pieces of timber.
More than 100 years on, the iconic Thonet No. 14 and No. 18 chairs are still considered to be the most successful chair designs of all time. The original designs have been in continuous production ever since, and have inspired many variations from furniture companies around the world.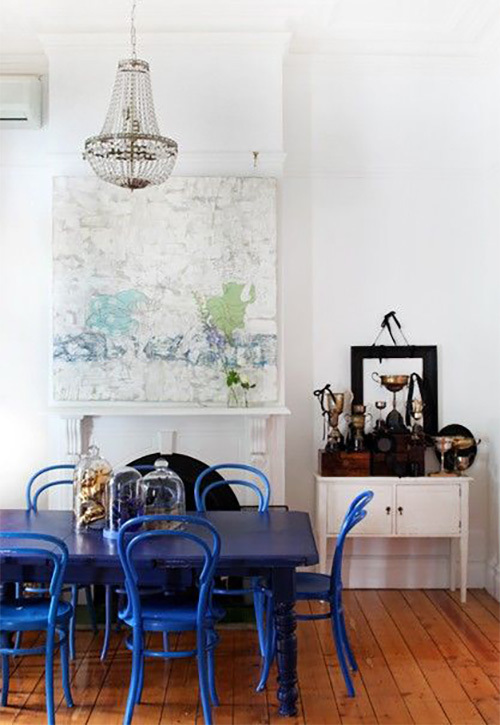 Why they work

If you're looking for a dining chair that bridges the divide between the minimalist and the rustic, vintage and modern, then the bentwood is your go-to. Whether you choose dark or light timber, use them for a pop of colour or opt for upholstered or rattan seats, this chair bends to your interior style.
How to use them

Group matching
bentwood chairs
around a formal
dining table
, placing carvers (with arms) at either end. The elegance and symmetry of their curved backs break up the straight edges of a grand rectangular table (as do bentwood
bar stools
at a kitchen island). They fit equally well at round dining tables, from a two-seater to a large setting.
Mix and match styles or colours for an eclectic look, teaming bentwoods with their Provincial-meets-Hamptons cousin, the
crossback chair
.
Bentwoods make a space-saving and elegant home office chair, and a graceful alternative to a floordrobe in the bedroom. The flat, round seat offers enough space for a lamp, book and candle, so they even make a chic bedside table.
Dress up a bentwood with a hide or sheepskin and you have instant boho cred, plus comfort in the cooler months.
Shop all bentwood chairs at Temple & Webster here, or shop our whole French Dining collection.