Glasshouse Fragrances co-founder and CEO Nicole Eckels may be from New York, but when it comes to the culture and aesthetics of her company, she is all Australian. From the evocative scents inspired by the local flora and coastline, to its vivid product packaging and collaborations with local artists,
Glasshouse Fragrances
has firmly established itself as an Australian luxury fragrance brand.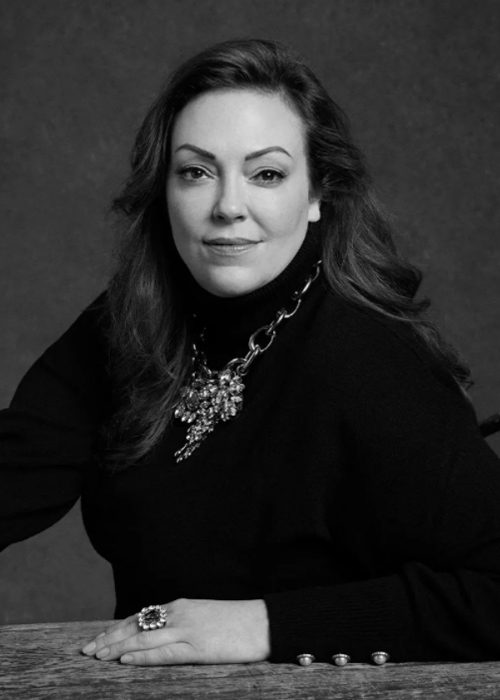 Last year, it underwent a revamp with new packaging and an expansion into eau de parfum and scented body care products. It's been quite a journey for the company which first started in a home kitchen in 2006, with Nicole learning how to make candles from scratch. While candle-making was a new skill for Nicole, the world of beauty and business certainly wasn't. After completing a marketing degree, Nicole pursued her interest in beauty and was a makeup artist for Chanel at SAKS Fifth Avenue. She then went into the tough world of corporate sales where she became accustomed to rejection, an experience that helped to mould her as a businesswoman.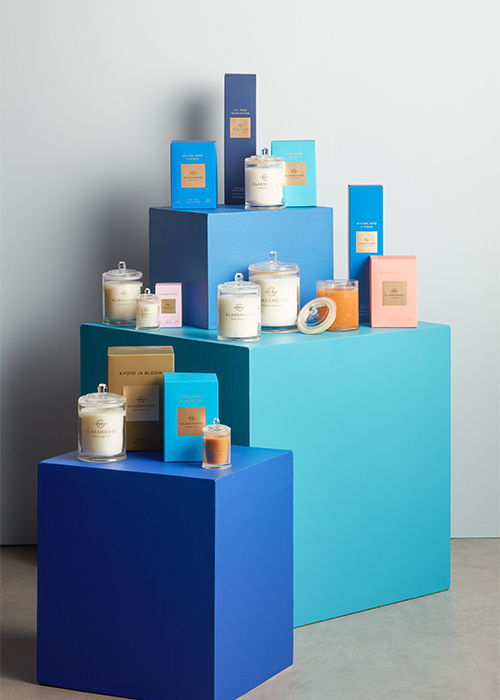 Seizing the opportunity to return to the sensorial, visceral world of beauty which she always loved, Nicole was adamant to not just launch a new product, but to create a world-class category. Glasshouse launched with 15 products within 12 months; a testament to Nicole's drive, creativity and entrepreneurial spirit. Here, Nicole shares her passion for fragrance and remarks on its multi-dimensional appeal and its power to transform moods and moments.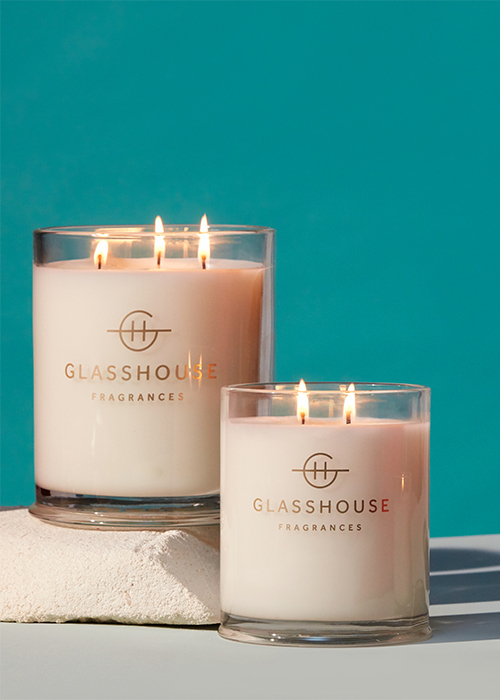 How did you develop your deep knowledge in fragrance?
I have a nose, I always have. I've always loved fragrance and I have a very good olfactory memory. I'm bad at remembering lots of things, but never smells. I've always recognised that fragrance has the power to transform moods, moments, interiors. There's light, there's colour, there's fabric and there's fragrance; it's all part of the mix.
Your sense of smell develops, which is something very interesting to me. As I was constantly smelling things and working with perfumers, I started to notice that I could smell things further away, I could smell things with more distinctiveness, I could smell levels of detail that I couldn't perceive before, and now, it's a bit of a curse because I can smell everything!
Tell us about the process of making a Glasshouse product.
Sometimes a fragrance is idea-led, as in you have a concept, but you have no fragrance, but you build a fragrance around the concept. The other way to do it is you have a fragrance that you've developed, perhaps you've stumbled upon a particular ingredient that you love and then you build the product around that. For example,
Midnight in Milan
was inspired by saffron, which was a particular note that I wanted to do something with, so we built a concept with saffron and then I bolted the idea of Milan to that note.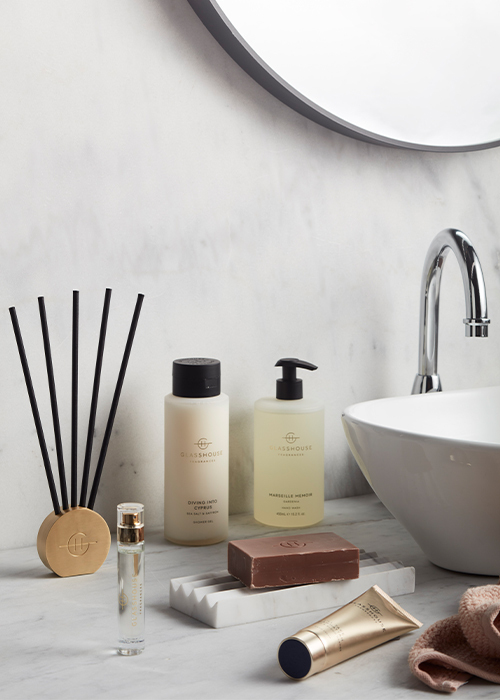 What makes Glasshouse so unique?
So much is packed into what we do. There's a painstaking development process with the perfumer, and that's what sets us apart. For most fragrance companies, it's the fragrance houses that lead those ideas. They'll say, 'this is what we're doing this season' and then [the fragrance company] goes 'fine, we'll take that, that, and that'. But we go, 'I'm not really interested in what you have in that bucket because that's what you're showing to everyone'. We need to create something, so our lead times are quite long. When the perfumers get to the stage where we can go, 'wow, this is really good', then we'll put it in [our range], if there's a gap.
Tell us about the process of working with perfumers.
How the supply chain works is that fragrance houses buy raw materials, they compound them and then manufacture fragrance oils, what we call 'juice'. All these fragrance houses have perfumers who guide their clients. As we've been doing this for 16 years, I know which perfumer I want to work with within each house . I'll spend a good 20% of my time with the fragrance houses, not just talking to perfumers, but also dosing and checking to see how [a juice] is responding in a base. It can take six months or three years; it depends on the project.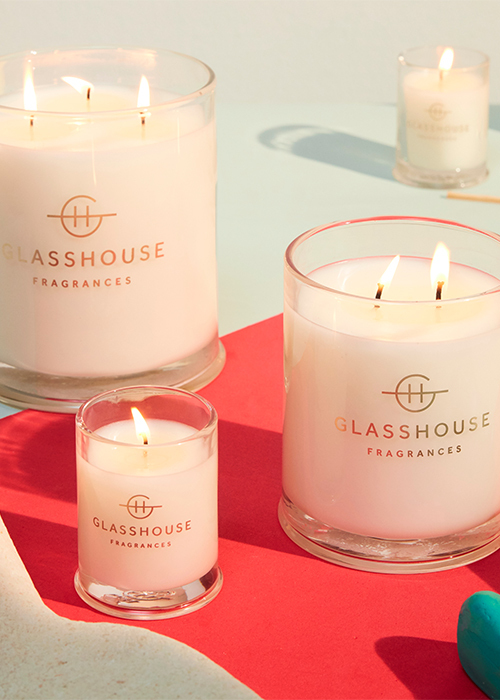 Can you elaborate on the branding of your products?
​I'm very influenced by art, pop culture, locations and geography. I find a lot of inspiration in fashion and beauty. We consider ourselves a beauty brand because fragrance is a beauty category. While our price points are at a luxury level, Glasshouse is an inclusive brand. True luxury is being able to deliver an experience, and part of that experience is the multi-dimensional aspect of it. [Our fragrances] not only smell great, but we actually tell our customers what's in them. So many fragrances are beautiful, but you don't know what you're smelling. People don't learn the language of fragrance, but with a little assistance, you can help them. That's part of the great joy and I didn't want to lose that.
The other great joy is where the fragrance can take you. Different people experiencing these products can take it as far as they want to go. Some might say 'I just want to like this', but the more theatrical of us, want to go further and that's what Glasshouse Fragrances does: it takes you further than fragrance.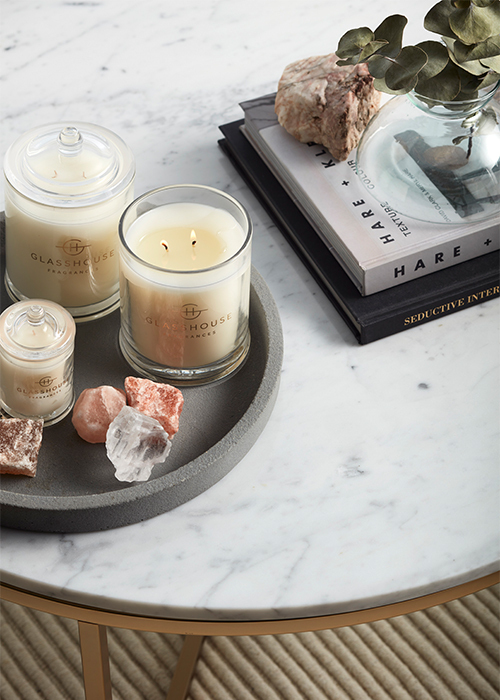 How do you develop your range?
Our core range has 20 fragrances. What goes in depends on what's working, what isn't, what customers are loving, what we need to do more of, and what we are missing. We are scent addicts. We are for them, we
are
them. People like us need lots of variety. I use different fragrances all the time because fragrance is like make-up or colour, or new clothes or throw pillows. It brings you excitement and newness and joy and, to add to that, it emotionally transports you.
​Depending on the product, the assessment is very different. With candles, we put the fragrance in the vessel, light it and give it 15 minutes max. I don't care how great the fragrance is, but if we can't tell that candle is burning, the fragrance is not working. When you're doing something on your skin, it's [about] skin temperature. That's very different to flame against a fragrance, which is different again to a diffuser that's about ambient temperature. Fragrance is responding very differently to all these different base temperatures, so you have to build the product to the base and adjust it.
Kyoto in Bloom
, for example, is available as eau de parfum, body lotion, shower gel, a diffuser and candle - every one of the fragrance oils is different in every one of those mediums because they're adjusted to get the experience that we want customers to have.
What aspects of your business are inspired by Australia?
I've been living in Australia for 16 years and everything I know about business I've learned from Australia; the way that I manage my employees, the way I think about our consumers. I'm completely influenced by the Australian climate, trends and aesthetics.
What's in the pipeline for Glasshouse?
We're working on expanding into the US and China. We're also looking into a lot of exciting new product categories that customers have been asking for. Our customers are very vocal and loyal, and we listen to them as much as we can.
How do you think COVID has affected the way people perceive your products and more broadly, fragrance?
One of the best things about COVID is it's given people more time for themselves. There are rituals that signal that time and lighting a candle is one of them. Rituals are part of human nature and fragrance is part of that ritual. When you're home, you get to enjoy that more. It's been wonderful for people to realise that fragrance is a very important part of homes and interiors.
Shop our range of Glasshouse Fragrances including their new perfumes and body care products.