​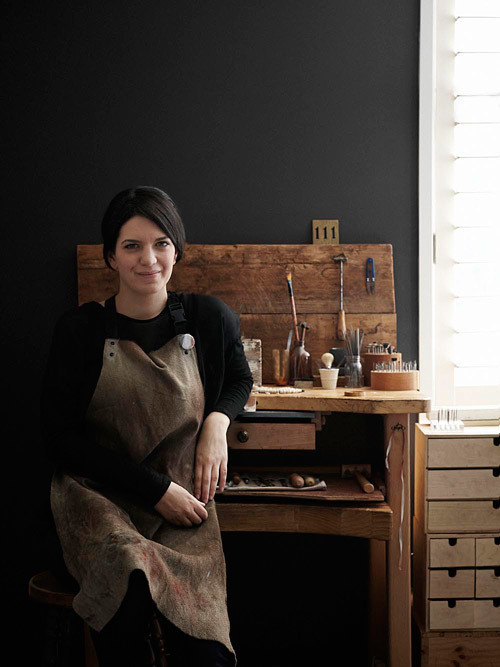 Our friends at digital magazine Artisan have been kind enough to share another of their stories with us - this time they profile Marina Antoniou, a Sydney based fine jeweller. If you love tales of the hand-made, head to www.artisan-magazine.com, or search for "Artisan Magazine" on the App Store via your iPad. You can also follow Artisan Magazine on Facebook, on Pinterest or on Instagram @artisanmagazine.
Tinkering with Treasures
The combination of a love for metal, a dedication to precision and a passion for the handmade is what inspires Marina Antoniou's work and latest collection.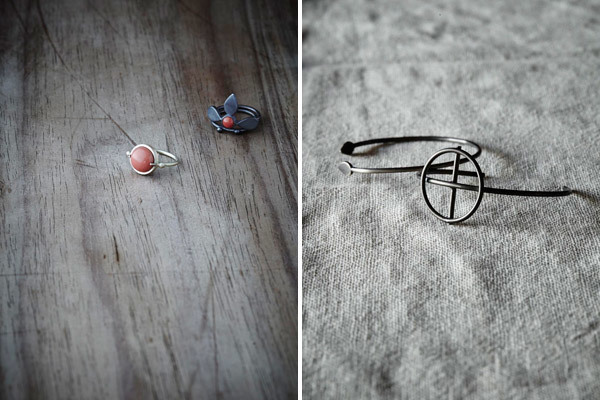 A Jewellery Maker
Marina Antoniou, a Sydney-based jewellery designer and maker, shares her work and story with the Artisan Team. Marina's love for jewellery making was sparked early in high school, but it would take a few more years before she would follow the path that seems to be her natural calling. A decision about the 'right' career led her to study Industrial Design at University but after a few years she realized that product design wasn't for her and went on to enroll in a three-year Advanced Diploma in Jewellery and Object Design.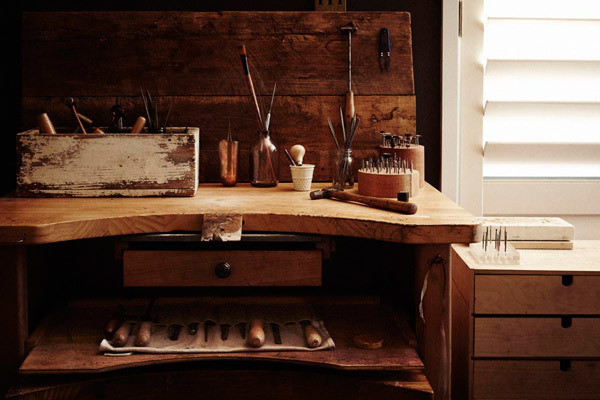 After her diploma, Marina began to work for jewellery stores, mostly in retail with little time behind the bench. In addition to working, she continued her studies in Jewellery Manufacturing, a course that provided her with the essentials behind fine jewellery making techniques. The course, she says, not only provided her with knowledge but also gave her the confidence to go out and share her work. This confidence comes through in her carefully crafted and beautifully designed pieces. Marina's favourite part of the process is 'experimenting, mocking up, and playing with metal. I love the moment when I realise that the ideas floating around in my head will actually work!'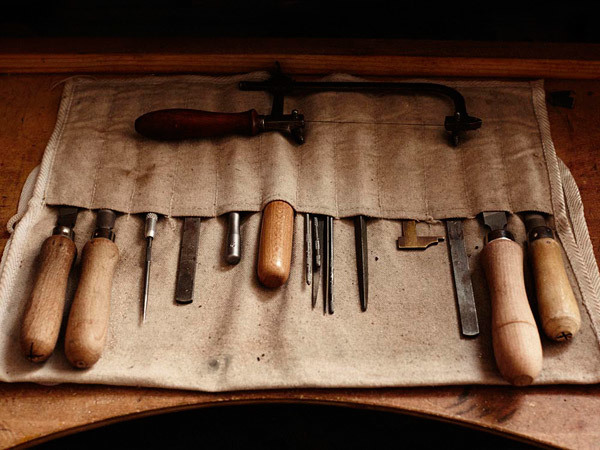 Marina often spends her days in a quiet, sunny studio making work for Courtesy of the Artist (COTA), a contemporary jewellery and art object store. When not working on pieces for COTA, her commissioned work keeps her busy crafting engagement and wedding rings. As Marina states, 'It's this kind of work that I really enjoy – my clients are always after something unique and that is definitely something I can offer them. They appreciate the handmade, they appreciate good design, and they trust me. It's such a pleasure being able to work with these kinds of people and create something so meaningful to them, for them.'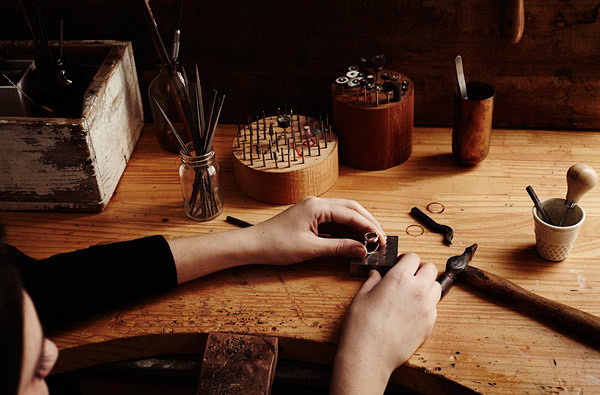 The Process
Jewellery making requires spending time at your work bench and for Marina that means soldering, saw piercing, hammering, filing and making settings for stones*. 'I use traditional jewellery making techniques. I don't have fancy tools and tend to source pre-owned tools. They have been made with love and care and that really translates into my work.' Her love of metal makes for an easy decision when choosing materials to work with: 'I love shaping metal, filing it away, heating it, accidentally melting it, and starting all over again. I like to have control from start to finish!'.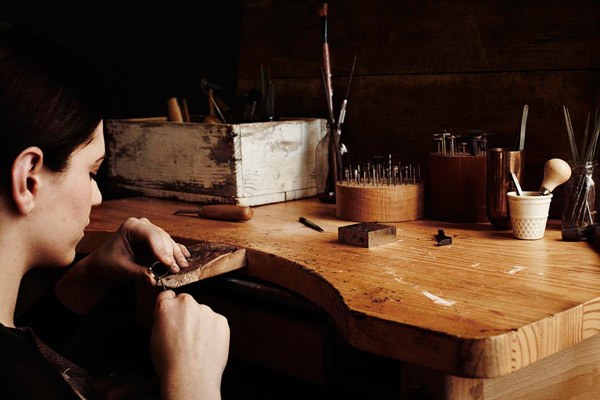 Part of the process of making the pieces is conceptual and requires a great deal of researching ideas and techniques. In her latest body of work, she is focused on using new techniques such as granulation and stone setting. A love for history led Marina to look for inspiration to jewels found at archeological sites in Ancient Egypt and Greece, often featuring opulent and ornate designs that referenced elements of nature: items like ostrich shell beads, rich gemstones like turquoise, dazzling red and soft peach hues of naturally sourced coral, hand cut sapphires and tourmalines – all of which 'have been used to embody the colours of carnelian, red jasper and inlaid glass applied by early artisans'. The stones, along with 'olive and fruit motifs found in the gold wreaths of this period' are a recurring presence in this collection. According to Marina, this collection 'transcends the ages and blurs the boundaries of traditional jewellery design. It not only presents a reflection of the past – the beginning – but more importantly showcases a reflection of the early development of my skills as a designer and maker.'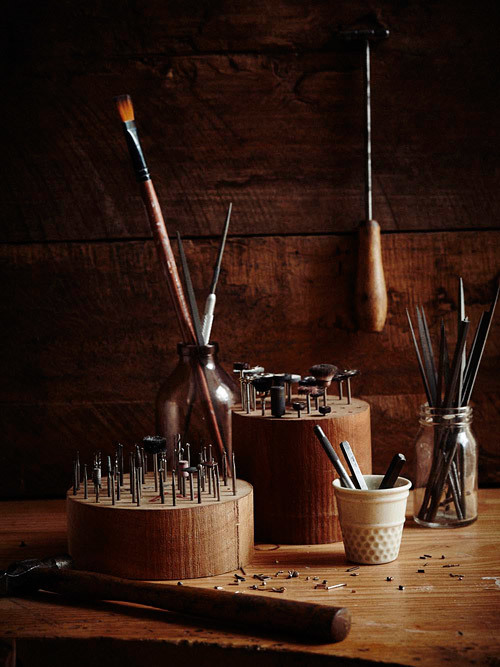 Marina collates various images of inspiration and so creates a type of moodboard for her work. This helps to remind her of what she is working towards. While she confesses she is not a drawer, she does sketch or 'scribble' an image of her plans. From this point, there are weeks of experimenting and mocking up of all of her ideas. Marina creates her mock-ups in brass and scrap silver and usually the product changes considerably from start to finish. Essentially these mock-ups serve as 3D-like drawings used to figure out which designs work best. Once she knows a piece will work she begins its production.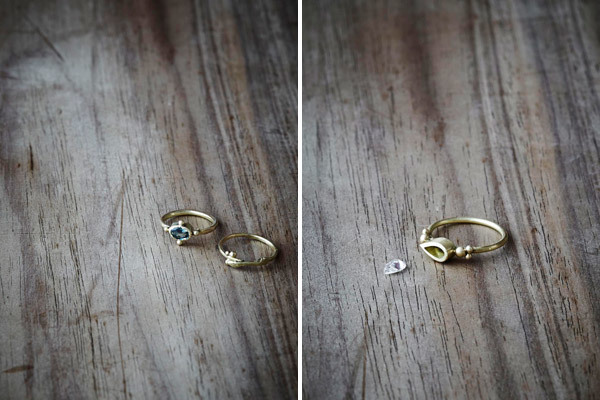 Taking anywhere from a few hours to a couple of days, Marina works on her pieces, carefully constructing something beautiful and lasting. Each piece in her collection provides a representation of a different time period but is also timeless and easily wearable. She is inspired by work that uses innovative materials, uses inventive techniques and can also' slip onto a finger, into an ear lobe or hang around a neck with ease'. Precious and also practical – a perfect mix.
*Granulation
: Placing silver onto a block of charcoal and melting it into tiny balls with a soldering torch. These tiny silver balls are then fused together with a soldering torch.
Saw Piercing
: Cutting out the triangle with my saw frame.
Filing
: File the triangle into shape, smoothing out the saw pierced edges.
Follow Marina on Instagram @marinaantonioujewellery