Features:
Materials: recycled plastic
Includes: 1 x compost bin
Shopping for a business?
Join our Trade+Commercial Program today to access exclusive trade pricing.
Overall 21cm H x 18cm W x 18cm D
Overall Product Weight 0.4 Kilograms
Features
Product Type: Kitchen
Opens: Open Top
Removable Liner: No
Fire-Safe: No
Construction: Plastic
Capacity: 20 Litres & Under
Recycled Content: YesRecycled Content Details: 100% recycled plastic
Country of Manufacture: Italy
Assembly
About the Manufacturer
Today, Guzzini products can be found in homes, restaurants and hotels in 85 countries throughout the world. Much of this success is due to a basic quality in the company's DNA - a curiosity for innovation. A constant striving to achieve an ideal combination of practicality and aesthetic appeal has always encouraged Guzzini to explore inquisitively, both in researching new materials and finding interesting and original design concepts. The result is a vast catalogue full of all types of items for the table, the kitchen and the home. They are all beautifully designed but easy to use, very familiar, inexpensive and extremely practical.

The company's motto is "designed to be used". And this is actually the case. Guzzini colanders, containers and cutlery are not designed to be kept religiously in drawers or cupboards and only brought out on special occasions. They are to be used and re-used for daily pleasure, so that every so often you suddenly realise that you have a well-designed item in your home that makes daily living a little easier. Therefore, Guzzini's research is aimed at quality of daily life, making every moment of the day special. This quality of life also includes an appropriate relationship between the items with which we surround ourselves and their impact on the environment. Fratelli Guzzini are dedicating much effort in this regard, and will continue to do so in the future, being aware that every product should be designed keeping a sharp eye on its environmental cost. Guzzini thermoplastics can be recycled and re-used over and over again, being reborn with new shapes and colours for new uses. They become more appealing and more useful than before.
See something odd? Report it here.
Reviews
Incentives may be offered to verified buyers to write honest reviews.
If you've purchased this item we'd love for you to tell us what you think.
Write A Review 
4 Aug 2023
Good size for kitchen counter. Makes composting easy
9 Mar 2023
Nice small size, fits well in available space inside my cupboard.
9 Sep 2022
Great little neat and cute food waste bin. Easy to clean. Good size to capture about 2 days of family food scraps.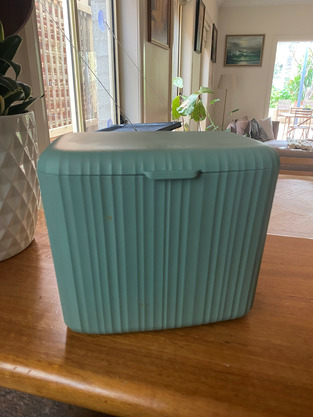 25 Aug 2022
Love it! Looks great on my benchtop and I love that it can hang over my sink facing out or hidden away
1 Jul 2022
Perfect. Well made, stable on bench, great colour, stores rubbish - what else can I say?
26 Mar 2022
Such an amazing little bin and exactly the mint colour to match my caravan kitchen. Its the perfect size for a little benchtop or over door hanging bin.
7 Feb 2022
Perfect for the kitchen. Looks great, perfect size, product arrived as described. Very happy.
16 Jun 2023
14 Apr 2023
When you buy a Guzzini Bio Food Waste Caddy online from Temple & Webster in Australia, we make it as easy to have it delivered to your home in Melbourne, Sydney or any major city.If you have any questions about your purchase or any other Rubbish Bins for sale, our customer service representatives are here to help. Whether you just want to buy a Guzzini Bio Food Waste Caddy or shop for your entire home, Temple & Webster has everything you need.