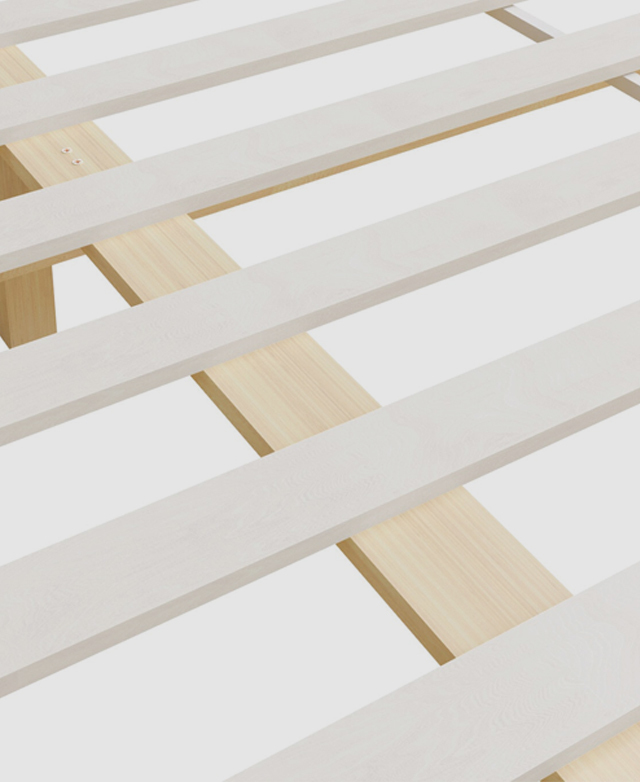 Reinforced slats
The reinforced plywood slats on the bed base provide extra support and ventilation to your mattress. This ensures durability and a good night's rest, each and every night.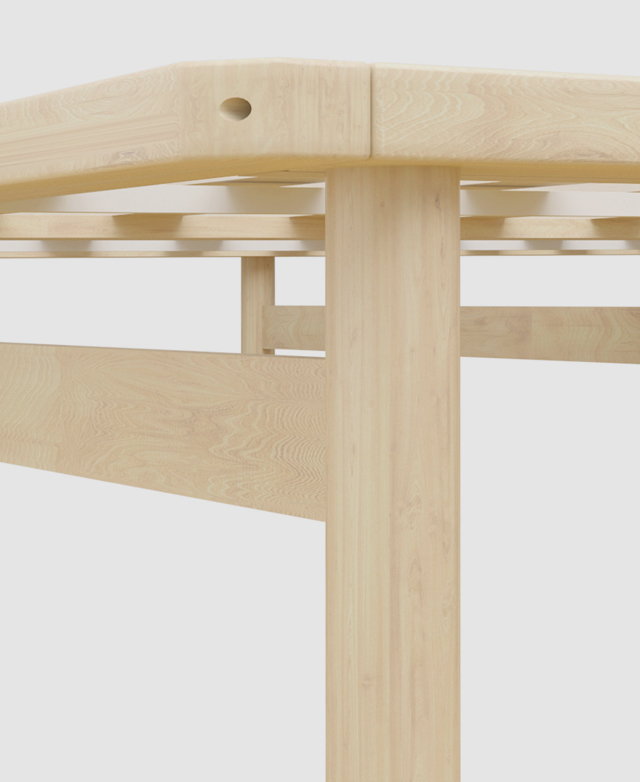 Sturdy & durable
The strong and durable timber construction is built to last, with a smooth finish that's easy to maintain and clean, so you can keep your bed looking great for many moons to come.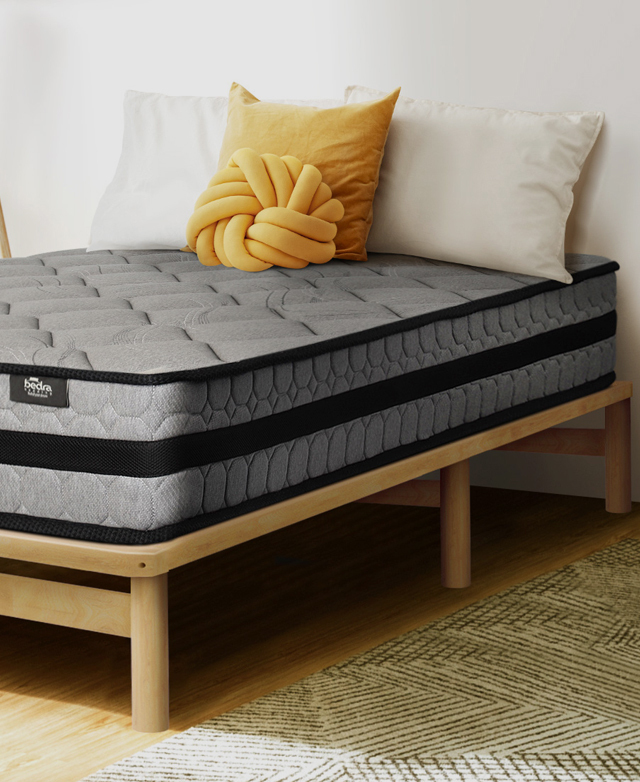 Soft edges
Gently curved edges and round legs are perfect for giving this bed frame a softened look, while making it safer for kids, pets, and shins in the middle of the night.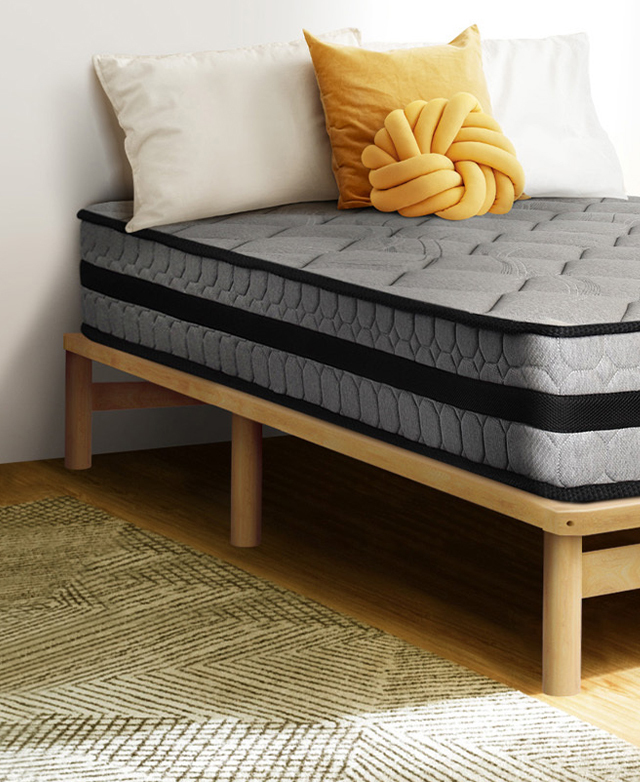 Greater heights
The elevated design not only makes it easier to occasionally vacuum and dust underneath, but it also gives you valuable storage space to hide away clutter.
Features:
Materials: pine wood frame & legs, plywood slats
Includes: 1 x bed frame, 1 x set of assembly parts, 1 x assembly manual
Sturdy & durable construction
Made from pine wood
Reinforced plywood slats
Smooth finish edges
Designed to fit standard Australian-sized mattresses
Finished in an SGS-approved non-toxic coating
Easy to maintain & clean
Distance between slats: 10.7cm
Slats thickness: 1.3cm
Shopping for a business?
Join our Trade+Commercial Program today to access exclusive trade pricing.
Double Size
Overall 30cm H x 137cm W x 190cm D
Clearance from floor to bottom of Product 27cm
Overall Product Weight 16.8 Kilograms
King Size
Overall 30cm H x 183cm W x 203cm D
Clearance from floor to bottom of Product 27cm
Overall Product Weight 19.5 Kilograms
King Single Size
Overall 30cm H x 107cm W x 203cm D
Clearance from floor to bottom of Product 27cm
Overall Product Weight 12 Kilograms
Queen Size
Overall 30cm H x 153cm W x 203cm D
Clearance from floor to bottom of Product 27cm
Overall Product Weight 18.1 Kilograms
Single Size
Overall 30cm H x 91cm W x 190cm D
Clearance from floor to bottom of Product 27cm
Overall Product Weight 11 Kilograms
Features
Type: Bed Base
Frame Material: TimberFrame Material Details: Pine wood
Timber Construction Type: Solid Wood; Manufactured Wood
Legs Included: YesLegs Material Details: Pine Wood
Primary Colour: Light Timber
Mattress Included: No
Gas Lift Mechanism: No
Storage Included: No
Trundle Included: No
Bedhead Included: No
Slats Included: YesSlats Materials Details: Plywood
Style: Coastal
Age: Adult
Box Contents: 1 x bed frame, 1 x set of assembly parts, 1 x assembly manual
Collection: Ellisha
Care Instructions: Wipe clean with a dry cloth; avoid using harsh or abrasive cleaners
Maximum Weight Capacity (Double, King, Queen Size): 250 Kilograms
Maximum Weight Capacity (King Single, Single Size): 150 Kilograms
Assembly
Assembly Required: YesType of Assembly: FullRecommended Persons Required for Assembly: 2Assembly Details: Refer to the assembly manual
Warranty
Specifications
Consumer Advice: We strongly recommend using suitable floor protection to prevent damage to hard surface floors (e.g. a non-slip rug or non-slip furniture feet protectors). Regular checks to ensure that fixings are tight and the supporting legs remain securely in place is also required.
Style
The Ellisha Pine Wood Bed Base is a Coastal style product. Coastal style is exemplified by perfect for a beach or lake house or coastal design features whites, blues, and sandy neutrals. Motifs such as shells, coral, sea life and nautical instruments complete the look. You can shop for more Coastal Beds in the Furniture section of our site.
See something odd? Report it here.
Reviews
Incentives may be offered to verified buyers to write honest reviews.
If you've purchased this item we'd love for you to tell us what you think.
Write A Review 
8 Oct 2023
Excellent bed base , nice pine. Easy to put together Read instructions and check everything is there before starting. I bought King size and a Queen for spare room. Was worried might not be strong enough for large king size mattress but is sturdy yet lightweight. I like that the corners are rounded, no more bruises and top of mattresses are not too low to ground. I bought storage boxes to go underneath, very happy with purchases.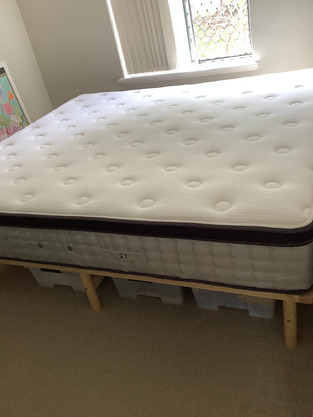 18 Aug 2023
Looked closely for a bed base like this and was surprised just how difficult it is to find a good one. If you want a really good one (we ordered the queen) then this is one to get. Much better than anything I could find. When this arrived I was really surprised how much better it is than I thought it would be. The design is excellent with 9 support posts. The finish is good and it looks very smart in our small bedroom. Very comfortable to sleep on - have been sleeping on it for about a week so far. It does require a few hours to assemble but the finished product is very sturdy. Really excellent base at this price - I couldn't find anything better. I would buy it again.
27 Oct 2023
Beautiful simple bed and comfy mattress at a good price. The bed frame is as small and subtle as possible which is perfect for a very small guest room.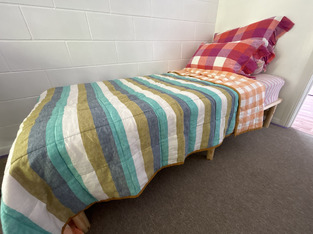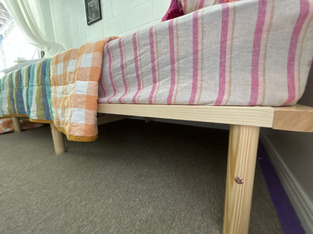 17 Oct 2023
Fantastic Bed Base. Solid, Modern with room to store underbed, Really Happy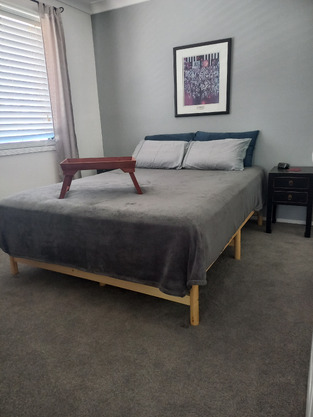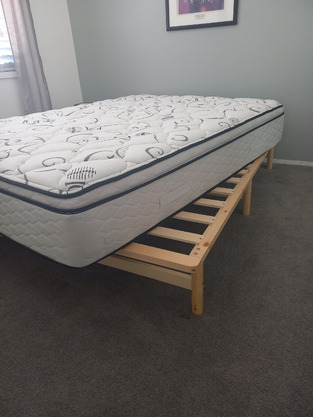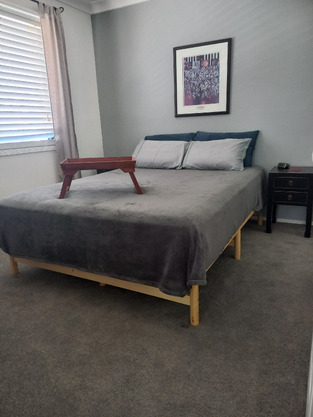 5 Oct 2023
Great product for the price, only thing is it can be time consuming if you are doing it a lot. A lot easier with 2 people. A lot of screws involved to put the planks into place. But overall great bed frame for the price. True to photo, and steady frame. Would recommend.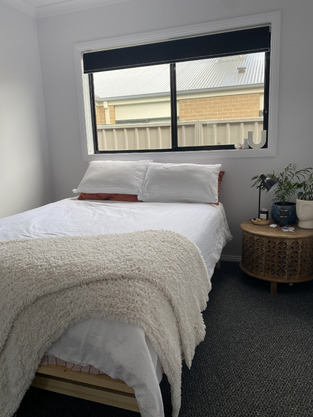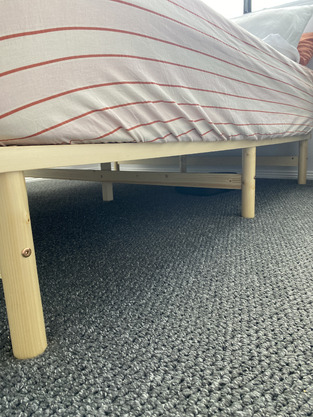 29 Sep 2023
The assembly of the bed was manageable, but some of the screws were very difficult to tighten. The Allen key provided was very small and difficult to use. Instructions were clear. Bed looks nice in the space.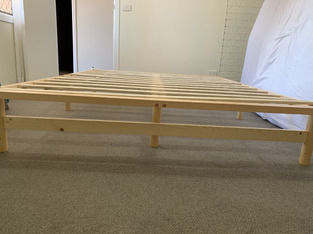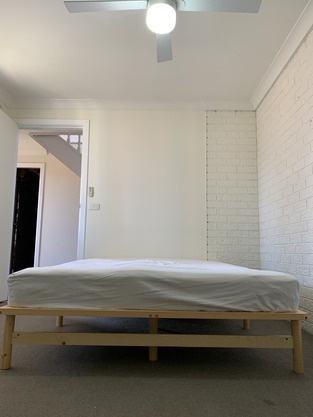 14 Feb 2023
When I was young I would make a perfect acceptable bed from pallets for free. This is a major step up. It's easy to assemble - if you can follow basic instructions. Took hubs half an hour and a cup of tea and a 'what, I just got home and now I have to put a bed together?'. It's sturdy - we mock made love on it with a minute of bouncing and it didn't collapse. What more can you ask of a bed? Oh it's simple, wipe clean, easy to lift up to chase dust bunnies, and I can fit a rattan basket under there to fit my spare bedding and so on. I love it. Super fast delivery too. Got here in two days, in time for Valentine's - oooh lala. The photo has a thin camp mat on it until the mattress arrives. I'm already in bed and it's only 5.30 pm. Now I need sheets. And new pillows. What have you started, Temple and Webster?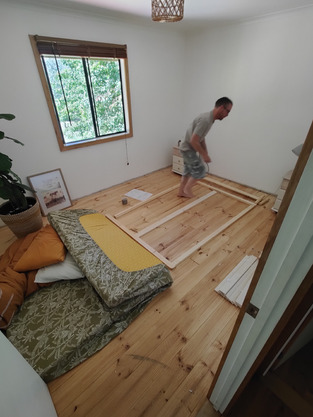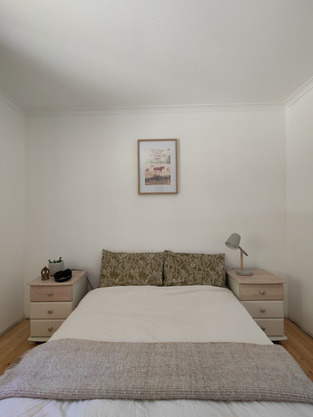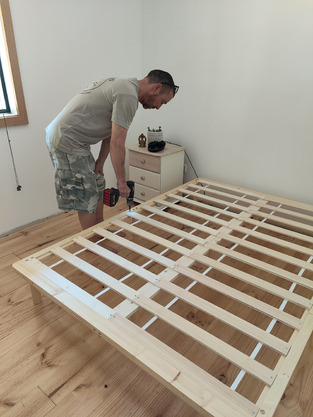 29 Nov 2023
Surprisingly good bed base. I originally bought it as a temporary bed until I found something else but I've decided to keep it! Definitely great value for the money.
26 Nov 2023
Very sturdy and easy to assemble! Was surprised at how the packaging only took on person to carry it inside! Not a lot of hassle at all and the wood looks beautiful and is great quality!
21 Nov 2023
Easy setup, bed moves a little bit but i think this is because of my wood floors not the bed. Comfortable and sturdy
When you buy a Ellisha Pine Wood Bed Base online from Temple & Webster in Australia, we make it as easy to have it delivered to your home in Melbourne, Sydney or any major city.If you have any questions about your purchase or any other Beds for sale, our customer service representatives are here to help. Whether you just want to buy a Ellisha Pine Wood Bed Base or shop for your entire home, Temple & Webster has everything you need.